Having a long-term care (LTC) conversation at your holiday gathering
November 15, 2022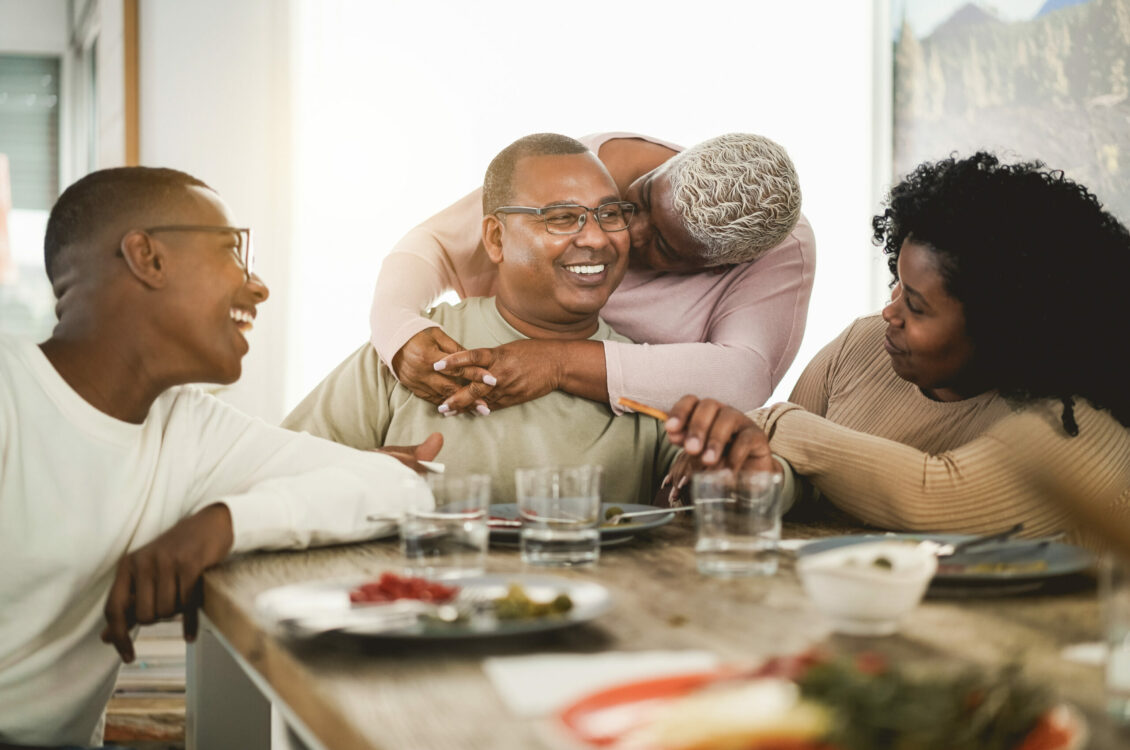 Key Takeaways:
Discussing parent's or other loved one's potential long-term care and elder care needs should be done in person if at all possible, not by phone or email. That's why, with the right strategy and some thoughtful planning, the holidays can be a great time to discuss long-term care (LTC) and elder care planning.
According to the 2021 Nationwide Long-term Care Study, as a result of the pandemic, 88% of adults feel it is more important than ever to have a long-term care plan in place. Still, only 42% of adults over all have talked with family about future potential LTC needs1.
Considering the type of holiday, personal family dynamics, and utilizing careful planning are strategies that can help make these seemly difficult topics a bit easier to discuss.
The holidays are on the horizon, and for some clients, it is a rare opportunity for them to be gathered with their families in one location. Over the years, I have heard both positive and negative stories about long-term care (LTC) being brought up during holiday visits. However, bad reactions are often related to bad timing or faulty strategies in bringing up the topic.
Discussing parents' or other loved one's potential LTC and elder care needs should be done in person if at all possible, not by phone or email. With so many adult children living far away from their parents, the holiday season is one time when children come home to visit, making face to face conversations possible. These conversations are sometimes uncomfortable and emotional, and being able to have personal contact to comfort a family member having a hard time with the conversation can sometimes make or break success. With the right strategy and some thoughtful planning, a holiday can be the perfect time for your clients to discuss LTC and elder care planning with their families.
The Pandemic–a new door opener
According to the 2021 Nationwide Long-term Care Study, as a result of the pandemic, 88% of adults feel it is more important than ever to have a long-term care plan in place. Still, only 42% of adults over all have talked with family about future potential LTC needs1. Worse yet with the Baby Boomers – who are old enough to have dealt with parents' LTC challenges and are approaching their own – it was found that only 37% surveyed had discussed LTC planning with family.1
The effects of the pandemic, however, have brought the subject of LTC planning to the forefront. If there was ever a good time to broach this subject, it is now – when families are still immersed in the concerns of the pandemic and what it could mean for loved ones needing care in the future.
Is there a "better" holiday to consider?
Whether one holiday is better than another to bring up LTC and elder care discussions is going to depend on the family, but here are some guidelines for your clients to think about.
Consider a holiday that allows for an extended visit. And, keep in mind that even with a decent amount of time to discuss and start planning, a full plan will not likely be completed in one planning session.
For certain families, a non-religious gathering may be a better fit for such a discussion. Some families gather for national holidays such as Memorial Day, Labor Day and of course, Thanksgiving. The advantage to these holidays is that they are typically occur over long-weekends, and there may be few expectations or traditions attached to these events. They are primarily about gathering and visiting.
Think about how you can assemble key family members. For example, a large family that includes many adult siblings may want to leave spouses out of initial conversations to keep control of the discussion. However, a spouse with a relevant occupation such as attorney, social worker, insurance professional, etc., could add value to early talks.
Think about Thanksgiving
Your clients will have to determine which holiday might be most appropriate for a LTC and elder care talk with their loved ones. As for my personal favorite, it is Thanksgiving – because it might check the most boxes for opening and maintaining a dialogue with family.
In general, more families get together for Thanksgiving than any other holiday. Because this holiday takes place over a 4-day weekend, there is more opportunity to bring up a family discussion with appropriate timing, and more time to have a discussion that won't have to be rushed.
Other than the "big dinner", there are usually not many other expectations from this holiday; just eating and spending time together.
Dinner is on Thursday (usually). While not a topic for the dinner table, family members are often sticking around through Saturday or Sunday, leaving a few days after Thanksgiving dinner in which to have a discussion.
Thanksgiving is about thankfulness, which could help make it easier to bring up the subject. For example, an opener with your family could be—"I am so thankful to be spending this weekend with such wonderful parents and our great family. And because we are all together in person, it might be a good time to start planning how to help Mom and Dad age according to their wishes and put a plan in place that we are all comfortable with, and can help our parents implement."
Considerations with a family discussion
All families are different, and what works for one family may not work for another. But there are some "do's and don'ts" to consider when planning a family discussion for parents' future needs.
Even if the family visit is a short one, avoid bringing up the discussion in the middle of the meal. Grandchildren in general don't need to be part of this, and in many cases, spouses of the adult children should not be involved in the initial discussions.

If time is really short, think about initiating the conversation as dessert is ending. The spouses can be excused with the grandchildren and leave the immediate family alone at the table to begin talking.

You may need to make siblings conscious of the situation first, before broaching the subject with parents; or one parent may need to make adult children aware of what is going on with the other parent. These openers may help bring awareness to siblings and get them on board.

"Have you noticed that Mom doesn't look like she did when we were here 6 months ago?"
Dad may ask the adult children, "Did you see how hard it was for Mom to get dinner prepared this year?"
"Dad seems to be moving around much slower than last year."

A recent caregiving experience had by Mom and/or Dad is a great opener, and could prompt discussion while parents are still young enough to consider a wider range of options.

"You both went through a lot taking care of Grandma, and part of the challenge you faced is that there was no plan in place before Grandma had her stroke. This might be a good time to start discussing how we will handle any care needs you might have in the future – and how to pay for it."

Everyone involved should come with the notion that they are there to "listen"—especially to Mom and Dad. Even if your parents' wishes are not practical, let them speak their mind. Then try to work your parents through the process so they can see the flaws in their idea—and move on to a better plan. This process will take patience, but parents deserve the respect of having their wishes heard, even if in the end their initial ideas won't work. Ultimately, this should be the parents' plan, but one that makes sense.
The adult child (or parent) planning to initiate the conversation should come prepared with a list to discuss. Questions to consider in the discussion might be:

Where would their parents want to receive care, and by whom?
If their choice is care at home, start thinking now about what modifications might be needed to make the home safe and accessible for Mom and Dad.

Do they expect in-town family to help with care, or will they hire professional care?

Would Mom and Dad consider downsizing to a Continuing Care Retirement Community (CCRC) where escalating care needs can be attended to on site?

How will the plan be paid for?

Do Mom and Dad have long-term care insurance? Not all discussions are had when Mom and Dad are frail, so perhaps they are still eligible to purchase it.
If no insurance exists, then a funding plan should be researched. This may need to involve the parents' financial professional, and other professionals such as legal and tax advisors.
Avoid 11th hour planning
Eleventh hour planning can result in mistakes and lost opportunities for a better outcome. Despite all of the research saying that people are more open to these discussions than in the past, one should be prepared for a potential "backlash" when bringing up the conversation.
It has been found that 50% of family caregivers had no choice in taking on the role.2 Therefore, when a family member is resistant in having the discussion about planning for Mom and Dad, a rebuttal said kindly might be, "I thought it might be good to have this discussion while we are all together. We can start talking now about a plan for Mom and Dad, and discuss which of us are best suited for support roles – rather than have unexpected responsibilities thrust upon us. If something happens to Mom or Dad without a plan in place, we will be forced to scramble long distance to come up with solutions".
It is important to remind your clients that discussing elder care and LTC issues takes time and should be done a step at a time and with compassion. It's essential to discuss who will be the decision makers in charge of dealing with the parent's needs as their ability to manage their own lives starts diminishing. Some families may spread out the responsibilities, while others may allocate most of the care-giving, advocacy and or financial management duties to one or two family members. But it is important that everyone is clear in advance who will be doing which tasks. Family dynamics can be delicate, and without a well laid-out plan that everyone is comfortable with, sibling and in-law relationships can easily deteriorate into a state of resentment and in-fighting.
People may get caught up in thinking about the risk of needing LTC then try to justify why they will not be in that risk pool. Some acknowledge they may need care, but place themselves in the group that "won't need care for very long", thus they plan for their family to handle their care. Even when the parents plan to care for each other, and consider their adult children to be the backup plan, those adult children are often not told that they are being counted on to provide care; it's just "assumed" they will step up and take care of their parents. Some adult children may be in a position to assist; but such a lack of planning and communication may result in physical, financial and/or emotional stress for adult children – particularly when this responsibility is unexpectedly thrust upon them.
Give your child the gift of permission
Another reason to plan in advance is to protect the adult children from feelings of guilt as plans for parent's care are implemented. As an elder person declines in health, whether mentally or physically, it is common for that person to lose their sense of logic—commonly wanting to "go home", even when that is no longer possible. When plans are laid out in advance that maps out the wishes of the parent, the adult children may be spared from agonizing whether they are making good decisions for their parents—because mom and dad participated in or fully planned out their future while still fully capable of making sound decisions.
However, remind your clients that not all plans play out until the end as intended. Parents should consider that they may not remain of sound mind, and should provide their adult children with a potential back-up plan. In addition to planning in advance, the greatest gift parents can give adult children is permission the veer from the plan if needed, when parents are no longer able to make sound decisions. This permission can help the adult child get through difficult emotional times when hard decisions must be made—knowing their parents instructed them to do what is needed to provide their parents the most appropriate care.
Final thoughts
The holidays can be a good opportunity for addressing the need to plan for parent's long-term care and elder care needs. With advanced planning and the choice of a holiday that best fits your client's family's dynamic, a successful start to a plan can be had. And other family members may be relieved that someone else took the first step to facilitate this important conversation.
Let your clients know what a great opportunity the holidays can provide in having a LTC conversation with family—whether with their parents or adult children. For more information on the long-term care discussion, you can read our white paper here.
Sources/Disclaimer
1

Nationwide Long-term Care Study – The Harris Poll – Nov. 4, 2021

2

Taking Care of Caregivers" – Drs. Elise Herman and Rashmi Parmar, Psychiatric Times – Feb.7, 2022

This information is general in nature and is not intended to be tax, legal, accounting or other professional advice.

Nationwide and its representatives do not give legal or tax advice. An attorney or tax advisor should be consulted for answers to specific questions.
NFM-22523AO