Women investors' economic concerns: How financial professionals can help
March 06, 2023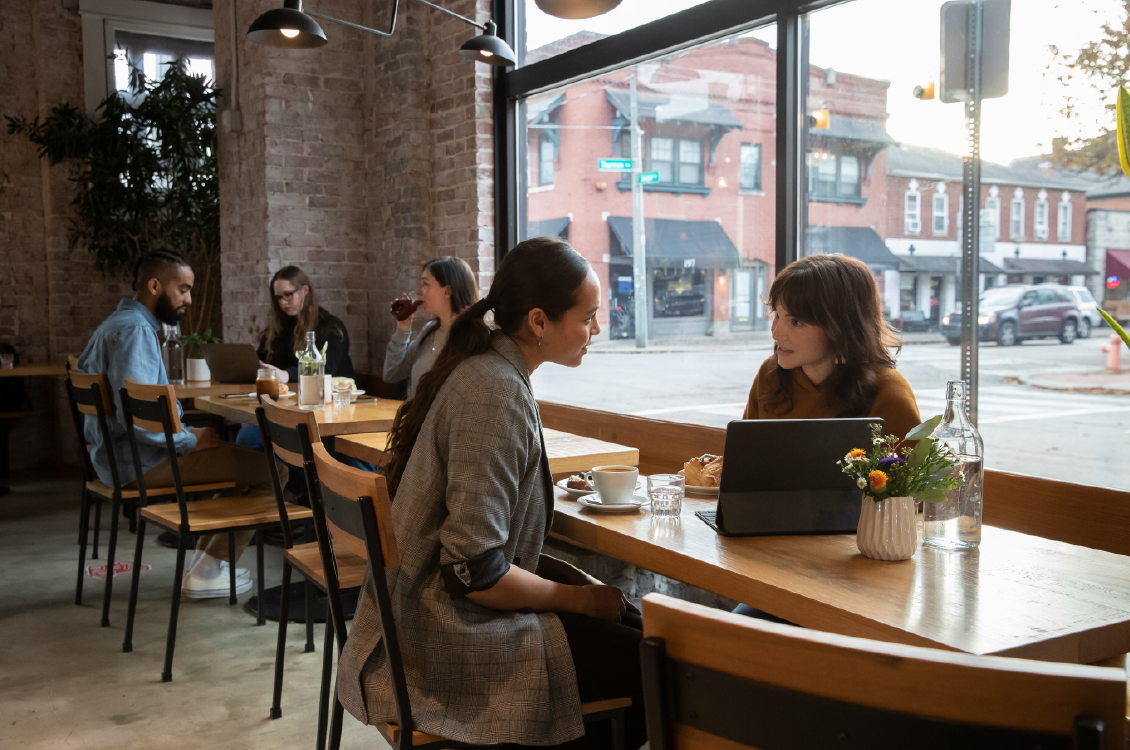 Throughout March, Nationwide is highlighting the unique perspectives of women investors, particularly those approaching retirement, and the opportunities for financial professionals to support their financial goals.
As of 2021, more than seven million working women in America earn an annual salary of at least $100k,1 and nearly half earn the same or more than their partner. While women are more in control of their finances than ever, they continue to face challenges in the current market environment, particularly as it relates to retirement. Financial professionals have a significant opportunity to address their concerns and help women plan and manage their financial journey.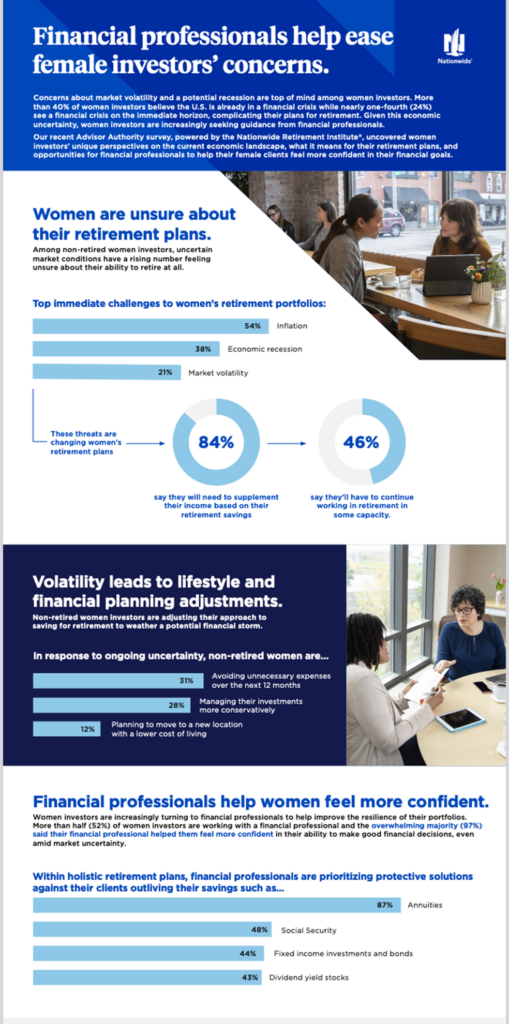 Inflation prevails among investor concerns
Among women investors, uncertain market conditions – particularly inflation – have a rising number feeling unsure about their ability to retire at all. Nationwide's eighth annual Advisor Authority survey, powered by the Nationwide Retirement Institute, provided plenty of insight into the current concerns of women investors. More than half of non-retired women believe inflation presents the most pressing and urgent threat to their retirement portfolios, followed closely by economic recession and market volatility.2
These pressures have left women feeling increasingly unprepared for and unsure of their ability to retire; one-fifth of non-retired women now feel they might not be able to retire at all, up 7% from 2022.3 Even among women who anticipate being able to retire, the vast majority (84%) speculate that they will have to supplement their retirement income in some way.4 Nearly half believe they'll need to continue working during retirement while one-third fear they might need to return to work after retiring because their savings will run dry.
Volatility leads to lifestyle and financial planning changes
Considering these fears and uncertainties, non-retired women are adjusting their approach to saving for retirement, prioritizing long-term safety. One-third of non-retired women investors say they will avoid unnecessary expenses over the next 12 months to prioritize saving for retirement,5 while more than a quarter say they will manage their investments more conservatively.6 That said, women investors are more risk aware than risk adverse; they are more likely to take risks when an opportunity is aligned with their personal goals.
In addition to changing savings habits, some (12%) women are considering uprooting their lives to ease the financial pressures of saving for retirement and are planning to move to a new location with a lower cost of living in the near future.7 Additionally, more women are seeking professional advice to improve the resilience of their portfolios. More than half of women are working with a financial professional in 2023, compared to 45% in 2022.8
Financial professionals provide a sense of security
During turbulent times, women increasingly value the advice and guidance of financial professionals as it gives them a sense of security in their financial plans for retirement. Nearly all women currently working with a professional (97%) say their advisor helps them feel more confident in their ability to make good financial decisions, even during economic uncertainty.9 Financial professionals are helping women stay focused on their long-term retirement plans and goals, preventing short-term threats from derailing the bigger picture. Most (87%) professionals are currently using annuities to prioritize their clients' long-term goals, followed by Social Security (48%), fixed-income and bond ladders (44%), and dividend-yielding stocks (43%).10
Additionally, women have a longer life expectancy than men and more often serve in a caregiver role, but they might not think to discuss their concerns about health care costs with their financial professional. Because women need to be prepared for additional medical expenses over the duration of their life, financial professionals have an opportunity to help women plan and save for these potentially higher health care costs. Using the Nationwide Health Care Cost Assessment, financial professionals can provide clients with personalized estimates of potential health care expenses – including Medicare, out-of-pocket, and long-term care expenses – allowing you to create a comprehensive plan that addresses their specific needs.
Women are lifelong clients and a strong referral source
Financial professionals need to be cognizant of the unique needs and challenges that women have when preparing for retirement. Women want to be treated as individuals and not a category of investors, so a financial professional who gets to know them and what is important to them will create a lifelong, loyal client. In fact, more than two-thirds of women are likely to recommend their financial professional to a friend or family member11 while four out of ten say they would follow their current financial professional to another firm.12
Sources/Disclosure
2

Q2022B3 – 54% inflation, 38% economic recession, and 21% market volatility, Nationwide Advisor Authority Survey, January 2023

3

Q2A, Nationwide Advisor Authority Survey, January 2023

4

Q2022B1, Nationwide Advisor Authority Survey, January 2023

5

Q2022B5 – 31%, Nationwide Advisor Authority Survey, January 2023

6

Q2022B1 – 82%, Nationwide Advisor Authority Survey, January 2023

7

Q2022B5, Nationwide Advisor Authority Survey, January 2023

8

Q800 – 52%, Nationwide Advisor Authority Survey, January 2023

9

Q8235_4, Nationwide Advisor Authority Survey, January 2023

10

Q8008a, Nationwide Advisor Authority Survey, January 2023

11

Merril Lynch "Seeing the Unseen: The role gender plays in wealth management 2020

12

Kiplinger "Women Move Forward on Their Own – But Not Alone " 2021

Nationwide's eighth annual Advisor Authority study powered by the Nationwide Retirement Institute® explores critical issues confronting advisors, financial professionals and individual investors—and the innovative techniques that they need to succeed in today's complex market.

About Advisor Authority: Methodology

The research was conducted online within the U.S. by The Harris Poll on behalf of Nationwide from January 4-13, 2023, among 511 advisors and financial professionals and 789 investors ages 18+ with investable assets (IA) of $10K+.  Advisors and financial professionals included 274 RIAs, 175 broker-dealers, 128 wirehouse and 55 other financial professionals. Among the investors, there were 203 Mass Affluent (IA of $100K-$499K), 167 Emerging High Net Worth (IA of $500K-$999K), 106 High Net Worth (IA of $1M-$4.99M) and 104 Ultra High Net Worth (IA of $5M+), and 209 investors with $10K to less than $100K investable assets ("Less affluent").  Investors included a subset of 224 "pre-retirees" age 55-65 who are not retired.

About The Harris Poll

The Harris Poll is one of the longest running surveys in the U.S. tracking public opinion, motivations and social sentiment since 1963 that is now part of Harris Insights & Analytics, a global consulting and market research firm that delivers social intelligence for transformational times. We work with clients in three primary areas: building twenty-first-century corporate reputation, crafting brand strategy and performance tracking, and earning organic media through public relations research. Our mission is to provide insights and advisory to help leaders make the best decisions possible. To learn more, please visit www.theharrispoll.com.

About Nationwide

Nationwide, a Fortune 100 company based in Columbus, Ohio, is one of the largest and strongest diversified insurance and financial services organizations in the United States. Nationwide is rated A+ by both A.M. Best and Standard & Poor's. An industry leader in driving customer-focused innovation, Nationwide provides a full range of insurance and financial services products including auto, business, homeowners, farm and life insurance; public and private sector retirement plans, annuities and mutual funds; excess & surplus, specialty and surety; pet, motorcycle and boat insurance. For more information, visit www.nationwide.com. Follow us on Facebook and Twitter.

Nationwide Investment Services Corporation (NISC), member FINRA, Columbus, OH. Nationwide Retirement Institute is a division of NISC.

Nationwide, the Nationwide N and Eagle, Nationwide is on your side and Nationwide Retirement Institute are service marks of Nationwide Mutual Insurance Company. © 2023 Nationwide
NFM-22802AO.1