Be a source of strength for clients in times of uncertainty
December 06, 2022
Investors have faced a host of financial challenges over the past year—from record inflation, to rising interest rates, to market corrections and rebounds. So it's no wonder that many investors who are not yet retired are recalibrating their expectations for retirement and their financial future.
The rise in market turbulence and economic uncertainty has sparked a jump in investor anxiety. To get a sense of this anxiety, we can look at investor behaviors in reaction to this surge in volatility. Our recent Advisor Authority survey, powered by the Nationwide Retirement Institute®, found that 43% of non-retired investors check their retirement account balances more than three times a week. This habit is also more common among women than men (53% vs. 34%).
It's good for investors to know what's going on in their retirement accounts, but there's a point where excessive checking or looking at portfolio balances becomes a compulsion or a bad habit. The danger comes when an obsessive behavior causes an emotional reaction, such as the impulse to try to time the market's ups and downs.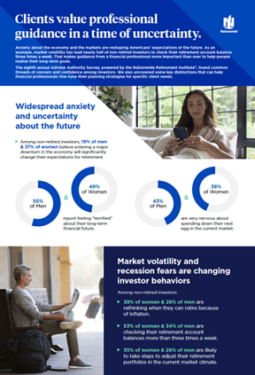 As a financial professional, your objective guidance can help anxious clients keep a long-term perspective and avoid the kind of emotional reaction that can take them off-course from their financial goals.
"Terrified" investors seek assurance
These feelings of instability and uncertainty are also having a psychological effect on investors preparing for retirement. Just over half of those we surveyed (51%) said they feel "terrified" about their long-term and post-retirement futures. Men appear to be more terrified than women, which is notable because men aren't checking their retirement account balances quite as often as women.
Economic uncertainty is also impacting the mood and perspective of non-retired investors'. There's widespread concern about the risk of outliving retirement savings; 43% of men and 38% of women expressed this fear in our survey. An economic downturn is also likely to prompt investors to change their expectations for retirement (37% of women and 19% of men.) Moreover, higher inflation has led 38% of women and 26% of men to rethink when they will be able to retire.
One unfortunate consequence of this year's market turbulence is that many investors may begin to see volatility as the new normal, and as a result take actions that reflect a heightened sense of anxiety. It's smart for investors to think ahead and plan appropriately, but the best step investors can do right now is work with a financial professional.
While anxiety appears to be rampant, it can also underscore the importance of thoughtful and sound guidance from a financial professional. There's opportunity for you to calm these fears and provide a degree of assurance by helping clients assess the specific risks they may face in the future and developing financial plans that address these risks over the long term.
Room for improvement
The results of our Advisor Authority survey do show many investors already have plans in place to address specific financial concerns. Still, there are gaps in preparation where financial professionals can play an important role.
When it comes to market risk, over half of investors we surveyed reported having existing plans to help manage these risks. However, there is a significant gap between men and women in these preparations; 70% of men said they have a strategy in place to help protect their assets against market risk, compared to only 51% of women. For protecting against outliving retirement savings, 77% of men reported having strategies in place, but only 62% of women said the same.
There's also room for improvement when it comes to retirement income planning. Our survey found 79% of men and 70% of women have a strategy in place for generating guaranteed income in retirement. However, the impact of inflation may put a dent in these plans. For non-retired investors, only around a quarter said they have sufficient guaranteed income in their retirement portfolios to weather a recession.
Seize the opportunity
While the end of the midterm election cycle eased some of the uncertainty investors have faced this past year, much of the economic and market uncertainty is likely to persist into the coming year. Nationwide Economics sees elevated risks of a U.S. economic downturn in 2023. And as long as the possibility of a recession hangs over the economy, financial markets will remain on a knife edge with continued volatility likely throughout 2023.
That means many investors will continue to feel anxious and uncertain about their financial futures. As markets rise and fall with swings in sentiment, investors will be vulnerable to making emotional decisions with their investments and portfolios.
As a financial professional, this is an ideal time to seize the opportunity to become a trusted source for financial guidance and solutions that build your clients' confidence. Formalizing their financial plans and making adjustments for the current market environment are good starting points for setting a course for a more secure retirement.
You can turn to Nationwide for resources and strategies that you can use as you plot your clients' financial journey. Insights like these from our Advisor Authority survey can be your guide to help you focus on the topics that matter to your clients.
Citations/Disclaimers
This material is not a recommendation to buy or sell a financial product or to adopt an investment strategy. Investors should discuss their specific situation with their financial professional.

Except where otherwise indicated, the views and opinions expressed are those of Nationwide as of the date noted, are subject to change at any time and may not come to pass.

Nationwide Funds are distributed by Nationwide Fund Distributors LLC, member FINRA, Columbus, Ohio. Nationwide Investment Services Corporation, member FINRA, Columbus, Ohio.

Nationwide, the Nationwide N and Eagle and Nationwide is on your side are service marks of Nationwide Mutual Insurance Company.

© 2022 Nationwide
NFM-22576AO