Clients rethink Social Security plans amid uncertain environment
July 20, 2022
Social Security planning is an important part of preparing for retirement, and clients considering filing for benefits in today's environment are finding planning more challenging as they contend with the lingering economic impacts of COVID-19, record inflation, and heightened market volatility. Add in uncertainty around the future of Social Security and it's no surprise that clients are coming to financial professionals with more questions than usual.
This year, the ninth annual Nationwide Retirement Institute® Social Security Survey, conducted by The Harris Poll, uncovered how recent concerns around COVID, inflation, and market volatility have changed people's attitudes or actions around retirement planning and Social Security in particular. Overall, the results of our 2022 survey found these concerns have become more common and are prompting individuals to take action related to their financial futures, some of which may have long-term impacts on their retirement plans.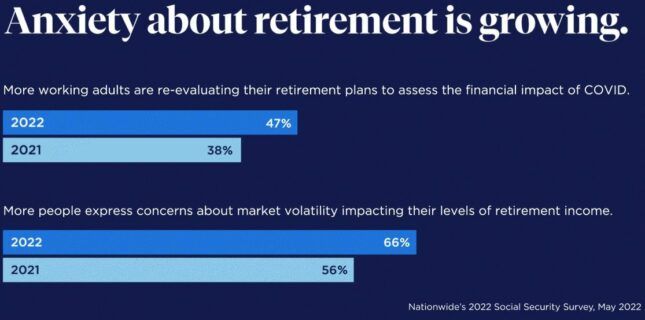 As a trusted financial professional, you have an opportunity to reassure clients by helping answer one of their most common questions: "When should I take Social Security benefits?" In this article, I'll review some of the key insights from our Social Security survey and discuss how to address some of your clients' biggest concerns in your planning conversations.
How planning has changed?
More than one-third of current workers (age 26 and up) told us that COVID continues to impact how they are planning for retirement, including Social Security benefits. What's interesting is that more people this year than last year reported experiencing financial impacts from COVID. For example, nearly half of those surveyed in 2022 (47%) said they are re-evaluating their retirement plans to assess the financial impacts of COVID, compared with 38% in 2021.
These impacts are changing the actions people are planning to take around filing for Social Security benefits. In this year's survey, one in five workers (20%) said they plan to push back their retirement date due to COVID, compared with 15% in 2021. Similarly, more people (14% in 2022) said they're now planning to file early for Social Security because of the financial effects of the pandemic, compared with 9% in 2021.
The recent surge in market volatility is also affecting investors. Our survey found that two-thirds of respondents are more worried now than before about how market swings will impact their retirement income. This percentage is up significantly from 2021 (56%) when markets weren't quite so volatile.
Where knowledge is needed
The majority of people we surveyed told us they have at least some confidence in their knowledge of Social Security. The largest share of people (46%) said they are either confident or very confident in their Social Security knowledge. Another 44% reported feeling somewhat confident. That adds up to nine out of 10 individuals expressing some level of confidence in what they know about Social Security.
What's troubling is that in many cases this confidence exceeds knowledge of the details of Social Security filing. In answering general questions about Social Security, the majority of survey respondents were correct in only five out of 14 questions. The lowest levels of knowledge were seen in topics related to enrollment, taxes, and inflation protection. When asked about spousal benefits, only two out of ten questions were answered correctly by the majority of survey respondents.
Despite high levels of confidence, many people were not well informed about Social Security rules specific to their own retirement. Two in five individuals (42%) did not know the most important factor in optimizing their benefits: their full retirement age. This number was considerably higher for women (50%) than for men (34%). Almost half of survey respondents (49%) didn't know what share of their income will be replaced by Social Security and 44% were unsure how much their Social Security benefit will be.
Future of Social Security in doubt
"Will Social Security be there when I retire?" That's a question many current workers are asking themselves. According to the most recent Social Security Trustees report, it's not entirely without merit.
Of adults age 26 and up, seven out of 10 are worried that the program will run out of funding during their lifetimes. Women are more likely than men to express this worry. Moreover, one-third of people not currently receiving Social Security believe they'll never see a penny of the benefits they have earned.
Concerns about the solvency of the Social Security program are also contributing to the adjustments people are making to their retirement plans. In our 2022 survey, three in five workers (60%) said they'll need to continue to work because Social Security won't pay enough. This percentage is up from 53% in 2021. Additionally, around two in five adults not currently receiving Social Security benefits (42%) said they plan to file for benefits early but also continue to work. That's compared to 36% last year.
A key role for financial professionals
There's an important role financial professionals can play to help clients work through these concerns, so they can make decisions about their financial future without emotions involved. Emotional decision making is an easy way for clients to find themselves off-track from their financial or retirement goals.
There's some good news from our survey in this regard; just over one-third of adults are currently working with a financial professional. In our survey younger investors from the Gen X and Millennial generations are more likely than Boomers to talk with a financial professional about Social Security planning topics such as spousal benefits and strategies for delaying benefits.
By addressing some of these prevailing concerns, financial professionals can deliver the guidance their clients are looking for, which can also help build stronger and longer-lasting client relationships. For example, inflation is a critical area where clients are seeking solutions. In our survey, around one-quarter of respondents said they'd turn to a financial professional who could help them learn more about inflation in general, its impact on Social Security and managing higher costs in retirement.
When it comes to Social Security planning, two out of three respondents said they were interested in learning from financial professionals about strategies to generate income to help delay their Social Security benefits until their full retirement age.
Social Security planning resources
As you work with your clients to help them prepare for retirement, including how to maximize their Social Security benefits, turn to the Nationwide Retirement Institute for resources to strengthen your own Social Security knowledge and guide you through some of the more complex planning situations you face with your clients.
Here are different ways the Nationwide Retirement Institute can help you address your clients' Social Security concerns:
Sign up for a continuing education seminar, hosted periodically throughout the year by specialists from the Nationwide Retirement Institute.
Host a Social Security planning seminar for clients, either in person or online, to help them better understand their Social Security decisions.
Use our Social Security 360 Analyzer to run a personalized assessment for clients to optimize their Social Security benefits.
NFM-22207AO