Confidence is key to helping clients manage today's uncertainties.
April 19, 2022
It's been a rocky start to 2022 for investors, with rising volatility in financial markets and growing fears of higher inflation and economic recession. But many investors are vigilant about these risks and working with financial professionals to help them brace for future uncertainties.
Financial professionals are in a prime position to impart the confidence they've gained from past financial crises to help their clients navigate through this period of uncertainty with plans for managing risk.
Risks on the horizon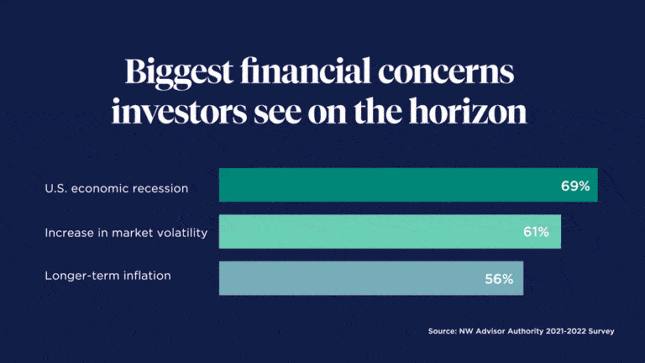 Many investors have been bracing for choppy waters this year, and it now appears those concerns were justified. Some common worries on the financial and economic horizon include:
Recession risks: Nearly 70% of investors said they are worried about a U.S. economic recession in the coming year, according to our latest Advisor Authority study. These growing concerns are also evident in the bond market, where short- and intermediate-term interest rates have risen faster than longer-term rates and flattened the yield curve – a classic signal of a pending recession based on historical precedent.
Longer-term inflation: Closer to home, many households are feeling the effects of higher prices and declines in purchasing power, which has reset their expectations on inflation. More than half (56%) of consumers think the current bout of inflation will be longer term, not transitory. Plus, as the Fed tightens monetary policy to battle inflation, rising interest rates increase consumer borrowing costs for mortgages, auto loans and credit cards. The squeeze on household budgets could depress consumer outlays. That's worrisome because as much as two-thirds of U.S. economic growth is dependent on consumer spending.
Market volatility: Economic worries have weighed on investors this year, but financial markets have also been rocked by the rise in geopolitical tensions. Stock markets fell into correction territory during the 1st Quarter on the outbreak of war in Ukraine, although the major equity indexes recovered some of these losses in the last several weeks. Conditions in the bond market have been relatively worse; many investors have seen the values of their fixed income holdings drop significantly as interest rates climbed.
The increase in market fluctuations has elevated investors' concerns as well. In our Advisor Authority study, 61% of investors expected a rise in market volatility in the next 12 months.
Been there, done that
If there's a silver lining in these growing investor concerns, it's that financial professionals are largely in a prime position to help clients calm these fears and consider solutions that are designed to manage the risks of investing and outliving their savings.
Financial professionals who have experienced financial crises in the past tend to feel confident in their ability to manage rising risk and uncertainty. Lessons from the past can prove valuable in helping clients avoid emotional decisions and keep their focus on the long term.
Plus, confidence gained through experience can help narrow the gap between financial professionals and investors, many of whom feel less confident in their ability to plan and protect their financial futures.
Around 70% of financial professional feel confident in their ability to help clients protect assets when the next financial crisis occurs and prepare for and live in retirement. Among individual investors, fewer than half feel confident in their ability to achieve these goals on their own.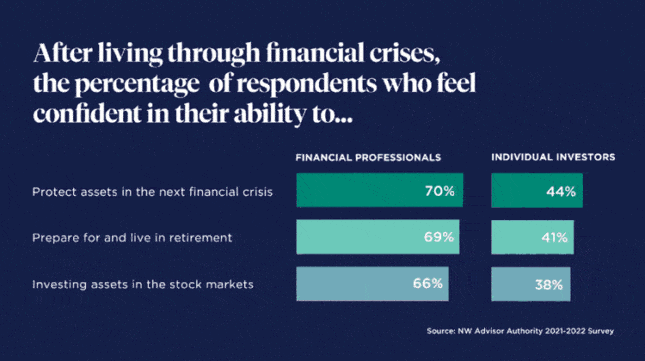 By imparting greater confidence to clients, financial professionals can help them build up their own confidence so they can avoid costly investment mistakes and stay on track toward their long-term financial goals.
Calm within the storm
After a difficult start to the year with inflation and market volatility rising, it's no surprise to find investors' nerves on edge. For financial professionals, this is an opportunity to help clients calm their shaky nerves and offer solutions that may protect them from risks beyond their control.
To guard against market risk and volatility, financial professionals tend to rely on strategies that can help manage the impact of market fluctuations. Diversification, fixed annuities and fixed indexed annuities topped the list of most commonly used solutions to control market risk.
To help protect clients from longevity risk, or the risk of outliving their assets, the most common strategies financial professionals turn to include Social Security, dividend yield stocks and variable annuities.
But among all the goals your clients may be seeking in the current climate, beating inflation may be top-of-mind for many of them. Historically, investing in stocks has been the best way to beat inflation over the long term, but stocks come with the risk of short-term market fluctuations. When volatile periods occur, a variable annuity offers the opportunity to capture the potential upside of stocks. Adding a living benefits rider to a variable annuity gives clients downside protection on their income.
Our Advisor Authority study found that over six in 10 (63%) investors are currently working with a financial professional. That's good news, but there's plenty of opportunity for financial professionals to do more. The confidence that comes from past experience can be key for financial professionals in helping their clients build their own confidence so that they too can stay focused on their long-term goals during turbulent times.
Share more insights from our Advisor Authority survey with your clients, then find more resources from Nationwide that can help you have productive conversations with clients and solve for many common investor concerns.
Disclosure
About Advisor Authority: Methodology

The seventh annual Advisory Authority Survey was conducted online within the United States by The Harris Poll on behalf of Nationwide from July 22 – August 17, 2021 among 1,632 advisors and financial professionals and 839 investors, ages 18+. Investors are weighted where necessary by age by gender, race/ethnicity, region, education, income, marital status, household size, investable assets and propensity to be online to bring them in line with their actual proportions in the population. Respondents for this survey were selected from among those who have agreed to participate in Harris Poll surveys. Because the sample is based on those who were invited to participate in Harris Poll online research, no estimates of theoretical sampling error can be calculated.

This material is not a recommendation to buy or sell a financial product or to adopt an investment strategy. Investors should discuss their specific situation with their financial professional.

This information is general in nature and is not intended to be tax, legal, accounting or other professional advice. The information provided is based on current laws, which are subject to change at any time, and has not been endorsed by any government agency.

Nationwide Investment Services Corporation, member FINRA, Columbus, OH.

Nationwide, the Nationwide N and Eagle and Nationwide is on your side are service marks of Nationwide Mutual Insurance Company. ©2022 Nationwide

NFN-1304AO (4/22)
NFN-1304AO