Help close the financial security gaps in LGBTQ+ community
June 02, 2022
While the LGBTQ+ community has made much progress over the past decade in terms of legal protections, thanks in large part to a few different favorable rulings from the U.S. Supreme Court, when it comes to many measures of financial security LGBTQ+ individuals still lack equality with the general U.S. population.
Recently, the Nationwide Retirement Institute fielded a survey of 1,000 people who identify as LGBTQ+ to gauge their perceptions of financial security relative to the wider U.S. population. While over half of the general U.S. population had a positive view of their personal financial situation in our survey, we found that LGBTQ+ Americans overall viewed their financial picture less favorably.
Just 41% of the LGBTQ+ community said they have positive view of their current finances, compared to 54% of the general U.S. population. Nearly one-quarter (24%) of LGBTQ+ Americans viewed their personal financial situation as poor. This infographic summarizes many of the key findings from our LGBTQ+ survey, which can be downloaded and shared with clients.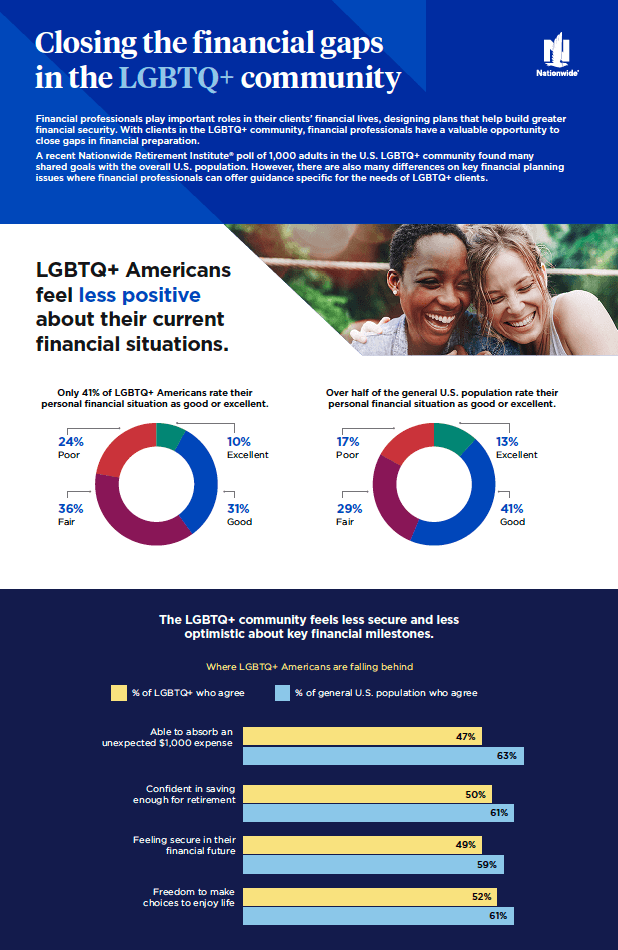 A closer look at the results of the survey reveals several gaps between LGBTQ+ Americans and the general population in many areas that are relevant to financial security. Members of the LGBTQ+ community were more likely to say they don't have control of their day-to-day finances. Moreover, fewer LGBTQ+ Americans said they could absorb a surprise expense of $1,000, that they were on track for their financial goals, or that they felt secure about their financial future.
No place like home
Retirement planning and paying off debt remain among the top financial priorities for all Americans, gay or straight. But our survey found some interesting splits between the LGBTQ+ community and the general population. For one, a greater share of LGBTQ+ Americans prioritize buying a home than the rest of the population.
LGBTQ+ communities are often strongest in more urban areas, where LGBTQ+ residents not only feel welcome and accepted for who they are, but also where there are more likely to be strong protections in place against LGBTQ+ discrimination in housing, the workplace and other social services. Unfortunately, urban areas are also among the most expensive housing markets in the country, so potential LGBTQ+ homebuyers need to prioritize saving and planning in order to make homeownership possible in the places they are comfortable.
Planning for a family is another important financial priority for LGBTQ+ Americans. LGBTQ+ couples often face significant expenses for adoption or surrogacy. This may require financial sacrifices that could compete with other financial needs.
The price of discrimination
Two-thirds of LGBTQ+ Americans said they feel they face unique financial challenges that most non-LGBTQ+ people don't face. One example of these unique challenges is in their professional lives; just under half (46%) said they feel their gender identity or sexual orientation negatively impacts their opportunities for career advancement. And 37% of those LGBTQ+ individuals surveyed said they've actually experienced a negative impact on their careers due to their gender identity or sexual orientation.
The negative effects of bias and discrimination in the workplace carry adverse financial consequences to members of the LGBTQ+ community. Both gay men and lesbian women report earning less (in the case of gay men, significantly less) than their heterosexual peers. Lower earnings over the course of a career translates to lower savings over the long term, which widens the financial preparedness gap between LGBTQ+ Americans and the overall population.
Open the door to equal opportunities
Because of the unique financial challenges and competing financial priorities of the LGBTQ+ community, this group may give certain financial goals less emphasis or even move them to the backburner. For instance, retirement planning is a top goal for everyone – it's among the top three financial goals for all survey respondents — but fewer LGBTQ+ individuals give it high priority. In fact, saving for experiences and paying off debt rank higher as financial goals.
From a financial planning perspective, this presents opportunities to help LGBTQ+ clients to focus on their financial futures. That doesn't mean they should discount other financial goals. Instead, creating financial plans that help solve for those more pressing or higher priority needs, such as home buying or planning for a family, can open the door for LGBTQ+ clients to plan for other needs they may not be focusing on.
Where financial professionals can fit in
Americans share common financial goals and face similar financial challenges, so what explains these gaps in financial security? For one, LGBTQ+ Americans report that they lag the general population in their knowledge of key financial topics, such as saving, budgeting, or building credit. Just over half (54%) felt knowledgeable about retirement planning, compared with 67% of the general population. Just under half (45%) felt informed about investing in the stock market, versus 53% of the general population.
Second, a majority of LGBTQ+ Americans believe most financial professionals don't understand the impact of these unique financial challenges on their lives. Seven out of 10 LGBTQ+ Americans report they would feel more comfortable with an advisor or financial professional who is a member of the LGBTQ+ community or a vocal ally.
This is where financial professionals can move the needle with their LGBTQ+ clients. Take the time to learn more about the unique financial challenges these clients face and get a personal perspective from them on how these issues are affecting their overall financial picture, from planning for their short-term goals, to protecting their long-term futures.
If you're interested in expanding your practice to reach the LGBTQ+ community, consider becoming a sponsor of a local Pride parade or Pride festival in your area. This visibility will demonstrate your allyship and position you for consideration for those potential clients looking for a financial professional with a presence in the LGBTQ+ community.
For more insights and solutions to help you prospect and meet the planning needs of your LGBTQ+ clients, join us for CE-approved webinar on Thursday, June 23. Get tips on the special considerations to take into account as you help LGBTQ+ clients prepare for a more secure financial future. Register here.
NFN-22034AO