Inflation in health care costs offer planning opportunities
October 26, 2022
Due to rising inflation, many consumers are cutting back on activities such as dining out, buying organic groceries and indulging on discretionary purchases. Rising costs for health and medical care are also a factor in these purchasing decisions; almost half of adults say they are paying more for health care and medical expenses in the last 12 months.
That is one of the many revealing insights from the 2022 Nationwide Retirement Institute® survey on the financial impacts of inflation in health care spending. With the official inflation rate near a 40-year all-time high, the rising cost of health care and the need to save for health care costs in retirement are adding to the financial stress felt by many Americans.
The challenges that families and individuals have faced in the last few years underscore the importance of preparing for life's unknowns. The cost of health care is among one of the biggest unknown that people must consider when planning for retirement. Financial professionals can provide valuable guidance now to help more people plan ahead for higher health care costs.
Higher costs compound stress
Pressures from higher out-of-pocket costs are affecting how many families and individuals use and purchase health care. One-fifth of adults in our latest survey reported switching from a name-brand prescription drug to a lower-cost generic version in the past 12 months. Another 14% said in the past year they put off or canceled plans to see a medical specialist because of high inflation.
Many people don't expect health care expenses to improve in the future either. Two out of five adults surveyed (40%) said they expect prescription drug costs to increase in the coming year. About one-third (32%) believe their monthly health care insurance premiums will also increase.
Rising health care costs are compounding inflation worries, not only in now, but also for the future. Almost one-half of adults in our survey said they are stressed about the effects of inflation on their plans for retirement.
This stress is taking an emotional toll on some individuals; a significant number of people express fear about out-of-control health care costs in retirement and are terrified about what rising health care expenses could mean for their retirement plans. As a financial professional, it's important to keep the added stress from rising health care costs in mind as part of your planning conversations with clients.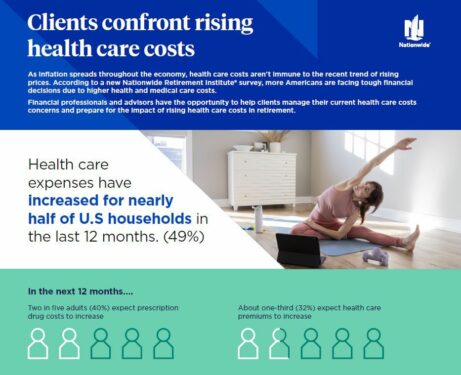 The confidence gap
The health-wealth connection is a topic that remains relevant for many clients. People who live healthier lifestyles are more likely to benefit financially in managing their future health care costs.
Our 2022 Health Care survey shows that many people have confidence in their personal health, but a significant number could use some guidance for building confidence in their financial health. For example, 62% of adults are confident about their ability to maintain good mental health in retirement. A similar number – 57% — are confident about their ability to maintain good physical health in retirement.
That's a positive endorsement of the value in adopting healthy habits. However, our survey found a lower degree of confidence in planning for retirement. Just under half of adults (48%) feel confident in their ability to have a successful financial strategy for retirement. Similarly, only 46% of adults feel confident in their ability to manage and pay for health care costs in retirement.
This isn't a wide gap between health confidence and wealth confidence, but it's significant enough to demand attention. How can financial professionals help their clients build their financial confidence and strengthen the health-wealth connection? Look for opportunities to address specific areas and concerns in a client's financial plan. In many cases, some easy "wins" can go a long way in helping to close the gap.
Where you can help clients the most
Medicare is a topic that confuses many people because of the different parts and rules that make it complex. Two in five adults in our survey said they didn't know how Medicare works to cover medical costs in retirement. Moreover, 70% said they wished they had a better understanding of the Medicare program. You as a financial professional don't need to be a Medicare expert to help your clients know more about Medicare. Nationwide teamed up with the National Council on Aging (NCOA) to create the My Medicare Matters tool brought to you by Nationwide. This tool can help you walk clients through their Medicare planning options.
NCOA also has created an online tool called BenefitsCheckUp® that helps connect older adults and people with disabilities to benefits. The tool allows people to check if they're able to get help from key programs such as Medicare Savings Programs and Medicare Extra help.
There's also a low level of understanding of how much health care will cost people once they enter retirement. If they have an estimate in mind – and most people don't or can't figure out how to estimate – the number is way off from the actual costs current retirees pay for health care.
Our survey found the average estimate people gave for their expected health care costs was just over $40,000. That's not per year – that's for the entirety of their retirement! The actual costs for health care over the course of a full retirement can be up to six times that average estimate.
With the Nationwide Health Care Cost Assessment, you can present clients with a personalized estimate of what they can expect to pay for health care in retirement. With an estimate in hand, you and your clients can refine their financial plans to account for these costs, which can help them feel more confident in their financial future.
For your clients that are already 65+, one potential area of relief is for them to review their Medicare plan during open enrollment, which goes through December 7th. According to the NCOA, only about 10% of people switch Medicare plans during open enrollment, which could mean they are overspending on coverage they don't need or no longer use.
Be a valuable resource for clients
As a financial professional, you play a crucial role in helping to create more secure financial futures for your clients. Your role is even more important during times of high inflation. The cost of health care is a significant factor in the retirement planning calculation and should be part of your client conversations.
Research Methodology
This survey was conducted online within the U.S. by The Harris Poll on behalf of Nationwide between August 26 and September 8, 2022 among 1,140 U.S. adults age 18+ (national sample) including 283 Gen Z (age 18-25), 285 Millennials (age 26-41), 286 Gen Xers (age 42-57), and 286 Boomers+ (age 58+). Data were weighted as needed to bring them in line with the population of U.S. residents age 18+ from the 2020 Current Population Survey for age by gender, education, race/ethnicity, region, household income, marital status, and household size. To ensure the national sample was representative, the data were initially weighted by generation (Gen Z 18-25, Millennials 26-41, Gen Xers 42-57, and Boomers+ 58+) and then combined into a total 18+ group.
NFM-22458AO