Investors face inflation, recession fears with confidence
October 12, 2022
Investors and financial professionals have a lot on their minds right now. From persistent inflation, to climbing interest rates, to worries about a potential recession and market downturn.
Both individual investors and financial professionals are now less optimistic about the next 12 months than they were a year ago, according to the results of our eighth annual Advisor Authority survey, powered by the Nationwide Retirement Institute®.
Among investors, only 39% said their 12-month outlook was optimistic, a drop of 10 percentage points from the 2021 survey. Among financial professionals, the swing away from optimism was even more dramatic. In 2021, 63% of FPs were optimistic in their 12-month outlook. In 2022, that number dropped 15 percentage points to  48%.
Optimism can rise or fall based on a range of factors. Lately, investors have coped with volatile swings in the stock and bond markets, which can dampen optimism and contribute to heightened anxiety. Over half of investors in our recent survey (54%) said they are worried about market volatility in the next 12 months. That number is actually lower than last year, which may indicate that investors are getting used to living with volatile markets.
"While investor concerns may have lessened somewhat this year, both volatility and inflation are likely to persist in the year ahead. Financial professionals should talk to clients about implications for their portfolio."

Mark Hackett, Chief of Investment Research
Economic woes weigh on Americans
Compared with last year, investors have much more to be concerned about in the present climate, so the drop in optimism is not surprising. While COVID-19 is still with us, the disruptions due to the pandemic have generally lessened in 2022. However, there are plenty of other worries to preoccupy investors.
Perhaps the biggest worry this year has been inflation. Despite small improvements in recent months, consumers are still paying much higher prices for many goods and services than they were last year. Nearly half of investors in our 2022 Advisor Authority survey (46%) cited inflation as a top-three financial concern. That number is 17 percentage points higher than it was last year.
But the biggest concern for investors and financial professionals remains a potential recession; 74% of investors said they were worried about an impending economic downturn. That's about even with 2020 numbers at the height of the COVID-19 pandemic, so investors' recession expectations have not gotten worse or better. But recession fears increased among financial professionals; 82% said they were worried about an economic downturn, compared with 77% previously in 2020.
View the infographic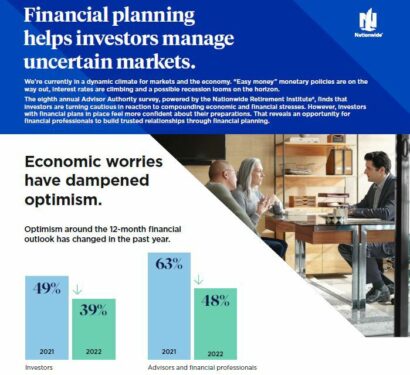 The value of financial planning
While worry is high in the current financial and economic climate, there's some good news to report from our 2022 Advisor Authority survey. Confidence has remained resilient, at least among investors who are working with financial professionals and have financial plans in place. Just over half of investors surveyed (55%) said they are currently working with a financial professional. That leaves a significant pool of investors who are likely candidates for guidance from financial professionals.
The results from our Advisor Authority survey underscore the value that having a plan has for investors, especially in the midst of changing economic conditions and challenges in the financial markets. Investors with plans for their investments were more likely to say it helps them feel more in control (86% of investors in our 2022 survey). That number is down from previous years, but still high enough to show the value that financial planning brings to investor confidence.
Additionally, 87% of investors said having a plan for their investments helps them feel more confident in their investment decisions. So does working with a financial professional; 89% of investors said their relationship with their FP also gives them confidence in the investment decisions they make.
Leading by example
While confidence among investors remains strong, there's also room for improvement. Many investors may feel good about the plans they've made, even if there are some missing pieces in those plans.
One area where FPs can help clients is in managing and preserving sources of retirement income. Our survey found only 59% of investors not working with an advisor or financial professional have a strategy in place to generate income in retirement. Even fewer (52%) investors not working with a trusted advisor have a plan to help them make their savings last for the duration of their retirement.
This is in contrast to the efforts financial professionals have taken to develop strategies to protect their clients' financial futures. For example, 85% of investors working with an FP have plans for generating income in retirement. And 85% of investors working with an advisor have a strategy in place to prevent their clients from outliving their savings during retirement.
Similar trends emerged in the results of our 2022 survey when we asked about managing market volatility—a concern that is likely to grow with the dramatic swings in the stock markets this year. In managing market risk, investors are lagging significantly; only 60% said they have plans in place to help protect assets in volatile markets. Financial professionals are way ahead of the investing public, with 93% reporting strategies in place to help their clients manage market risk.
From these findings, we think it's important that financial professionals lead by example, helping their clients build on their confidence with moves designed to help improve their future financial security. Clients may only need to see financial planning in action to understand the importance of these strategies. As a financial professional, sharing personal examples of financial planning can do a lot to demonstrate its value to your clients.
How financial professionals can build confidence
When investors are anxious, they often react to external events instead of letting their plan guide their decisions. That can lead to unintentional outcomes. In the current market climate, the expertise and guidance of an financial professional becomes more important than ever, to help develop a financial plan to seek greater security in retirement.
Not only do financial professionals have opportunities to connect with potential clients who have not yet engaged in planning, but FPs can also help current clients bolster their confidence by filling in the missing pieces of their existing plans.
Survey Methodology
Survey methodology: The eighth annual Advisory Authority Survey was conducted online within the United States by Harris Poll on behalf of Nationwide Advisory Solutions from July 27 – August 16, 2022 among 506 financial advisors and 521 investors, ages 18+. Investors are weighted where necessary by age, gender, race/ethnicity, region, education, income, marital status, household size, investable assets and propensity to be online to bring them in line with their actual proportions in the population.
NFM-22335AO