Talking financial security innovations at the Milken Global Conference
May 09, 2023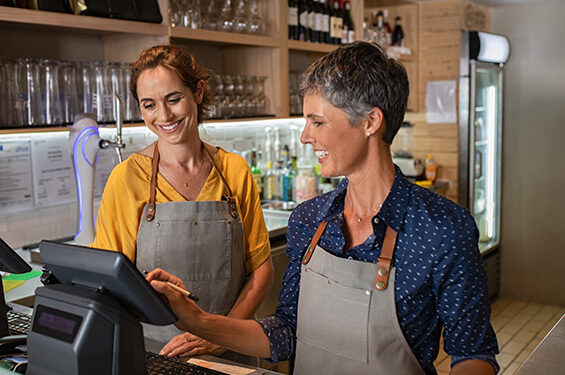 Every day, 10,000 American workers enter retirement. As they do, and as millions more continue to work and save for their future, they're facing uncertainty about their long-term financial security. As their doubts rise, many retirees and near-retirees are shifting their financial priorities from building wealth to seeking stable income in retirement.
This trend represents a structural shift in the retirement plan landscape. For many years, we've built solutions to help people accumulate wealth, but now they're bearing the risk of outliving living their money.
As financial professionals in the retirement industry – plan providers like Nationwide and plan advisors like yourself – we can and should do more to help improve retirement security for more Americans.
Innovative solutions to enhance lifetime financial security
This challenge was part of the agenda at the Milken Institute's 2023 Global Conference in Southern California. This gathering covered a wide range of topics beyond finance and featured prominent voices from global governments, media, entertainment and the business community. I was very honored to be invited to join a panel discussion about addressing financial security challenges experienced by many Americans.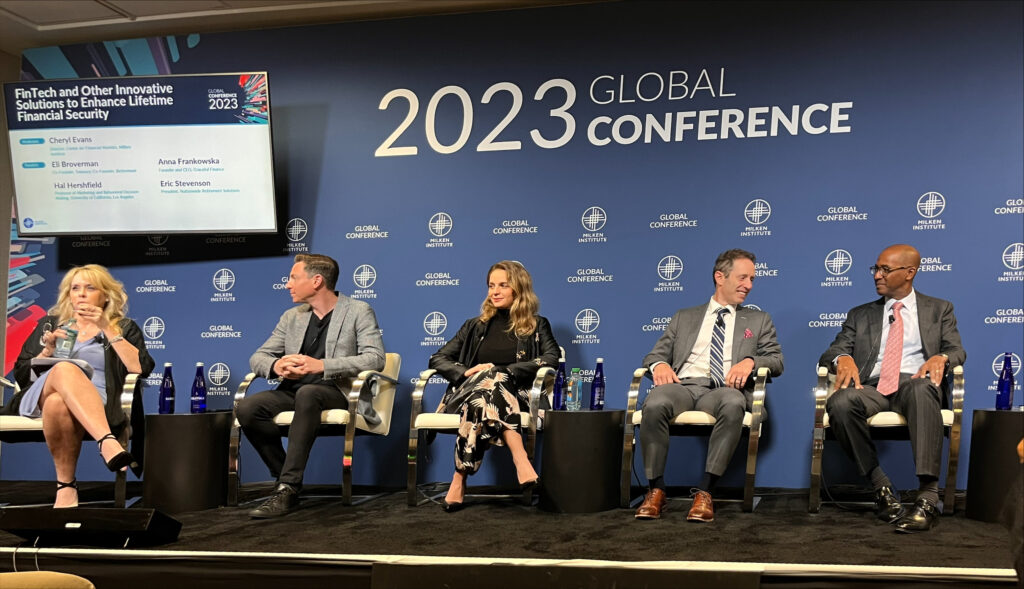 This panel also included Eli Broverman, Co-Founder of Treasury and Betterment; Anna Frankowska, Founder and CEO of Graceful Finance; Hal Hershfield, Professor of Marketing and Behavioral Decision Making at the University of California Los Angeles; and panel moderator Cheryl Evans, Director of the Center for Financial Markets at the Milken Institute.
As part of the panel discussion, I talked about the ongoing shift from defined benefit to defined contribution plans and the gap it has exposed in American savers' path to financial security. As workers shoulder more of the risk for retirement planning, a majority are struggling with the transition from savings to income. Defined benefit plans existed to solve this problem, but now this responsibility falls on individuals in most cases.
Watch Replay
Changing the retirement planning mindset
The financial industry has delivered many innovations to help participants address the savings side of the equation, but now we have to innovate on the income side. This is where most people need help. In fact, a recent Employee Benefit Research Institute survey found that 75% of workers said they're prioritizing income stability over maintaining wealth.
Here's how I frame the problem of lifetime financial security: if we can at a minimum help retirees cover their essential housing and health care costs—two of the biggest costs people face in retirement—that can go a long way toward keeping people out of poverty. They key to this challenge is predictable income.
One way we can innovate the income side of the equation is through in-plan guarantees, which became more feasible for plan sponsors thanks to the SECURE Act of 2019. These solutions are gaining momentum. Nationwide has seen significant adoption of our in-plan guarantee solutions among plan sponsors and participants in the past few years. More than 5,500 plans supported by Nationwide now offer an in-plan guarantee solution and assets have reached $1.3 billion as of April 2023.
Your role in promoting greater financial security
Let me reiterate this important point—American workers want stable income in retirement. Our own research shows that people are expressing a greater demand for guidance and a growing need for guaranteed solutions.
A 2022 Nationwide Retirement Institute survey found that about nine in 10 employees would be at least somewhat likely to roll over a portion of their current retirement savings into a guaranteed lifetime income investment option if it was offered by their employer. Additionally, over half of participants would be interested in guaranteed lifetime income investment options included as part of target-date funds.
The question for the financial services industry is, will we use our knowledge and knowhow to open more pathways to retirement security and deliver solutions to help American workers get there? It will require a collaborative effort between plan providers like Nationwide, as well as financial professionals and retirement plan advisors like you who work directly with plan sponsors and participants.
The challenge is urgent. Just ask any of the 10,000 American workers who retired today.
Sources/Disclaimer
Investing involves market risk, including possible loss of principal, and there is no guarantee that investment objectives will be achieved.

Guarantees are subject to the claims-paying ability of the issuing insurance company.

Provisions of these options may vary based on plan selection and/or by state regulation. These investment options may not be available in all states.
NFM-22984AO