Women seek retirement confidence after COVID setbacks
January 12, 2022
Like many people, I see the start of a new year as a fresh start—an opportunity to improve some aspect of my life. But as 2022 begins with COVID still on the rise, it may be hard to find the confidence to make resolutions about the future, much less follow through on them.
For many of us, the pandemic has pushed our resolve to its limits. Working through the pandemic hasn't been easy for anyone, but it's been particularly difficult for women. Working women are largely responsible for managing the needs of their homes and families, and these pressures are colliding with the new demands of working from home. Plus, many working mothers are juggling remote schooling and shifting schedules for children. Other women are shouldering the duties of caring for aging parents and older family members.
For me, as a working mother and as a woman in the retirement industry, I see a unique opportunity to bring my personal and my professional life together to make 2022 the year we help people reclaim their financial confidence, especially women. The pandemic has impacted women's lives in a wide variety of ways, both personally and professionally, as well as physically, emotionally, mentally and financially.
A crisis of confidence
A 2021 Nationwide Retirement Institute® survey of employer-sponsored retirement plan participants and plan sponsors found that women are feeling less confident about retirement planning than men (34% versus 49%). About one in five women (18%) said they believe they're on the wrong track for retirement. A similar percentage reported they plan to retire later than they originally planned due to the pandemic.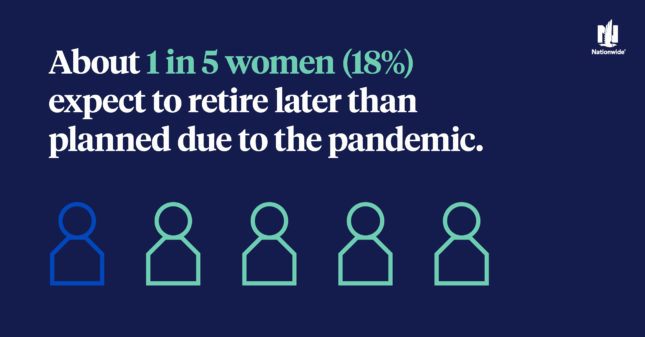 It's important that financial professionals address women's lack of retirement confidence, because women are less likely than men to have reached key retirement planning milestones. According to our survey, fewer women than men have saved enough in an emergency fund or started contributing to a 401(k) plan or individual retirement account (IRA). Those women who are currently saving for retirement through a 401(k) or IRA are also less likely to increase their contributions.
Firms who sponsor workplace retirement plans are also recognizing the adverse effects that the pandemic has had on women's retirement confidence. Of the plan sponsors included in our recent survey, 70% said they believe women are more likely than men to have been financially impacted by the pandemic.
Where to start building retirement confidence
On the positive side, many women are already taking steps to build confidence in their retirement plans and improving their financial outlook. Among women who expect to delay their retirement, a majority (67%) also said they have changed their overall approach to saving for retirement. Additionally, nearly half (48%) of women surveyed expressed interest in solutions that offered guaranteed retirement income.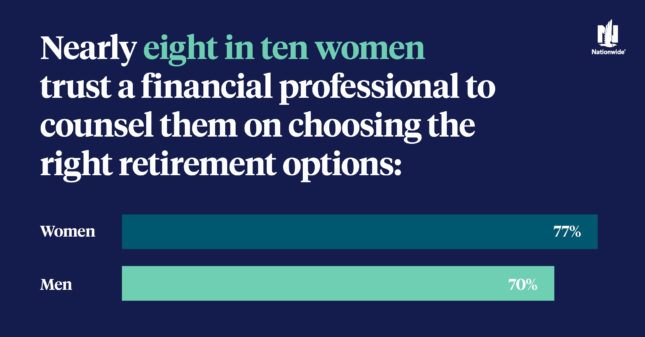 Financial professionals and advisors can be valuable partners in helping their female clients gain greater confidence in retirement planning. According to our survey, more women than men (77% versus 70%) said they trust financial professionals for guidance on choosing the right retirement options for their circumstances. Women are also likely to see financial professionals as a primary source for learning more about guaranteed lifetime income options.
Where should financial professionals and advisors look for opportunities to help their female clients build retirement confidence? For women with many years until retirement, the focus could remain on building and accumulating wealth over the long term. That would include investing for growth, diversification for managing risk and maximizing savings, especially through tax-advantaged retirement accounts.
For women whose retirements are closer on the horizon, financial professionals may shift the planning conversation from accumulation to decumulation. Guaranteed lifetime income investment options through a retirement plan or an annuity are solutions that can help women manage the risk of outliving their savings and help ensure they have enough income to last over a long retirement.
As financial and retirement professionals, let's make 2022 the year we make a resolution to keep, helping women build their confidence to plan for a comfortable and secure retirement.
Simplify the retirement income discussion
Nationwide has resources to help financial professionals and plan sponsors open the retirement income planning discussion. Learn about guaranteed income solutions that support better outcomes in the small business 401k markets or institutional and government markets.
Disclaimer
Diversification does not assure a profit or protect against loss in a down market.  This information is general in nature and is not intended to be tax, legal, accounting or other professional advice.

The information provided is based on current laws, which are subject to change at any time, and has not been endorsed by any government agency.

Neither Nationwide nor its representatives give legal or tax advice. Please have your clients consult with their attorney or tax advisor for answers to their specific tax questions.

© 2022 Nationwide
NFN-1255AO