Are we in for a recession or something worse?
MAY. 13, 2020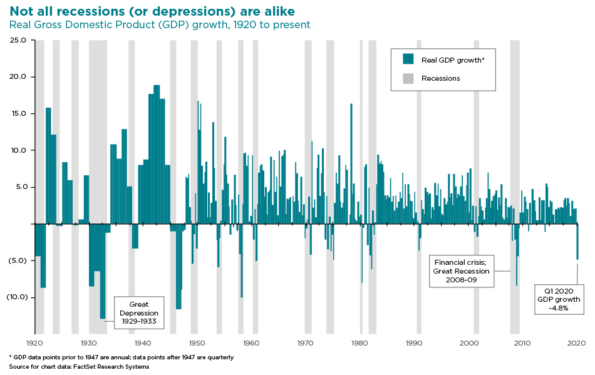 The April jobs report showed the unemployment rate jumping to 14.7%, the highest level since the peak of the Great Depression. The staggering economic decline sparked by the COVID-19 pandemic has some wondering whether we are in a sharp but temporary recession or something longer like the Great Depression.
What's the difference between a recession and depression? The distinction is somewhat imprecise because there's no standard definition of a depression; it's simply a harsher and more sustained recession. A recession is generally defined as two consecutive quarters of declines in real GDP. Official recessions are declared by the National Bureau of Economic Research (NBER), and their definition allows room for interpretation.
The above chart illustrates the material differences between the duration and severity of historic economic contractions. The only depression in modern times occurred between 1929-33; then, the U.S. economy shrank by nearly 30% and unemployment reached 25%. In more recent memory, Nationwide Economics pinpoints the worst U.S. recession since World War II occurred during the 2008-09 financial crisis; real output fell 3.9% and the unemployment rate rose from around 5% to 10% at the recession's peak.
While we believe the current economic decline will likely be well above the average post-war recession, the speed of the decline and the expected recovery are not consistent with the last true economic depression. In other words, we're somewhere in between–expect this recession to be worse than what we've experienced in the recent past, but we're not in the same place as we were in the years of the Great Depression.
Review relevant client material from Nationwide
Disclaimers
This material is not a recommendation to buy, sell, hold or roll over any asset, adopt an investment strategy, retain a specific investment manager or use a particular account type. It does not take into account the specific investment objectives, tax and financial condition or particular needs of any specific person. Investors should discuss their specific situation with their financial professional.

Except where otherwise indicated, the views and opinions expressed are those of Nationwide as of the date noted, are subject to change at any time and may not come to pass.

Past performance does not guarantee future results. Current performance may be lower or higher than the past performance shown.

Nationwide Funds are distributed by Nationwide Fund Distributors LLC (NFD), member FINRA, Columbus, Ohio.

Nationwide Investment Services Corporation (NISC), member FINRA, Columbus, Ohio.

Nationwide, the Nationwide N and Eagle and Nationwide is on your side are service marks of Nationwide Mutual Insurance Company.

© 2020 Nationwide
MFM-3716AO