Can growth stocks continue to outperform?
August 05, 2020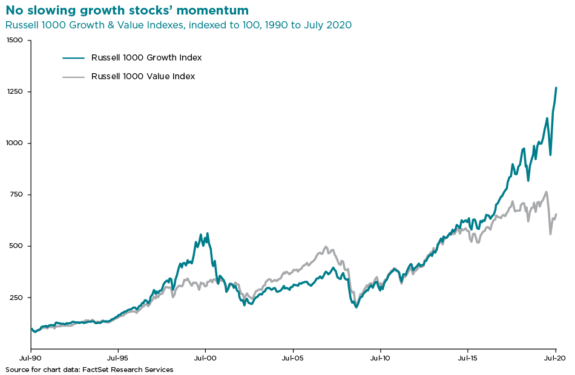 Despite unprecedented challenges, equity markets have been remarkably resilient this year, with the S&P 500® Index up over 2% for the year-to-date as of July 31. But look more closely at this performance and you'll see a wide gap between growth and value stocks; over the 12 months the Russell 1000 Growth Index has gained more than 30%, while its counterpart Value Index has declined by nearly 7%.
The outperformance of growth stocks has been notable since the end of the financial crisis, but the trend goes back further; at the peak of tech-stock bubble in February 2000, the performance spread between growth and value was wider than it is today. While that may seem an ominous sign for growth stocks, these companies today bear little resemblance to the growth giants of the late 1990s, thanks to their stronger profitability and balance sheets.
More recently, investors have flooded into technology stocks, including the five largest large-caps: Apple, Microsoft, Amazon, Alphabet/Google and Facebook. Since the beginning of 2015, these five S&P 500 stocks gained a cumulative 266% on average, while the 495 other members of the S&P 500 rose just 25% on average over the same period. The incredible performance of the tech behemoths has pushed valuations higher; the Russell 1000 Growth Index currently trades at 31-times forward earnings—nearly double the level from late 2018—while the Russell 1000 Value trades at a more modest 18-times forward earnings despite severe profitability challenges for these companies.
Historically, value stocks tend to outperform as the economy emerges from recession because these companies are generally more economically cyclical and have greater operating leverage. However, little of the current cycle has followed historical norms. Momentum among growth stocks could continue to push the group higher in the near term, though a narrowing of the gaps in performance and relative valuations are likely in the intermediate term.
Review relevant client material from Nationwide
Disclaimers
This material is not a recommendation to buy, sell, hold or roll over any asset, adopt an investment strategy, retain a specific investment manager or use a particular account type. It does not take into account the specific investment objectives, tax and financial condition or particular needs of any specific person. Investors should discuss their specific situation with their financial professional.

Except where otherwise indicated, the views and opinions expressed are those of Nationwide as of the date noted, are subject to change at any time and may not come to pass.

Past performance does not guarantee future results. Current performance may be lower or higher than the past performance shown.

S&P 500® Index: An unmanaged, market capitalization-weighted index of 500 stocks of leading large-cap U.S. companies in leading industries; gives a broad look at the U.S. equities market and those companies' stock price performance.

Russell 1000® Growth Index: An unmanaged index that measures the performance of the large-capitalization growth segment of the U.S. equity universe; includes those Russell 1000® Index companies with higher price-to-book ratios and higher forecasted growth values.

Russell 1000® Value Index: An unmanaged index that measures the performance of the large-capitalization value segment of the U.S. equity universe; includes those Russell 1000® Index companies with lower price-to-book ratios and lower forecasted growth values.

Nationwide Funds are distributed by Nationwide Fund Distributors LLC (NFD), member FINRA, Columbus, Ohio.

Nationwide Investment Services Corporation (NISC), member FINRA, Columbus, Ohio.

Nationwide, the Nationwide N and Eagle and Nationwide is on your side are service marks of Nationwide Mutual Insurance Company.

© 2020 Nationwide
NFN-1063AO