2021 Market Outlook
November 19, 2020
To say that 2020 was an interesting year for investors would be an understatement. COVID-19 created an unprecedented climate for the world's economy and financial markets. As the pandemic spread to the U.S. in March stocks slid into a bear market, but then rallied to record highs during the summer even as coronavirus cases spiked and the presidential election heated up. Volatility was also elevated throughout 2020; over one-quarter of the trading days for the S&P 500® Index saw a move of 1% or more in either direction during the year.
Despite the turn of the calendar page, we anticipate the twists and turns of 2020 will be with investors into the new year. Positive developments on the vaccine front in November were encouraging, and we expect the good news to progress in 2021. But hope for effective vaccines came at the same time U.S. coronavirus cases hit record highs and threatened to disrupt the economic recovery.
One uncertainty from 2020 that's now resolved going into 2021 is the presidential election. Even though "the most important election in our lifetime" is over, there will likely be lasting consequences stemming from the outcome.
Historically, a shift in party control of the White House or Congress makes little difference in market performance. But consumer confidence may switch in the wake of election results, with Democrats feeling more optimistic than before and Republicans less so in the new year. That would be consistent with similar shifts we saw in 2008, when Democrats brightened their outlooks after Obama's victory, and in 2016 when Republican sentiment flipped to positive after Trump's electoral win. (See accompanying chart.) It doesn't make sense for confidence to change virtually overnight like it did after these elections, for reality is rarely as good as it feels when you are winning or as bad as it feels when you are losing.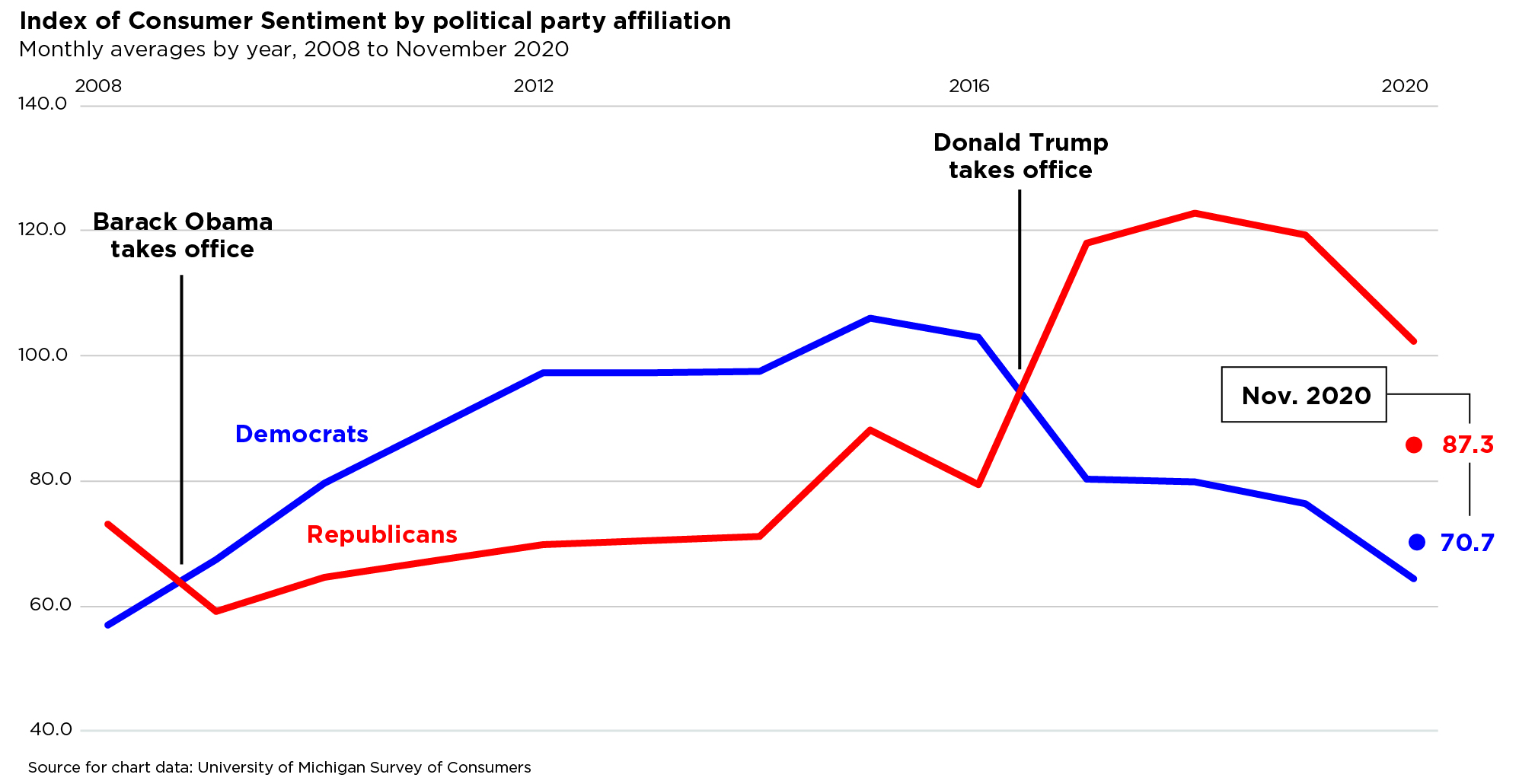 Lost in the noise of election season was the remarkably strong trend in company earnings in the second half of 2020.  It was encouraging to see a rebound in earnings growth estimates for 2021, reflecting the better-than-expected economic recovery and a steadily weakening dollar. Stocks exploded in anticipation of earnings strength, to the point where valuations for the S&P 500 are presently where they were at the peak of the technology bubble in 1999 and 2000.
As we look forward to the year ahead, we expect volatility to continue until we see concrete results on vaccine development and in getting the pandemic under control. Long spells of volatility like we saw in 2020 can be exhausting for investors. In times of stress and uncertainty, investors tend to want to "do something". That often means panic buying or selling. One analysis of account activity from earlier this year showed 18% of investors sold all their equity holdings between March and May. Nearly one-third of those who dumped their stocks were above 65 years old.
Looking longer term, the turbulence of 2020 may deter many people across different generations from saving for the future or investing in stocks for growth. Investors who are in their 50s and 60s, who are also at or near retirement, have now lived through three bear markets in the last 20 years. These investors may be more reluctant to commit to stocks so close to retirement, fearing another cycle of losses. Millennial investors have been remarkably conservative in their portfolios, and their general distrust of stocks could persist after an unprecedented year.
Review relevant client material from Nationwide
Disclaimers
This material is not a recommendation to buy, sell, hold or roll over any asset, adopt an investment strategy, retain a specific investment manager or use a particular account type. It does not take into account the specific investment objectives, tax and financial condition or particular needs of any specific person. Investors should discuss their specific situation with their financial professional.

Except where otherwise indicated, the views and opinions expressed are those of Nationwide as of the date noted, are subject to change at any time and may not come to pass.

Past performance does not guarantee future results. Current performance may be lower or higher than the past performance shown.

S&P 500® Index:  is a stock market index that measures the stock performance of 500 large companies listed on stock exchanges in the United States.

Nationwide Funds are distributed by Nationwide Fund Distributors LLC (NFD), member FINRA, Columbus, Ohio.  Nationwide Investment Services Corporation (NISC), member FINRA, Columbus, Ohio.

Nationwide, the Nationwide N and Eagle and Nationwide is on your side are service marks of Nationwide Mutual Insurance Company.

© 2020 Nationwide

NFN-1108AO (11/20)
NFN-1108AO