2022 Outlook: Shifting winds.
January 03, 2022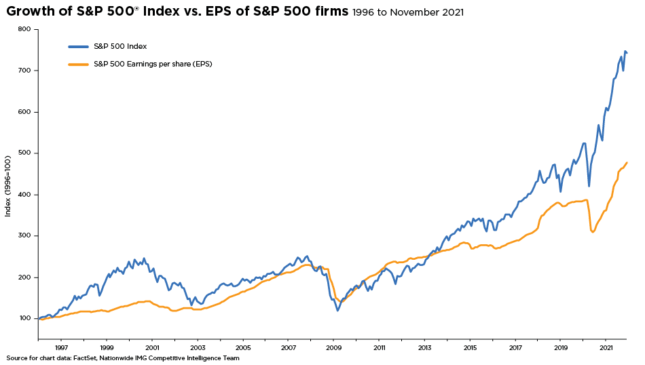 Stocks soared to records in 2021 on the continuing economic expansion, renewed fiscal stimulus and strong corporate earnings. These tailwinds gradually shifted during the year to headwinds, including rising inflation and interest rate pressures, Federal Reserve shifts in monetary policy and new COVID variants. Still, the stock market scaled the "wall of worry" to record closes and strong returns.
Much of the momentum came from large-cap technology stocks, continuing a trend that's been in place since the end of the global financial crisis in 2009. The mega-cap tech stocks have surged over 1,000% cumulatively during the past decade, while the S&P 500® Index returned a "mere" cumulative 329%. While much of these gains are justified by strong earnings from tech firms, there's worry this narrow leadership hides underlying stress in the market and is not sustainable.
Will leaders and laggards flip?
The valuation of the tech sector reached 27-times forward earnings in 2021, compared to the long-term average of 19-times forward earnings. Valuations in other sectors are much more in line with historical averages. More seasoned market observers would like to see a broadening of leadership beyond the small band of big winners. we may be approaching a period where the long-term laggards begin to regain leadership and tech stock valuations normalize a bit, though investors are likely to remain attached to the "comfort blanket" of tech stocks, simply because they have worked well for so long.
While the stock market isn't nearly as exposed as it was during the last two sustained periods of weakness (the late 1990s tech bubble and 2007-08 financial crisis), there are some concerns to keep an eye on. Investor enthusiasm (or euphoria, in certain cases) was elevated as 2021 came to an end. A significant number of investors have only seen good times, with the exception of the brief COVID market correction of 2020. Additionally, there's over-dependence on tech stocks for returns, an inability to short certain areas of the market, the prevalence of meme stocks and a surge in mergers and initial public offerings. These are all worrying signs, but not near to an extreme.
Is earnings growth sustainable?
Of the three tailwinds propelling the market in 2021, the earnings environment was in my view the strongest. Quarterly earnings estimates climbed steadily throughout 2021 coming off the bottom from last year, and we are on pace for 45-50% earnings growth for the full calendar year. Many have used the uptick in earnings to justify stocks' current high valuations. That's a reasonable assumption, but S&P 500's current multiple of 21-times forward earnings is rare territory, eclipsed in recent history only by the dot-com bubble of the late 1990s and the pre-COVID months of 2020.
Moreover, earnings growth has lagged stock performance in recent years; over the last three years, earnings grew around 8% annually on average, while the S&P 500 averaged a 22% annualized return. (See chart above.) If valuations seem more likely to contract than expand, we will be increasingly reliant on estimate revisions to produce return opportunities, and those showed signs of slowing in Q4 of 2021. It's too early to say if the stall will be temporary or persistent. Margins are an interesting swing factor, as we are at record highs, but there are questions about the sustainability of margins given ongoing supply chain and labor concerns.
Time to reset return expectations?
The bond market, through the absolute level of rates and shape of the yield curve, embeds a much more cautious outlook for the economy than the equity market. That's not unusual, as the bond market tends to be populated by skeptics while the stock market is overweighted with optimists. Record issuance and fading demand as the Fed accelerated the tapering of asset purchase programs should incrementally push rates higher, and with credit spreads near record lows, bond investors face the prospect of flat-to-negative returns in traditional bonds possibly over the next several years. However, investor skepticism and flights-to-quality are difficult to handicap. Low global rates and demographic trends have anchored domestic rates for some time now, a trend that's expected to continue in 2022.
There's potential for the stock market to normalize over the next several years, with shifts in leadership and lower returns relative to more recent performance. Given current valuations and macro-economic challenges, investors may need to moderate their expectations for returns going forward. Double-digit returns for balanced portfolios, which have been common over the last 10 years, are not guaranteed.
Facing the prospect for more modest returns for moderate or balanced portfolio allocations, investors may want to seek alternatives to capture sufficient returns. For example, small-cap, value and international stocks are all trading at less of a premium to their historical averages than large-cap, domestic growth stocks. Finally, dividend-focused equities, credit-sensitive bonds and alternative strategies may provide greater yield than traditional bond allocations. Active management may also hold advantages in this environment, especially if the mega-cap tech names hand off leadership to a broader group of stocks.
With all the expected changes and uncertainty in the markets and economy, keeping your clients informed can help them stick to their long-term investment strategies. Timely insights from Nationwide help you and your clients stay up-to-date on the factors that may affect portfolio returns.
Disclaimer
This information is general in nature and is not intended to be tax, legal, accounting or other professional advice.

The information provided is based on current laws, which are subject to change at any time, and has not been endorsed by any government agency.

Neither Nationwide nor its representatives give legal or tax advice. Please have your clients consult with their attorney or tax advisor for answers to their specific tax questions.

S&P 500® Index: An unmanaged, market capitalization-weighted index of 500 stocks of leading large-cap U.S. companies in leading industries; gives a broad look at the U.S. equities market and those companies' stock price performance.

Nationwide, the Nationwide N and Eagle and Nationwide is on your side are service marks of Nationwide Mutual Insurance Company.

© 2022 Nationwide
NFN-1251AO