Happy anniversary to a remarkable rally
April 01, 2021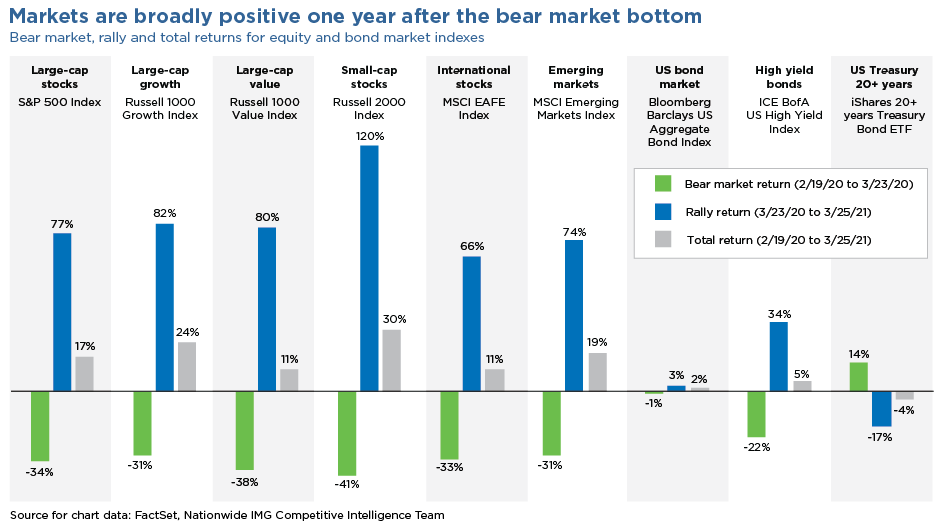 Last week marked the one-year anniversary of the market bottom in the early days of the coronavirus pandemic, after the sharpest bear market for stocks on record. The S&P 500® Index lost 34% in just 22 trading days last year, but the 77% rally off the bottom represented the best 12-month performance for the benchmark stock index since 1936.
The rally has been broad-based across the equity spectrum, though its complexion has shifted over the ensuing year. Initially, the sectors that led the market before the bear market—technology and healthcare—were the relative winners. But as the recovery took shape, investors shifted to pro-cyclical sectors and asset classes, such as industrials, financials, small caps and emerging markets. The rally in the S&P 500 has eclipsed the bear market decline by more than a two-to-one ratio (+77% vs 34%). Most other equity indexes followed a similar pattern, though the rally in small caps was closer to a three-to-one ratio.
Bond market performance was far more complex. The Bloomberg Barclays Aggregate US Bond Index was modestly lower during the stock bear market and has turned modestly positive since. High yield bonds followed a similar pattern to equities given their credit exposure, rallying 34% after a 22% decline. Long-dated Treasuries, however, followed a reverse course, rising in value during the equity bear market as interest rates fell, then declining as rates recovered.
An investor who bought the S&P 500 at its February 2020 peak and held on till present day would have gained an impressive 17%. A 60/40 portfolio of the S&P 500 and the U.S. Aggregate Bond indexes would have returned 11% in just over a year despite unprecedented challenges. The recent rally was driven by optimism surrounding government stimulus, a reopening economy and improving COVID-19 data. With many of those positive catalysts now priced in, investors are seeking a new catalyst to keep the rally going.
Review relevant client material from Nationwide
Disclaimers
This information is general in nature and is not intended to be tax, legal, accounting or other professional advice.

The information provided is based on current laws, which are subject to change at any time, and has not been endorsed by any government agency.

Neither Nationwide nor its representatives give legal or tax advice. Please have your clients consult with their attorney or tax advisor for answers to their specific tax questions.

This material is not a recommendation to buy, sell, hold or roll over any asset, adopt an investment strategy, retain a specific investment manager or use a particular account type. It does not take into account the specific investment objectives, tax and financial condition or particular needs of any specific person. Investors should discuss their specific situation with their financial professional.

Except where otherwise indicated, the views and opinions expressed are those of Nationwide as of the date noted, are subject to change at any time and may not come to pass.

Past performance does not guarantee future results. Current performance may be lower or higher than the past performance shown.

S&P 500® Index: An unmanaged, market capitalization-weighted index of 500 stocks of leading large-cap U.S. companies in leading industries; gives a broad look at the U.S. equities market and those companies' stock price performance.

Russell 1000® Growth Index: An unmanaged index that measures the performance of the large-capitalization growth segment of the U.S. equity universe; includes those Russell 1000® Index companies with higher price-to-book ratios and higher forecasted growth values.

Russell 1000® Value Index: An unmanaged index that measures the performance of the large-capitalization value segment of the U.S. equity universe; includes those Russell 1000® Index companies with lower price-to-book ratios and lower forecasted growth values.

Russell 2000® Index: An unmanaged index that measures the performance of the small-capitalization segment of the U.S. equity universe.

MSCI EAFE® Index: An unmanaged, free float-adjusted, market capitalization-weighted index that is designed to measure the performance of large-cap and mid-cap stocks in developed markets as determined by MSCI; excludes the United States and Canada.

MSCI Emerging Markets® Index: An unmanaged, free float-adjusted, market capitalization-weighted index that is designed to measure the performance of large-cap and mid-cap stocks in emerging-country markets as determined by MSCI.

Bloomberg Barclays US Aggregate Bond Index: An unmanaged, market value-weighted index of U.S. dollar-denominated, investment-grade, fixed-rate, taxable debt issues, which includes Treasuries, government-related and corporate securities, mortgage-backed securities (agency fixed-rate and hybrid adjustable-rate mortgage pass-throughs), asset-backed securities and commercial mortgage-backed securities (agency and non-agency).

ICE BofA High Yield Index tracks the performance of US dollar denominated below investment grade rated corporate debt publicly issued in the US domestic market.

The iShares 20+ Year Treasury Bond ETF seeks to track the investment results of an index composed of U.S. Treasury bonds with remaining maturities greater than twenty years.

Russell Investment Group is the source and owner of the trademarks, service marks and copy rights related to the Russell Indexes. The Fund is not sponsored, endorsed, or promoted by Russell, and Russell bears no liability with respect to any such funds or securities or any index on which such funds or securities are based. Russell® is a trademark of Russell Investment Group.

Nationwide Funds are distributed by Nationwide Fund Distributors LLC (NFD), member FINRA, Columbus, Ohio.
Nationwide Investment Services Corporation (NISC), member FINRA, Columbus, Ohio.

Nationwide, the Nationwide N and Eagle and Nationwide is on your side are service marks of Nationwide Mutual Insurance Company.

© 2021 Nationwide

NFN-1154AO (3/2021)
NFN-1154AO