Are we at a rate inflection point?
January 26, 2022
Interest rates have begun the new year with a swift move higher, as the 10-year U.S. Treasury rate rose from 1.51% at the end of 2021 to 1.87% on January 19. The 2-year rate, which is more sensitive to Federal Reserve policy changes, climbed above 1.0% for the first time since before the pandemic.
This recent rise is neither surprising or unexpected given the Fed's announced plans to tighten monetary policy and begin hiking the Fed funds target rate this year (possibly as soon as March). Fears of persistent inflation are beginning to seem justified following the latest reading of the Consumer Price Index, which grew at an annualized rate of 7.0% in December. That's the third consecutive month of year-over-year price increases, all higher than 6.0%.
One question that stands out about the jump in interest rates at the start of the year is how prepared are fixed income investors for a shift in the rate environment? In our latest white paper, I wrote about the risks bond investors may face as interest rates reach an inflection point. Rates have largely been on a one-way track downward since the global financial crisis of 2007-09 (and arguably going as far back as the early 1980s.) Bond investors have benefitted from the favorable climate of falling rates and rising bond values for an extended stretch of time. As an example, investors in a traditionally balanced or moderate risk portfolio of 60% equities/40% bonds have enjoyed returns of 17.5% annualized over the last three years and 11.1% annualized over the last 10 years. (See chart below.)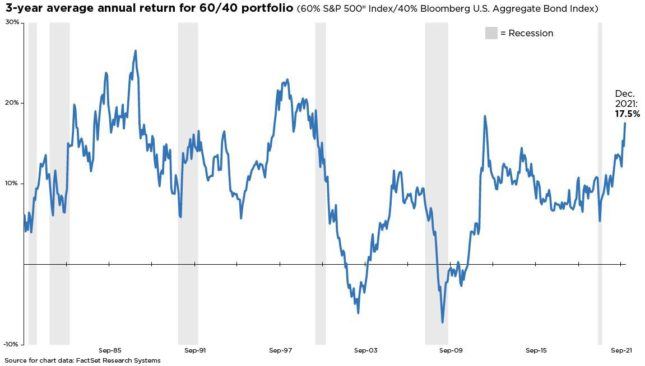 A spell of more modest returns for both stocks and bonds wouldn't be unhealthy at this stage in the market cycle, but it could challenge investors who have grown accustomed to double-digit annual gains. A jump in interest rates would hit bond returns (as bond prices typically fall as rates rise) and could potentially reduce the total return of a traditional 60/40 portfolio to single-digit levels.
So, are we at an inflection point for interest rates? It should be said that economists and market analysts have a poor track record at foreseeing the actual direction of interest rates. (More on that here.) Investors tend not to fare much better, with Fed funds futures market (based on investor expectations of future Federal Reserve rate moves) proving to be just as inaccurate in guessing where rates will end up in the near term. Adjusting a bond portfolio based on predictions of future interest rate movement is a risky proposition. A more prudent approach for investors is to diversify their bond holdings across both the yield curve and the credit spectrum.
How can investors diversify their bond holdings for a potentially volatile period for interest rates? Typically, the default option is to target a lower duration. Lower-duration bonds may offer some protection in a rising rate environment as they are likely to benefit from rising interest rates more quickly. But investors have largely shunned lower-duration bonds due to their low absolute yields and better opportunities for return in longer-duration bonds. Proper diversification would include exposure to bonds in different maturities, from short- to long-term.
Another option is to look at credit-sensitive and high yield bonds. Here, investors should be more selective in choosing how and where to allocate their bond position. Even with inflation on the rise and the Fed poised to turn off "easy money" policies, the U.S. economy remains in growth mode. Both strong earnings and higher commodity prices could act as a tailwind for certain firms that are well positioned for the shift in the rate environment. Active management in the high yield space will likely be key to uncovering opportunities with specific industries and companies.
Should a period of rising rates materialize, or if the bond market is indeed at an inflection point, investors would likely see their patience tested and their fixed income strategies under pressure. In an uncertain rate environment, it's essential for investors to assess their bond holdings and ensure they are properly diversified across bond maturities and credit quality as a way to help protect against capital losses.
Disclaimer
This material is not a recommendation to buy or sell a financial product or to adopt an investment strategy. Investors should discuss their specific situation with their financial professional.

Bloomberg US Aggregate Bond Index: An unmanaged, market value-weighted index of U.S. dollar-denominated, investment-grade, fixed-rate, taxable debt issues, which includes Treasuries, government-related and corporate securities, mortgage-backed securities (agency fixed-rate and hybrid adjustable-rate mortgage pass-throughs), asset-backed securities and commercial mortgage-backed securities (agency and non-agency).

Bloomberg® and its indexes are service marks of Bloomberg Finance L.P. and its affiliates including Bloomberg Index Services Limited, the administrator of the index, and have been licensed for use for certain purposes by Nationwide. Bloomberg is not affiliated with Nationwide, and Bloomberg does not approve, endorse, review or recommend this product. Bloomberg does not guarantee the timeliness, accurateness, or completeness of any date or information relating to this product.

ICE BofA U.S. High Yield Bond Index: An index which tracks the performance of US dollar denominated below investment grade rated corporate debt publicly issued in the U.S. domestic market.

S&P 500® Index: An unmanaged, market capitalization-weighted index of 500 stocks of leading large-cap U.S. companies in leading industries; gives a broad look at the U.S. equities market and those companies' stock price performance.

Nationwide Funds are distributed by Nationwide Fund Distributors LLC, member FINRA, Columbus, Ohio. Nationwide Investment Services Corporation, member FINRA, Columbus Ohio.

Nationwide, the Nationwide N and Eagle and Nationwide is on your side are service marks of Nationwide Mutual Insurance Company. © 2022 Nationwide
MFM-4518AO