Back to business in the bond market
August 19, 2020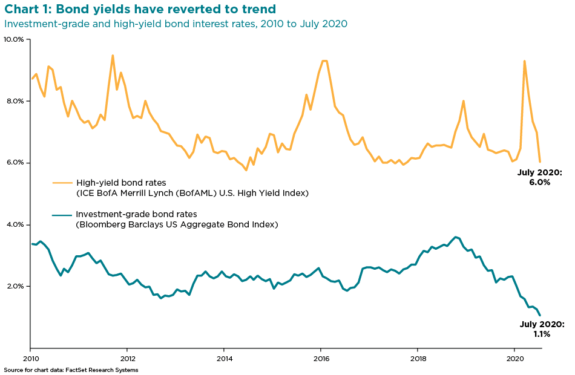 The March disruption in the capital markets was particularly evident in the bond market, as a "flight to liquidity" drove investors out of risk assets into cash. The Federal Reserve noted the broken "plumbing" of the fixed income market and pledged unprecedented support through direct bond purchases and several aggressive liquidity programs. These announcements rapidly steadied the market, bringing yield spreads on investment-grade and high-yield indexes to below historic averages.
The combination of Fed assertiveness and plunging Treasury yields have dropped borrowing costs to record lows, despite rising delinquencies and stressed corporate balance sheets. The borrowing cost for the average investment-grade borrower is just over 1% today, versus 1.6% in March and 3.6% in late 2018. High-yield rates average roughly 6% right now, compared with 9.3% in March and 8.0% in late 2018. (See Chart 1 above.) While the Fed has slowed its asset purchases, there's no indication this is impacting demand.
The advantage for corporate borrowers can be seen not only in lower costs, but also in higher issuance. High-yield issuance was essentially shut down in March, but that window has opened materially since then; high-yield bond issuance is on pace to reach $385 billion in 2020, eclipsing the previous record of $332 billion in 2013. Investment-grade issuance never really slowed, with $264 billion of new bond issues in March alone. Investment-grade issuance could potentially reach $2.2 trillion in 2020, nearly double the level of 2019. (See Chart 2 below.)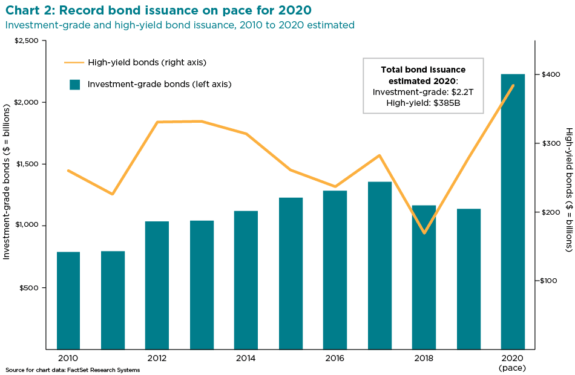 While the apparent disconnect between fundamental uncertainty and an accommodative market is good for borrowers, it puts pressure on investors to assume greater risk, as investment-grade funds now have a negative yield when adjusted for inflation. Additionally, the low yields on corporate bonds decrease the opportunity cost to invest elsewhere, likely driving investor appetite for stocks and gold.
Review relevant client material from Nationwide
Disclaimers
This material is not a recommendation to buy, sell, hold or roll over any asset, adopt an investment strategy, retain a specific investment manager or use a particular account type. It does not take into account the specific investment objectives, tax and financial condition or particular needs of any specific person. Investors should discuss their specific situation with their financial professional.

Except where otherwise indicated, the views and opinions expressed are those of Nationwide as of the date noted, are subject to change at any time and may not come to pass.

Past performance does not guarantee future results. Current performance may be lower or higher than the past performance shown.

Bloomberg Barclays US Aggregate Bond Index: An unmanaged, market value-weighted index of U.S. dollar-denominated, investment-grade, fixed-rate, taxable debt issues, which includes Treasuries, government-related and corporate securities, mortgage- backed securities (agency fixed-rate and hybrid adjustable-rate mortgage pass-throughs), asset-backed securities and commercial mortgage-backed securities (agency and non-agency).

ICE BofA Merrill Lynch (BofAML) U.S. High Yield Index: An unmanaged, market capitalization-weighted index that gives a broad-based

measurement of U.S. high-yield fixed-income markets; measures the performance of below-investment-grade, corporate debt with a minimum of 18 months remaining to final maturity at issuance that is publicly issued in major domestic markets.

Nationwide Funds are distributed by Nationwide Fund Distributors LLC (NFD), member FINRA, Columbus, Ohio.

Nationwide Investment Services Corporation (NISC), member FINRA, Columbus, Ohio.

Nationwide, the Nationwide N and Eagle and Nationwide is on your side are service marks of Nationwide Mutual Insurance Company.

© 2020 Nationwide
NFN-1068AO