Are enhanced jobless benefits holding back growth?
May 26, 2021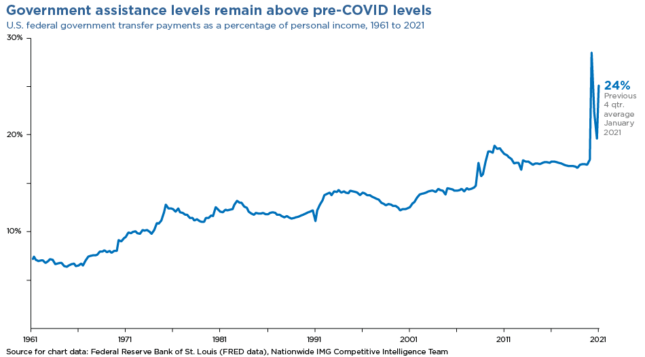 Aggressive fiscal and monetary stimulus are clearly driving the global economic rebound, though the U.S. is the leader in spending. Last year, the U.S. passed fiscal spending programs equal to 5% of GDP, compared with 6% for Europe and 3% for Japan. Since December, the U.S. has passed plans equal to an additional 8%, compared with just 1% for Europe and Japan. A weak April payroll report and surging job openings have raised the question about how much government support is disincentivizing individuals to return to work and potentially capping the economic rebound.
Experts differ on the degree of the impact, largely along party lines. Nearly half of states, all run by Republicans, have ended the $300 weekly federal supplement before the set expiration date of September 6, impacting roughly 3.7 million unemployed workers. A report from the San Francisco Federal Reserve found that one worker in seven would turn down a job offer due to extra benefits, noting "This implies a small but likely noticeable contribution of expanded [unemployment insurance] generosity to job-finding rates and employers' perceptions of worker availability in early 2021."
As the economy returns to a more normal state, it is unknown to what degree individuals have become reliant on government assistance. The chart above shows that transfer payments (Social Security, unemployment, social insurance programs, educational assistance, etc.) steadily grew from 7% of total income in the 1960s to 17% before the pandemic. Over the past four quarters, the average has been 24%. When this normalizes, there will likely be an impact on consumer spending, though the magnitude of the headwind is difficult to forecast.
Review relevant client material from Nationwide
Disclaimers
This information is general in nature and is not intended to be tax, legal, accounting or other professional advice.

The information provided is based on current laws, which are subject to change at any time, and has not been endorsed by any government agency.

Neither Nationwide nor its representatives give legal or tax advice. Please have your clients consult with their attorney or tax advisor for answers to their specific tax questions.

This material is not a recommendation to buy, sell, hold or roll over any asset, adopt an investment strategy, retain a specific investment manager or use a particular account type. It does not take into account the specific investment objectives, tax and financial condition or particular needs of any specific person. Investors should discuss their specific situation with their financial professional.

Except where otherwise indicated, the views and opinions expressed are those of Nationwide as of the date noted, are subject to change at any time and may not come to pass.

Nationwide Funds are distributed by Nationwide Fund Distributors LLC (NFD), member FINRA, Columbus, Ohio.

Nationwide Investment Services Corporation (NISC), member FINRA, Columbus, Ohio.

Nationwide, the Nationwide N and Eagle and Nationwide is on your side are service marks of Nationwide Mutual Insurance Company.

© 2021 Nationwide
NFN-1172AO