Will the Delta variant derail the recovery?
August 24, 2021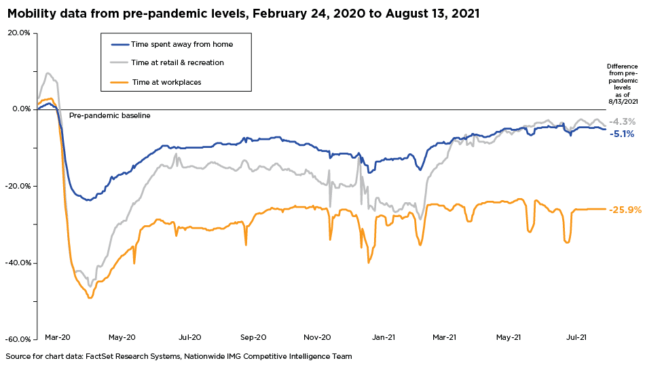 The rise of the Delta coronavirus variant threatens to derail the impressive economic recovery as individuals increasingly stay home to avoid infection. Reported cases are at the highest level since February, the positivity rate is at the highest level since January, and hospitalizations are up nearly six times over the past two months. One bright note is that vaccination rates are rebounding, but the rise in breakthrough cases and the potential for asymptomatic infection are growing concerns.
Recent mobility data shows a possible stall in the return to pre-pandemic activity. In early August, the data showed time spent away from home had climbed to within 4.5% of the level before the COVID-19 outbreak. That's an improvement from 16% as recently as February. There has been a modest deterioration over the past three weeks, with time spent away from home edging down to 5.1% of its pre-pandemic baseline.
Two weeks ago, restaurant activity had improved since last February to be within 2.4% of its pre-pandemic level, but is now down 4.3%. The biggest gap is at the workplace; travel to work is down 26% from the pre-pandemic level with no noticeable improvement over the past year. Several prominent companies, including Apple and Facebook, have pushed back their return-to-office plans until at least next January.
The trend toward voluntary lockdowns threatens to derail the economic expansion. The Atlanta Fed's GDPNow model currently forecasts Q3 growth of 6.1%, below the consensus of economists and slower than the 6.5% annual growth rate posted in Q2. A slowdown in the economy is not priced into markets, given the 20-times earnings multiple for the S&P 500® Index. Disappointing growth could lead to a fresh round of equity market weakness.
Review relevant client material from Nationwide
Disclaimers
This information is general in nature and is not intended to be tax, legal, accounting or other professional advice.

The information provided is based on current laws, which are subject to change at any time, and has not been endorsed by any government agency.

Neither Nationwide nor its representatives give legal or tax advice. Please have your clients consult with their attorney or tax advisor for answers to their specific tax questions.

© 2021 Nationwide
NFN-1210AO