Economic growth staging an impressive surge
April 14, 2021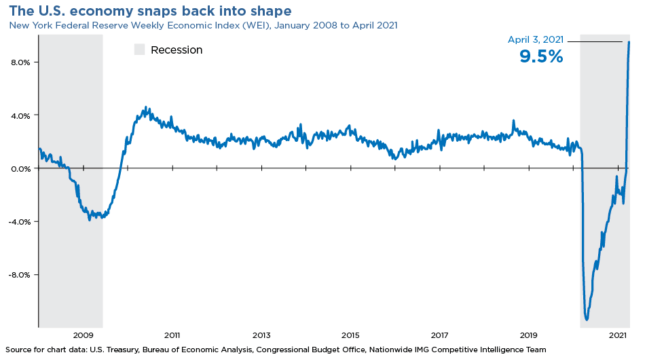 Economic activity across the country is surging as states continue to reopen their economies and vaccine distribution boosts individuals' willingness to venture out in public. Most government data points measure monthly activity, which tends to miss sharp changes in growth. High-frequency data points reflect points more effectively.
The New York Federal Reserve calculates a Weekly Economic Index (WEI), which tracks 10 daily and weekly indicators of real economic activity, scaled to align with GDP growth. The most recent reading was 9.5%, nearly double the previous record from 2010 when the economy emerged from the financial crisis. The acceleration resulted from increases in electricity output, fuel sales and rail traffic, all indicators of stronger activity. Additionally, unemployment claims continued to fall compared with a year ago. Because the WEI measures changes over a 52-week period, the strong increase also reflects the sharp deterioration in economic conditions this time last year.
Many economists are currently projecting strong activity; the latest consensus estimate for Q1 growth is 4.9% with the full year estimated at 6.0%. Unprecedented fiscal and monetary stimulus is expected to drive much of this growth. However, it's more difficult to measure pent-up demand among consumers and the scope of the bounce that will occur when conditions become more normal. The personal savings rate has averaged 18% of disposable personal income over the past year, more than double the 7% average since the financial crisis, as much of the economy was locked down and many chose to save their stimulus checks. If consumers begin to aggressively spend some of this "dry powder," growth could surprise to the upside.
Review relevant client material from Nationwide
Disclaimers
This information is general in nature and is not intended to be tax, legal, accounting or other professional advice.

The information provided is based on current laws, which are subject to change at any time, and has not been endorsed by any government agency.

Neither Nationwide nor its representatives give legal or tax advice. Please have your clients consult with their attorney or tax advisor for answers to their specific tax questions.

This material is not a recommendation to buy, sell, hold or roll over any asset, adopt an investment strategy, retain a specific investment manager or use a particular account type. It does not take into account the specific investment objectives, tax and financial condition or particular needs of any specific person. Investors should discuss their specific situation with their financial professional.

Except where otherwise indicated, the views and opinions expressed are those of Nationwide as of the date noted, are subject to change at any time and may not come to pass.

Past performance does not guarantee future results. Current performance may be lower or higher than the past performance shown.

Nationwide Funds are distributed by Nationwide Fund Distributors LLC (NFD), member FINRA, Columbus, Ohio.

Nationwide Investment Services Corporation (NISC), member FINRA, Columbus, Ohio.

Nationwide, the Nationwide N and Eagle and Nationwide is on your side are service marks of Nationwide Mutual Insurance Company.

© 2021 Nationwide
NFN-1156AO