Families feel inflation sting
February 09, 2022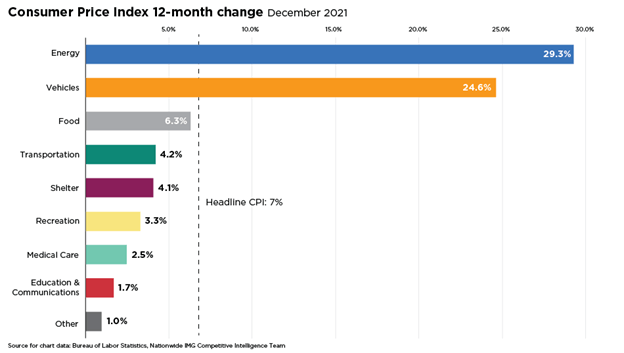 The January payroll report reiterated how strong the wage growth environment is with average hourly earnings increasing 5.7% from a year ago. Excluding the anomaly from government stimulus checks in April and May 2020, this is the best pace of income growth in nearly 40 years.
This type of news would normally be a reason for optimism on the economy, but the purchasing power of individuals is deteriorating as wage growth is failing to keep pace with inflation. December's Consumer Price Index (CPI) report showed a 7% year-over-year jump in inflation. The January CPI printout, which is expected on Thursday (February 10), could be even higher. Workers in the trade, construction, transportation, and utility industries saw the biggest moves in negative real wage growth over the past year.
The complexion of the surge in inflation is also important, as it disproportionately impacts lower-income families, where the pace of inflation is 7.2% compared with 6.6% for high-income families. Lower-income households have managed through the pandemic with the benefit of government stimulus programs that boosted income temporarily but many of which have now expired. Data suggest that in a normal year, low-income households spend 70% of their budget on necessities (groceries, utilities, gasoline, etc.) compared with 50% for high-income households.
With prices for energy up 29% from a year ago, vehicles up 25%, and food up 6%, budgets are getting stretched. This will impact spending on luxury goods and could act as a headwind to economic growth for all consumers, particularly lower-income families. The Fed is betting inflationary pressures will ease, and real wages will turn positive, but the timing of that shift is uncertain.
Review relevant client material from Nationwide
This material is not a recommendation to buy or sell a financial product or to adopt an investment strategy. Investors should discuss their specific situation with their financial professional.

Except where otherwise indicated, the views and opinions expressed are those of Nationwide as of the date noted, are subject to change at any time, and may not come to pass.

Nationwide Funds are distributed by Nationwide Fund Distributors LLC, member FINRA, Columbus, Ohio. Nationwide Investment Services Corporation, member FINRA, Columbus, Ohio.

Nationwide, the Nationwide N and Eagle and Nationwide is on your side are service marks of Nationwide Mutual Insurance Company. © 2022 Nationwide
NFN-1271AO