Household wealth at record levels
September 29, 2021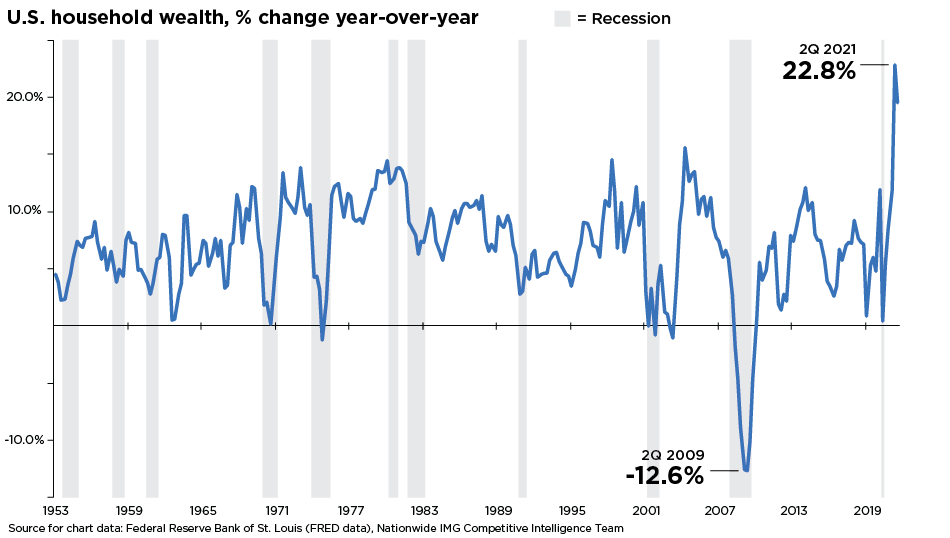 Household net worth surged to a record $141.7 trillion in the 2nd Quarter of 2021 according to a Federal Reserve report. The $5.8 trillion increase from Q1 of this year was driven by a $3.5 trillion gain in equities and a $1.2 trillion increase in the value of real estate holdings.
Compared with a year ago, wealth increased by 20% as the S&P 500® Index returned 40% and the median home price jumped by 16%. A record percentage of net worth is held in equity assets at 38%; that's up from 28% in Q1 of 2020. The 3rd Quarter will likely set the fourth straight record for net worth, driven by accommodating fiscal and monetary policies.
Unfortunately, the gain in wealth is not shared by all Americans. A substantial portion of the U.S. population has no exposure to equities, nor own their home. When measured by net worth, the bottom half of Americans own just 2% of total wealth, up from a low of 0.4% in 2011 but below the 4.3% peak in 1992. The top 10% of Americans own 48.8% of the country's total wealth, with the top 1% owning 41.5%.
Lower-income individuals have benefitted from the fiscal firehose coming from D.C., with wages increasing by 3.9%. Additionally, thanks to the government stimulus programs as part of COVID-19 relief, transfer payments have surged and lifted savings rates across the income spectrum. Some excess savings is finding its way into equities; a Charles Schwab survey found that 15% of current retail investors started in 2020 or afterward. Homeownership, however, remains a challenge, with high prices creating an affordability issue despite low interest rates. As of Q2 2021, U.S. homeownership was at 65.4%, down from 67.9% a year ago. Closing the wealth gap will be dependent on increasing equity and homeownership among lower-income individuals over time.
Review relevant client material from Nationwide
Disclaimer
This information is general in nature and is not intended to be tax, legal, accounting or other professional advice.

The information provided is based on current laws, which are subject to change at any time, and has not been endorsed by any government agency.

Neither Nationwide nor its representatives give legal or tax advice. Please have your clients consult with their attorney or tax advisor for answers to their specific tax questions.

© 2021 Nationwide

NFN-1218AO (9/2021)
NFN-1218AO