Inflation runs hot as the summer kicks off.
June 08, 2022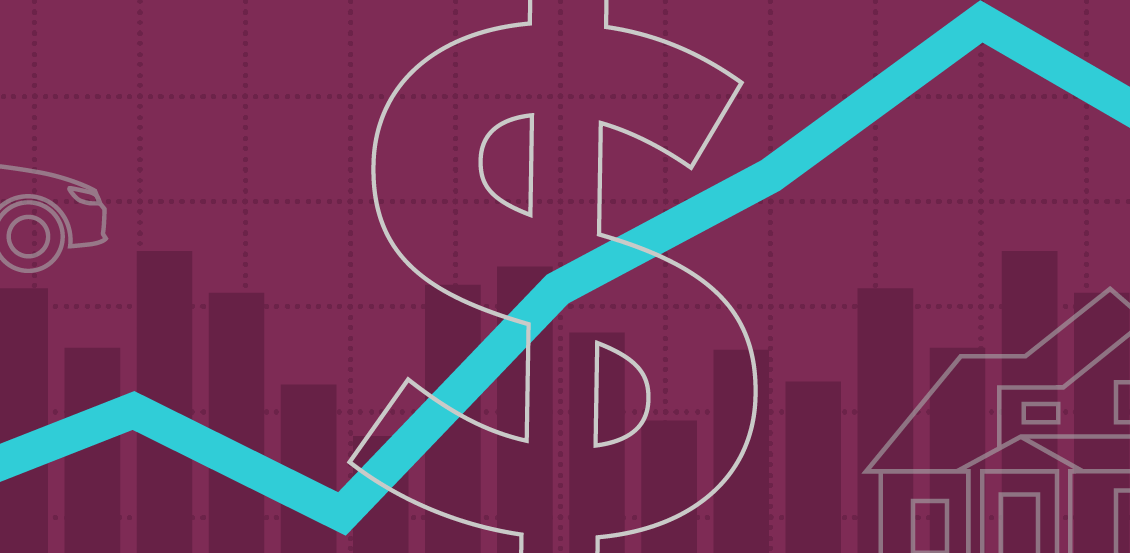 With a seemingly never-ending list of macro-economic headwinds that continue to challenge the market, investors have generally become more cautious as the U.S. consumer deals with the current bout of inflation. The consumer is the primary driver of the U.S. economy, usually accounting for more than 70% of U.S. gross domestic product. Paradoxically, investors might feel they are currently in a no-win situation, which might explain the market's extremely bearish sentiment.
For example, if the consumer is strong enough to absorb price hikes, inflation might persist longer. That would force the Federal Reserve to raise rates faster. However, if consumer demand weakens, especially for discretionary products (e.g., excluding food, utilities, and gas), investors might fear rising unemployment, a moderating economy, or even a recession. Even with continued signs that inflation may be peaking, inflationary pressures remain broadly elevated, with food, housing, and energy stressing consumer budgets.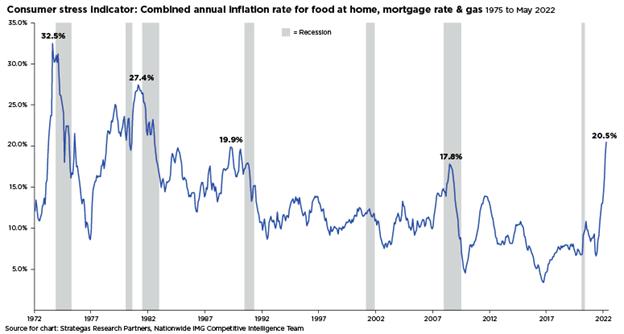 Two tailwinds for the U.S. consumer at present are solid wage gains (nominal) and a historically strong labor market, with over two million jobs created in the first five months of 2022. However, there are some worrying inflationary headwinds for investors to be aware of. This week's chart illustrates the inflationary plight of U.S. consumers, reinforcing how price increases are certainly more than just transitory and upending decades of low and declining inflation in one of the most challenging consumer environments in over 40 years. According to Strategas, combining the year-over-year percentage change in costs for food at home, mortgage rates, and gas prices shows that consumer wallets haven't been as stressed as they are today since the 1980s. What's more, only two periods saw higher readings, both of which resulted in recessions.
Retail earnings and CEO commentary from conference calls provide snapshots of how the "Consumer Stress Indicator" pressures consumers' budgets. Remember, more money spent on food, housing, and energy generally results in less discretionary spending. For example, general merchandise stores like Walmart explained how customers traded down to lower-margin products and bought fewer items per trip. Dollar General painted a similar picture, mentioning how customers are shopping "more intentionally" and purchasing more private-brand items, a clear warning that customers are starting to feel inflationary pressures. According to the NPD Group, in the first three months of 2022, consumers bought 6% fewer items at retail stores than they did in the first quarter of 2021. Therefore, with inflationary pressures challenging the consumer and budgets being crowded out by higher food, housing, and energy costs, investors should recognize the emergence of a less confident, more price-sensitive consumer with inflation most likely remaining elevated for the foreseeable future.
Review relevant client material from Nationwide
Disclaimer
This material is not a recommendation to buy or sell a financial product or to adopt an investment strategy. Investors should discuss their specific situation with their financial professional.

Except where otherwise indicated, the views and opinions expressed are those of Nationwide as of the date noted, are subject to change at any time and may not come to pass.

Nationwide Funds are distributed by Nationwide Fund Distributors LLC, member FINRA, Columbus, Ohio. Nationwide Investment Services Corporation, member FINRA, Columbus, Ohio.

Nationwide, the Nationwide N and Eagle and Nationwide is on your side are service marks of Nationwide Mutual Insurance Company.

© 2022 Nationwide

NFM-1320AO (6/22)
NFN-1320AO