Is the Fed behind the curve in raising interest rates?
March 23, 2022
Last week at the Federal Reserve, the Federal Open Market Committee (FOMC) launched the next interest rate cycle, voting to move the Fed Funds target rate up to one quarter-point to 0.25-0.50% in response to the stubborn level of inflation. The Summary of Economic Projections, or so-called "dot plot," suggests additional rate hikes at each of the remaining six meetings this year, with some Fed officials calling for a more aggressive path to higher interest rates.
With core inflation (the Consumer Product Index, or CPI) running at 6.4%, headline CPI at 7.9% and, unemployment at a low of 3.8%, many observers are questioning whether the Fed is "behind the curve", late to adjust monetary policy. Per the Fed, since 1977 the officials have operated under a mandate from Congress to "promote effectively the goals of maximum employment, stable prices and moderate long-term interest rates." The employment and price goals are commonly referred to as the Fed's "dual mandate."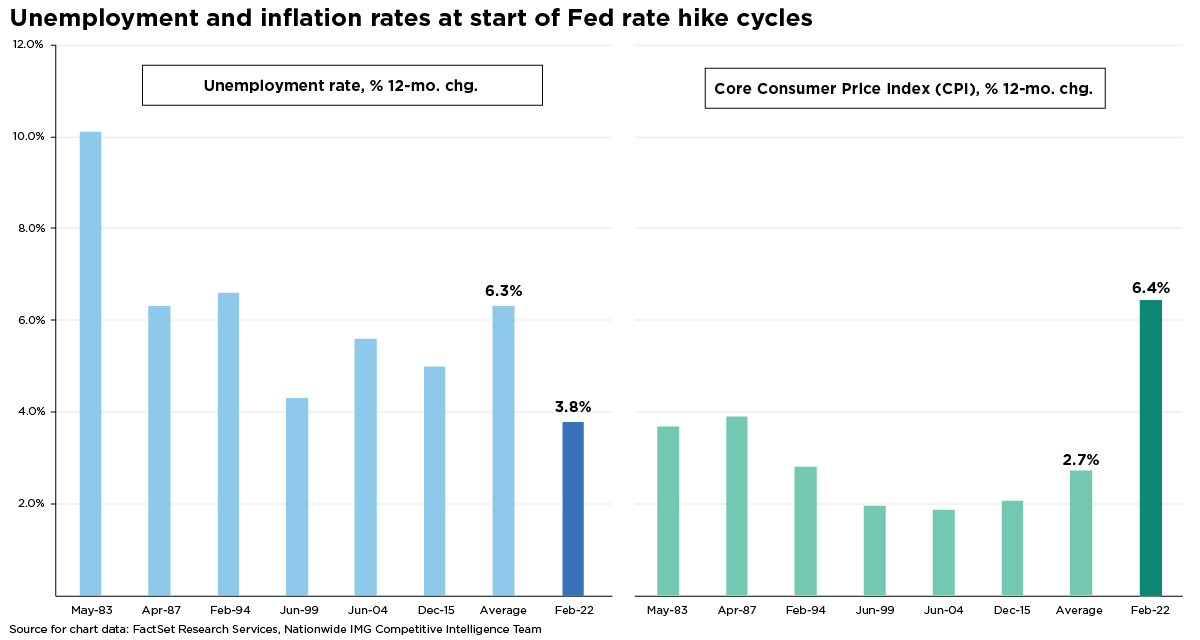 Since the early 1980s – the last significant rise in inflation and interest rate surge – the average rate of unemployment at the start of a cycle of Fed rate hikes was 6.3%, while the average core CPI rate was 2.7%. We're far from these averages now for both metrics. Moreover, the Fed Funds target rate averaged 4.4% at the beginning of the previous rate-hiking cycles over the last 40 years.
If the Fed is late in raising rates, it could force a shift to a more aggressive path of tightening, which would include rate hikes and potentially a contraction of the Fed's balance sheet. The Fed Funds futures curve embeds this scenario as likely; market participants currently give a 76% chance that the median of the dot plot is too low. The curve also embeds rate cuts in 2024, suggesting the Fed will make a policy error during this cycle and be forced to lower rates.
This has meaningful implications for equity markets and raises the potential for a bear market. The S&P 500® Index experienced a correction earlier this year with a drawdown of 13%. Corrections of 10% are not uncommon or unhealthy, as they occur once or twice a year on average, but a bear market (a decline of 20% from a recent peak) is rare without a recession.
Review relevant client material from Nationwide
Disclaimer
This material is not a recommendation to buy or sell a financial product or to adopt an investment strategy.  Investors should discuss their specific situation with their financial professional.

Except where otherwise indicated, the views and opinions expressed are those of Nationwide as of the date noted, are subject to change at any time and may not come to pass.

Nationwide Funds are distributed by Nationwide Fund Distributors LLC, member FINRA, Columbus, Ohio. Nationwide Investment Services Corporation, member FINRA, Columbus, Ohio.

Nationwide, the Nationwide N and Eagle and Nationwide is on your side are service marks of Nationwide Mutual Insurance Company.

© 2022 Nationwide

NFM-1297AO (3/22)
NFN-1297AO