Is the inverted yield curve signaling recession?
April 05, 2022
Investors heard recessionary "alarm bells" last week after the yield on the 2-year U.S. Treasury note briefly exceeded the yield on the 10-year Treasury, creating an inverted yield curve for a short time. Traditionally, an inverted yield curve is thought to be a leading indicator of an economic slowdown or impending recession. For example, all seven U.S. recessions since 1970 have been preceded by an inverted yield curve with the average time between inversion and recession ranging from 5 to 17 months. Research from the Federal Reserve Bank of San Francisco found that since 1955, an inverted yield curve has offered a false "signal" just one time. However, due to massive quantitative easing from the Federal Reserve since March 2020 (and arguably since 2008), there is a growing debate among market participants if a yield curve inversion offers the same "predictive" power as it traditionally has.
An inverted yield curve generally occurs because investors anticipate a mistake in Federal Reserve policy. Hikes to the Federal Funds rate are meant to moderate economic growth and inflationary pressure by driving short-term rates higher. Eventually, investors fear tighter Fed monetary policy will restrain growth, which leads them to the safety of longer-term bonds and pushes their rates lower. So, the yield curve inverts (i.e., long-term rates go lower than short-term rates) prior to the economy falling into recession.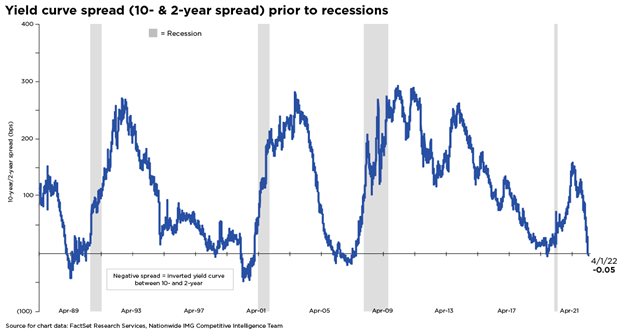 However, the current economic environment differs from previous ones in several ways. First, the absolute levels of short and long-term rates began this cycle at record lows. While the Fed has started to raise rates, it's doing so from effectively zero. Second, bond purchasing activity by the Fed (i.e., quantitative easing) has distorted the shape of the yield curve. As investors have gamed out possible Fed moves on reducing the size of its bond portfolio – many of which are short-duration Treasuries – the yield on 2-year Treasuries has moved higher.
Third, while the closely watched spread between 10 and 2-year rates turned negative (or inverted), much of the rest of the yield curve remains positively sloped. For instance, the spread between 10-year Treasury notes and 3-month T-bills has widened, creating a steeper yield curve at the short end during the time that the 10-year/2-year curve has flattened. In previous cycles, inversions tended to occur across the yield curve from the short end onward. The current inversion is concentrated on the longer-dated part of the curve.
Even with the brief inversion of the yield curve, other indicators are at present not showing an elevated risk of recession. For example, the index of leading economic indicators (LEI) has typically gone negative shortly before recessions. This barometer currently sits at close to 8% for a year-over-year change, which is higher than all but six periods in the index's history. According to Nationwide Economics, the short-term threat of a recession (i.e., before the end of this year) seems very low right now, but there's a greater likelihood of a slowdown as we project into next year.
Forecasting future economic developments is a highly uncertain task even though the yield curve has had an excellent track record for anticipating future recessions. The current economic cycle may differ from prior cycles in that real interest rates are still negative even as job and wage growth remain strong. An inverted yield curve does not cause a recession, and there's no absolute answer to what the future will hold concerning recessionary risks. That doesn't mean investors should ignore the appearance of an inverted yield curve, but it's important to keep it in context. Think of a yield curve inversion as a symptom of an underlying economic condition that might potentially lead to a recession.
Review relevant client material from Nationwide
Disclaimer
This material is not a recommendation to buy or sell a financial product or to adopt an investment strategy. Investors should discuss their specific situation with their financial professional.

Except where otherwise indicated, the views and opinions expressed are those of Nationwide as of the date noted, are subject to change at any time, and may not come to pass.

Nationwide Funds are distributed by Nationwide Fund Distributors LLC, member FINRA, Columbus, Ohio. Nationwide Investment Services Corporation, member FINRA, Columbus, Ohio.

Nationwide, the Nationwide N and Eagle and Nationwide is on your side are service marks of Nationwide Mutual Insurance Company.

© 2022 Nationwide

NFM-1299AO (4/22)
NFN-1299AO