Millennials warm to stocks but remain wary of risk
April 21, 2021
The oldest Millennials (those born in 1981) cross important milestone this year by turning 40—the traditional midpoint in life. The generation that has been defined by extended living with parents, putting off marriage and struggling with student loans is now getting hitched, having children and diving into home ownership.
Millennials are also getting more comfortable with stock investing, but many continue harbor a strong aversion to risk. The wariness toward equities and market risk has deep roots for this generation, many of whom came of age or entered adulthood in the wake of the 2007-08 financial crisis. Now, the Millennial generation—72.1 million strong in 2019, making them the largest generational cohort in the U.S.—is living through another significant crisis in the coronavirus pandemic. How is the current crisis affecting the attitudes and behaviors of Millennial investors?
We can glean some insights from the results of the Nationwide Sixth Annual Advisory Authority Study, conducted against a backdrop of the COVID-19 pandemic, in May and June 2020. Pandemic-related volatility and uncertainty was high, not only in financial markets but across the economy and throughout society. News of escalating case numbers and fatalities in some regions was still fresh at this time last year, even as other regions were beginning to roll back restrictions on business activity and travel. We had just experienced a big dip in monthly unemployment in April, largely affecting workers in service industries such as restaurants, travel and leisure. We also had just watched stocks fall into a bear market in record time, but begin its impressive rebound in late March.
In our Advisory Authority Study, Millennial investors' financial optimism was down to 38%, a steep decline from 62% in 2019. Optimism fell among Gen Xers and Baby Boomers too, but the drop among Millennials was pretty significant. (See Chart 1 below.) Moreover, Millennials were more likely than older generations to have sold assets from qualified retirement plans such as 401(k) accounts and IRAs in response to the pandemic. Only a small percentage of Millennials investors did so—13% according to our survey—but this number was significantly lower for Generation X investors (5%) and Baby Boomer investors (2%).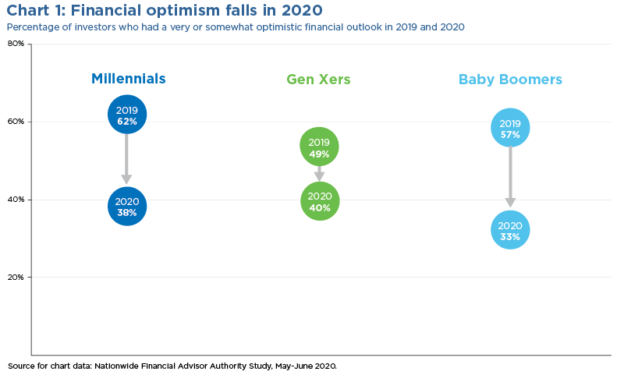 Perhaps investors in older generations leaned on their experience from previous market crashes and held their nerve during last year's bear market plunge. It's also likely that the uncertainty and volatility surrounding COVID-19 affirmed Millennials' aversion to risk, compelling them to sell investments from their portfolios when markets turned volatile. The top two financial concerns of Millennials as reported in our Advisory Authority Study were protecting assets (29%) and protecting against portfolio losses caused by the pandemic (27%).
But as Millennials get older, they're also changing in ways that are similar to Baby Boomers and Gen X investors at earlier ages. As an example, in the months after the market decline in Q1 last year, Millennials saw the strongest rebound in net worth among older age cohorts. By Q4 of 2020, under 40 investors (predominantly Millennials) grew their net worth 17% compared with the previous year. (See Chart 2 below.) That could be a result of more Millennials ramping up their savings and investment plans as they move into middle age. Net worth comparisons among age groups have remained relatively consistent over the last ten years, but the biggest jump in net worth seems to occur after age 40.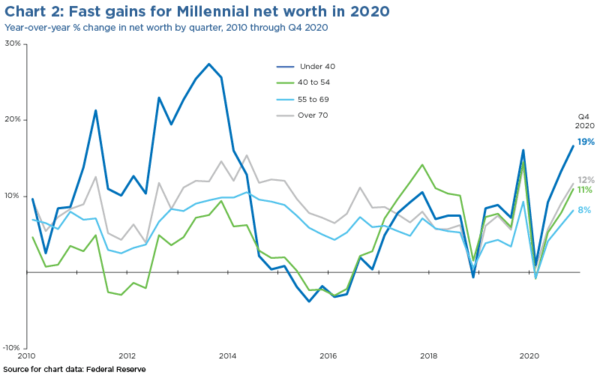 We can also see growing enthusiasm for stock investing among younger investors by looking at recent trends in trading apps and social media. Online investing has exploded in recent years, driven in large part by the success of Robinhood, a mobile trading app with over 13 million users with an average age of 31. The rising popularity of mobile and online trading platforms coincided with the COVID-19 pandemic and multiple rounds of government stimulus, leading many taxpayers to direct their relief payments toward stock investments.  A Deutsche Bank survey earlier this year found younger investors were most likely to invest at least part of their stimulus checks in stocks. This behavior was also common among new investors with less than a year of investment experience. (See Chart 3 below.)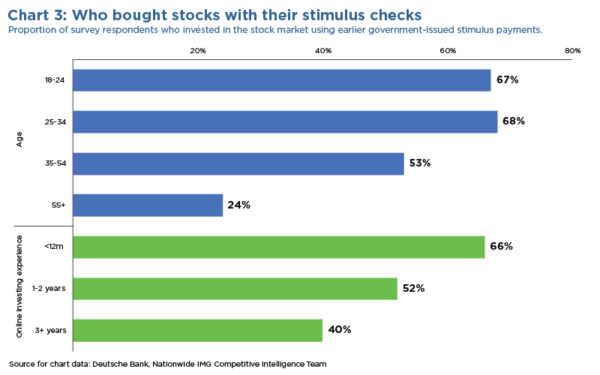 Increased participation of younger investors in the stock market is encouraging, especially when you consider how risk averse Millennial investors had been previously. This fear of risk kept many Millennials away from stocks at a time when they could reasonably afford to assume greater risk given their long time horizons. Missing out on critical years of growth at an early age can potentially set an investor behind the curve when saving for the future.
Review relevant client material from Nationwide
Disclaimers
This information is general in nature and is not intended to be tax, legal, accounting or other professional advice.

The information provided is based on current laws, which are subject to change at any time, and has not been endorsed by any government agency.

Neither Nationwide nor its representatives give legal or tax advice. Please have your clients consult with their attorney or tax advisor for answers to their specific tax questions.

This material is not a recommendation to buy, sell, hold or roll over any asset, adopt an investment strategy, retain a specific investment manager or use a particular account type. It does not take into account the specific investment objectives, tax and financial condition or particular needs of any specific person. Investors should discuss their specific situation with their financial professional.

Except where otherwise indicated, the views and opinions expressed are those of Nationwide as of the date noted, are subject to change at any time and may not come to pass.

Past performance does not guarantee future results. Current performance may be lower or higher than the past performance shown.

Nationwide Funds are distributed by Nationwide Fund Distributors LLC (NFD), member FINRA, Columbus, Ohio.

Nationwide Investment Services Corporation (NISC), member FINRA, Columbus, Ohio.

Nationwide, the Nationwide N and Eagle and Nationwide is on your side are service marks of Nationwide Mutual Insurance Company.

© 2021 Nationwide
NFN-1159AO