Are record job openings signaling rising inflation?
May 19, 2021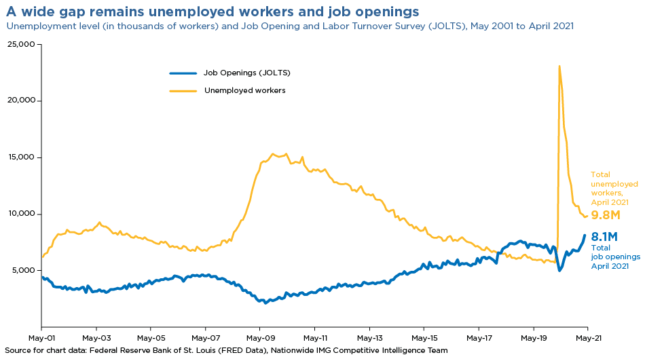 Economists were left scratching their heads after April's jobs report showed an increase of just 266,000 in non-farm payrolls, a fraction of the one million jobs economists were expecting. Strong economic data following the re-opening of regional economies and aggressive fiscal support contributed to these inflated estimates. The employment picture became even more uncertain after last Tuesday's release of the Job Opening and Labor Turnover Survey (JOLTS), which showed a record 8.1 million job openings in the U.S. If you do the math, this means 83% of the 9.8 million current unemployed workers could have a job (ignoring obvious geographic and skill-set challenges.)
Several structural issues are limiting the matchmaking of unemployed workers to current job openings, including fear of coronavirus, virtual school, and the need to care for elderly parents. A more contentious subject is the influence of enhanced unemployment benefits in the form of $300 weekly payments from the federal government in addition to the state benefits available to unemployed workers. While President Biden dismissed the impact of this federal program, Goldman Sachs data showed the lowest wage that workers are willing to accept to return to work has jumped 21% since last fall. Republicans blame the worker shortage on the enhanced weekly payments, with at least 15 states moving to trim unemployment benefits. Arizona and Montana are even offering return-to-work bonuses as an alternative incentive to unemployed workers. The program is set to expire in September, but nine Republicans have introduced a bill to cut the benefit in half this week and phase it out by the end of June.
Regardless of the timing of the expiration, competition for workers is driving the cost of labor higher. Amazon offered a $1,000 signing bonus to attract 75,000 new workers and boost wages by up to $3 per hour for half a million employees. McDonald's is boosting wages by 10% for 35,500 workers and Chipotle is increasing wages and offering retaining bonuses. This natural wage increase is mirrored by Democrats' push to raise the minimum wage to $15 per hour, compared with the average wage for a fast-food worker at $11.47. The National Owners Association, a group representing U.S. franchisees, told its members that strong sales should allow operators the choice to raise menu prices to offset higher spending on pay and benefits. This is one of the factors that could drive inflation beyond the transitory factors described by the Federal Reserve.
Review relevant client material from Nationwide
Disclaimers
This information is general in nature and is not intended to be tax, legal, accounting or other professional advice.

The information provided is based on current laws, which are subject to change at any time, and has not been endorsed by any government agency.

Neither Nationwide nor its representatives give legal or tax advice. Please have your clients consult with their attorney or tax advisor for answers to their specific tax questions.

This material is not a recommendation to buy, sell, hold or roll over any asset, adopt an investment strategy, retain a specific investment manager or use a particular account type. It does not take into account the specific investment objectives, tax and financial condition or particular needs of any specific person. Investors should discuss their specific situation with their financial professional.

Except where otherwise indicated, the views and opinions expressed are those of Nationwide as of the date noted, are subject to change at any time and may not come to pass.

Nationwide Funds are distributed by Nationwide Fund Distributors LLC (NFD), member FINRA, Columbus, Ohio.

Nationwide Investment Services Corporation (NISC), member FINRA, Columbus, Ohio.

Nationwide, the Nationwide N and Eagle and Nationwide is on your side are service marks of Nationwide Mutual Insurance Company.

© 2021 Nationwide
NFN-1170AO