Signs of market turbulence ahead
November 03, 2021
In a recent article, I wrote about the phenomenon of compounding financial crises, noting how recent cycles of market downturns and recoveries have increased in frequency and amplitude, especially since the Global Financial Crisis downturn of 2007-09.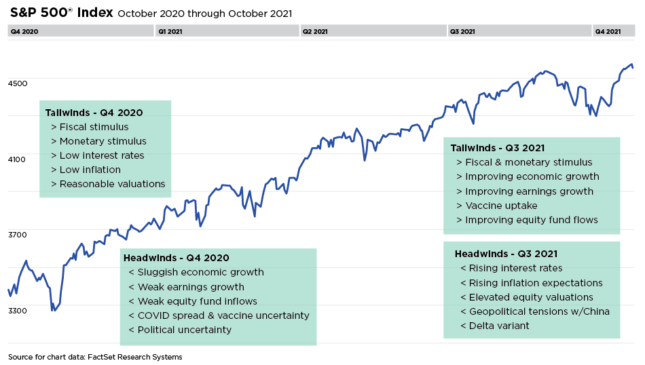 The COVID-19 downturn and recovery cycle was particularly swift, with the S&P 500 Index making the round-trip (peak to trough to full recovery) in around six months. Since then, U.S. stock markets have been on a tear. The benchmark equity index is up over 42% for the 12-month period ending last Thursday (October 28.) With two months left to go in the calendar year, the S&P 500 is on track to record another impressive year of returns; year-to-date, the index is up over 23% (through Thursday, October 28.)
Over the last 12 months, the stock market has soared with more tailwinds behind it, but movement since the summer has been choppier. Investors are always looking forward to gauge the prospects for future returns. In a sense, the stock market is nothing more than a real-time barometer of investor sentiment, combining shifting signals on employment, earnings, inflation, interest rates and more to present a reading of investor optimism or pessimism.
The tailwinds we saw starting last year with the COVID recovery have burnished the confidence of market participants. In our seventh annual Advisor Authority study, powered by the Nationwide Retirement Institute, we saw a strong bounce-back in optimism among financial professionals in their 12-month financial outlook, rising from under 40% last year to 63% in 2021. There was a rebound among individual investors as well, but just under half of investors (49%) described their 12-month financial outlook as optimistic.
Find more insights from the Advisor Authority study.
In the chart above, you can see how stock investors reacted to the confluence of headwinds and tailwinds in the market from Q4 of last year to the current period (Q3 and October of this year.) In October 2020, the stronger tailwinds of fiscal stimulus, low interest rates and low inflation overpowered the headwinds of COVID and political uncertainty. The lift provided by these tailwinds carried the S&P 500 to the record highs we have seen in 2021.
But beginning last quarter, the headwinds have increased. Fiscal and monetary stimulus have run their course. If anything, we may be looking at more fiscal restraint if tax increases are part of any spending legislation that passes in Washington D.C. this autumn. There's also a sense that the best growth for the economy is behind us; the first estimate of Q3 Gross Domestic Product growth came in at annual 2.0% rate, still positive but much weaker than the strong growth seen in the first two quarters of this year.
The tailwinds experienced through much of the post-pandemic rally are gradually shifting to headwinds, including fiscal and monetary stimulus, inflation, interest rates and economic growth. Investors generally prefer mixed current conditions and an optimistic outlook than a strong current market but challenging outlook. As I wrote previously, an accumulation of concerns on "wall of worry" isn't usually enough to tip the market into a correction. A major event or breaking point, such as a pandemic or a global financial crisis, is needed to topple the "wall of worry", but those breaking points are impossible to predict. Being aware of investor psychology can be important in understanding market behavior and navigating uncertainty.
Preparing in advance for market downturns and crises is essential to help keep investors on track toward their long-term goals. Diversification is a solid strategy for managing the risk of market losses, but it's also important to stick with a strategy that aligns with your tolerance for risk and stay invested for the long term through all the market's ups and downs.
Simplified insights from Nationwide can help you stay up to date on relevant topics in the markets and the economy to help you and your clients manage through future financial crises. Sign up for our blog updates to keep in the know.
Disclaimer
This information is general in nature and is not intended to be tax, legal, accounting or other professional advice.

The information provided is based on current laws, which are subject to change at any time, and has not been endorsed by any government agency.

Neither Nationwide nor its representatives give legal or tax advice. Please have your clients consult with their attorney or tax advisor for answers to their specific tax questions.

S&P 500® Index: An unmanaged, market capitalization-weighted index of 500 stocks of leading large-cap U.S. companies in leading industries; gives a broad look at the U.S. equities market and those companies' stock price performance.

Nationwide, the Nationwide N and Eagle and Nationwide is on your side are service marks of Nationwide Mutual Insurance Company. © 2021 Nationwide
NFN-1231AO