Small firms struggle despite the recovery
September 16, 2020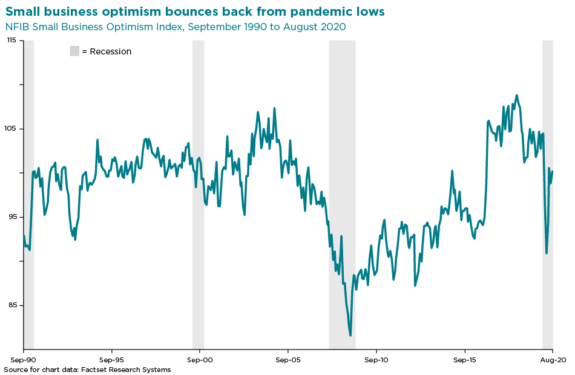 The COVID-19 economic shutdown has impacted all U.S. businesses in some way, but the recession has hit small businesses particularly hard. Back in April, one-third of all small businesses closed either temporarily or permanently, and nearly half of those firms were retailers, according to Opportunity Insights. As the economy reopened after the initial shock, small business closures shrank to 8% but have since widened to nearly 20% as worries loom.
Last week, the August survey from the National Federation of Independent Business (NFIB) showed increasing optimism among small business owners. The Small Business Optimism Index added 1.4 points in August, rising to 100.2 or slightly above the 46-year average, with seven of the 10 index components improving. The NFIB Uncertainty Index, however, deteriorated by 2 points to 90, its second-highest reading since 2017.
The NFIB survey found improvement in job openings and plans to hire, with one-third of small firms having at least one unfilled position. Twelve percent of small business owners see now as a good time to expand, up one percentage point from last month. But substantial uncertainty remains, with a severe deterioration in earnings trends and a decline in sales expectations over the next quarter. The largest risks for small businesses, as tallied in a recent Gallup survey, include the economic impact of COVID-19 (59%) and economic policies (53%). A survey by the U.S. Chamber of Commerce notes a majority of small businesses (70%) are concerned about financial hardship due to prolonged closures. More than half (58%) worry about having to permanently close.
This pessimistic outlook clashes with the recent euphoria around record-setting equity markets and reminds us of the divergent conditions between large and small businesses. Ample liquidity is driving the valuations of publicly held companies to elevated levels, while small businesses are in a fight for survival. Given that nearly half of U.S. workers are employed by small businesses, it's impossible to see a lessening of economic fears and a return to normalcy until the performance gap between large and small businesses narrows.
Review relevant client material from Nationwide
NFN-1078AO