How will the game stop for the short squeeze?
February 02, 2021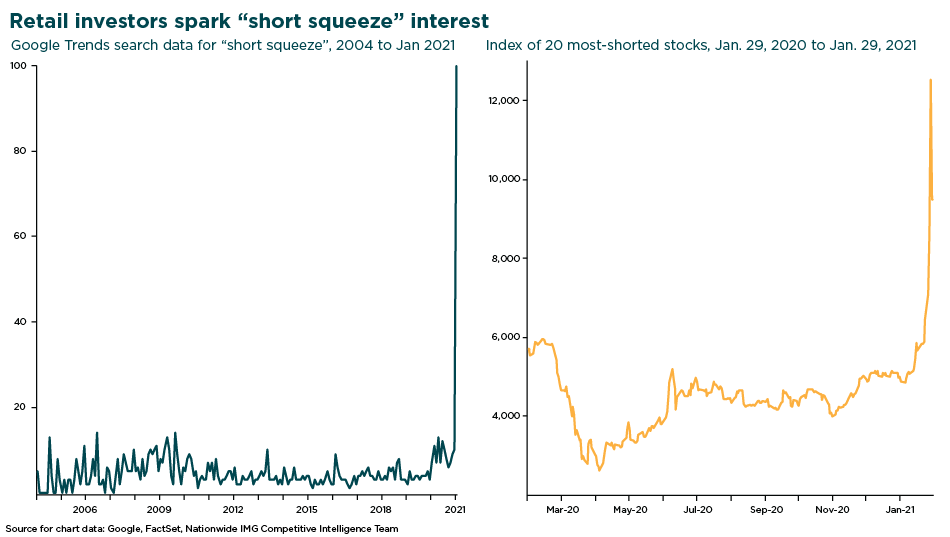 Wild swings in the stock market last week focused attention on retail investors, to a level we haven't seen since 1999. A group of retail investors subscribed to a Reddit group called "WallStreetBets" conducted a coordinated attack on several heavily shorted stocks to create a "short squeeze," forcing institutional investors to cover their short positions at higher prices.
The chart above left illustrates the dramatic shift in attention, as Google searches for "short squeeze" spiked last week. Thanks to aggressive buying of stocks and options, many of these shorted companies have seen eye-popping returns for the year-to-date through last Wednesday (1/27). GameStop, the most heavily shorted company, jumped over 1,700%. Other short targets also saw stellar gains, including Express (up over 900%) and AMC Entertainment (up 800%). An index of the 20 most-heavily shorted companies is up 157% year-to-date through Thursday. (See chart above right.)
Increased attention of retail investors
By all metrics, the increased attention of retail investors has been dramatic. In the Apple app store, six of the top eight downloaded apps are investment related. While much attention has been paid to retail investors, the magnitude of dollars traded suggests that institutional investors and hedge funds are participating as well, with a record number of call options traded on Wednesday. Last week, GameStop's trading volume was 25-times its average from 2020. Remarkably, GameStop's entire share float turned over an average of three times a day. This distortion caused an estimated $70 billion in losses for short-based hedge funds.
With continued volatility and the looming prospect for regulatory and governmental review, the debate is far from settled. Given that retail investors (particularly young investors) largely sat out the strong market following the financial crisis, it's encouraging to see greater interest, though it may border on euphoria. While some of this activity seems to indicate a throwback to the mistakes of the late-1990s, the pockets of excess are not indicative of an unhealthy broader market, which benefits from ample liquidity, a rebounding economy and improving earnings.
Review relevant client material from Nationwide
Sources and Disclaimers
This material is not a recommendation to buy, sell, hold or roll over any asset, adopt an investment strategy, retain a specific investment manager or use a particular account type. It does not take into account the specific investment objectives, tax and financial condition or particular needs of any specific person. Investors should discuss their specific situation with their financial professional.

Except where otherwise indicated, the views and opinions expressed are those of Nationwide as of the date noted, are subject to change at any time and may not come to pass.

Past performance does not guarantee future results. Current performance may be lower or higher than the past performance shown.

Nationwide Funds are distributed by Nationwide Fund Distributors LLC (NFD), member FINRA, Columbus, Ohio.

Nationwide Investment Services Corporation (NISC), member FINRA, Columbus, Ohio.

Nationwide, the Nationwide N and Eagle and Nationwide is on your side are service marks of Nationwide Mutual Insurance Company.

© 2021 Nationwide

NFN-1128AO (2/2021)
NFN-1128AO