Fresh stimulus pushes federal deficit higher
March 16, 2021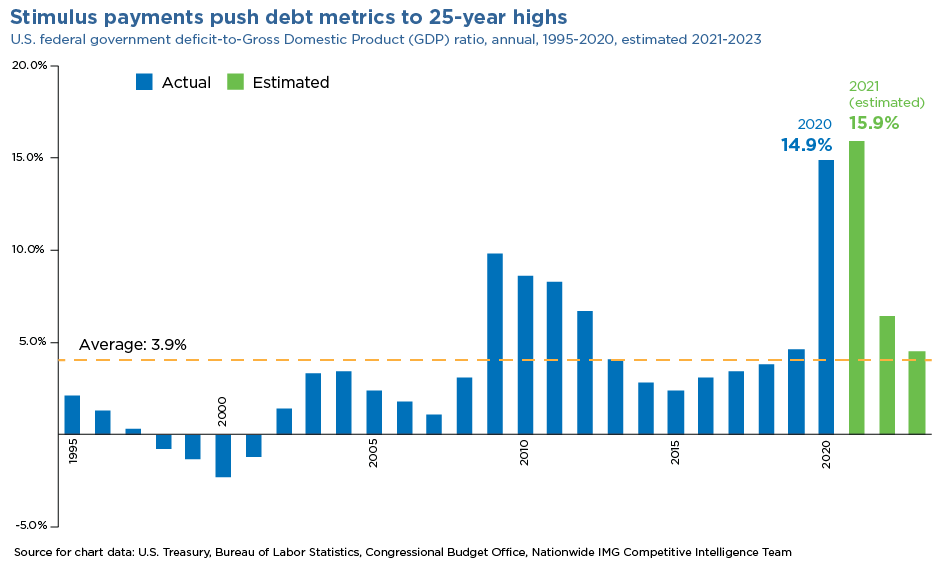 President Biden signed the latest round of Covid-19 relief into law on Thursday last week, adding $1.9 trillion in stimulus to the economy. Combined with $3.6 trillion from the five previous stimulus packages related to the coronavirus pandemic, the federal government has pumped roughly $4.5 trillion into the economy over the past 12 months. That's equivalent to more than $35,000 per U.S. household.
Last year's CARES Act and this year's American Rescue Plan are the largest packages as a percentage of GDP in the past 50 years, with the money spent in 2021 expected to eclipse 2020. As a result, GDP growth for 2021 is expected to hit its highest rate since 1983.
A consequence of aggressive fiscal stimulus is a rising budget deficit. In 2020, the deficit-to-GDP ratio hit 14.9%, well above the 9.8% rate during the financial crisis in 2009. Only during World War II was the deficit-to-GDP ratio higher, with rates above 20% from 1943 through 1945. The ratio is now expected to jump to 15.9% in 2021 before fading to mid-single digits in 2022 and 2023. This excludes any incremental infrastructure spending currently being discussed.
Bond investors are beginning to react to the outlook for massive Treasury issuance, with the 10-year Treasury yield up nearly 70 basis points this year. With the federal debt currently topping $28 trillion and heading to $33 trillion over the next year, rising interest rates will increasingly "crowd out" other areas of the budget. The average interest rate paid by the Treasury during February was 2.28%, roughly half the rate from 2009. If rates were to return to the levels from a decade ago, the interest on the debt would be $1.7 trillion annually, equal to roughly half of the expected federal revenues for 2021.
Review relevant client material from Nationwide
Disclaimers
This information is general in nature and is not intended to be tax, legal, accounting or other professional advice.

The information provided is based on current laws, which are subject to change at any time, and has not been endorsed by any government agency.

Neither Nationwide nor its representatives give legal or tax advice. Please have your clients consult with their attorney or tax advisor for answers to their specific tax questions.

This material is not a recommendation to buy, sell, hold or roll over any asset, adopt an investment strategy, retain a specific investment manager or use a particular account type. It does not take into account the specific investment objectives, tax and financial condition or particular needs of any specific person. Investors should discuss their specific situation with their financial professional.

Except where otherwise indicated, the views and opinions expressed are those of Nationwide as of the date noted, are subject to change at any time and may not come to pass.

Past performance does not guarantee future results. Current performance may be lower or higher than the past performance shown.

Nationwide Funds are distributed by Nationwide Fund Distributors LLC (NFD), member FINRA, Columbus, Ohio.
Nationwide Investment Services Corporation (NISC), member FINRA, Columbus, Ohio.

Nationwide, the Nationwide N and Eagle and Nationwide is on your side are service marks of Nationwide Mutual Insurance Company.

© 2021 Nationwide

NFN-1148AO (3/2021)
NFN-1148AO