Stimulus spending pushes government debt to record highs
October 28, 2020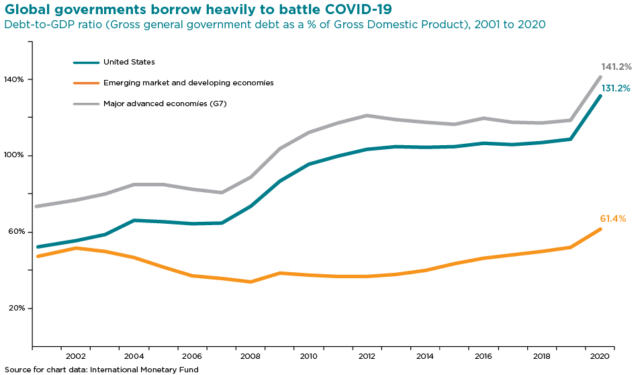 The global coronavirus pandemic sparked a wave of government-driven fiscal stimulus and budget spending to limit the economic pain. As a result of aggressive stimulus and weak economic activity, debt-to-GDP ratios have exploded this year. In the U.S., the ratio is expected to climb from 109% in 2019 to 131% in 2020 – exceeding the previous record of 112% in 1945 (at the end of World War II). The phenomenon is global. Among G7 economies, debt-to-GDP is expected to be 141% this year. Compared with 119% in 2019 for emerging markets, debt-to-GDP is expected to rise to 61% in 2020 from 52% in 2019.
Despite the unprecedented issuance of debt across the globe, interest rates have largely not reacted. The 10-year yield on Japanese government bonds is currently at 0.03%, while in Germany 10-year government bond yields are at -0.56%. The amount of negative-yielding global debt has returned to a record at $17 trillion, driven largely by the aggressive buying by global central banks and the need for yield and risk aversion of investors.
The U.S. has recently seen a notable increase in interest rates. Last week, the 10-year Treasury yield hit its highest level since March, before easing on Friday. Investors should keep an eye on the Treasury market as rising rates would have a dramatic impact on the federal budget. The current Congressional Budget Office (CBO) projection shows interest on the national debt is the fastest-growing category of the federal budget, expected to grow from $376 billion in 2019 to $819 billion in 2030. The CBO projects an average cost of government debt of 2.7%, but if that rate increases to 3.7%, it would cost the U.S. government roughly $2 trillion over the next decade. Given the degree of stress in the economy at this time, deficit spending is necessary and expected. However, rising interest payments can potentially crowd out other forms of government spending in the future.
Review relevant client material from Nationwide
Disclaimers
manager or use a particular account type. It does not take into account the specific investment objectives, tax and financial condition or particular needs of any specific person. Investors should discuss their specific situation with their financial professional.

Except where otherwise indicated, the views and opinions expressed are those of Nationwide as of the date noted, are subject to change at any time and may not come to pass.

Past performance does not guarantee future results. Current performance may be lower or higher than the past performance shown.

Nationwide Funds are distributed by Nationwide Fund Distributors LLC (NFD), member FINRA, Columbus, Ohio.

Nationwide Investment Services Corporation (NISC), member FINRA, Columbus, Ohio.

Nationwide, the Nationwide N and Eagle and Nationwide is on your side are service marks of Nationwide Mutual Insurance Company.

© 2020 Nationwide
NFN-1097AO