Stocks riding a tailwind from record fund flows.
March 25, 2021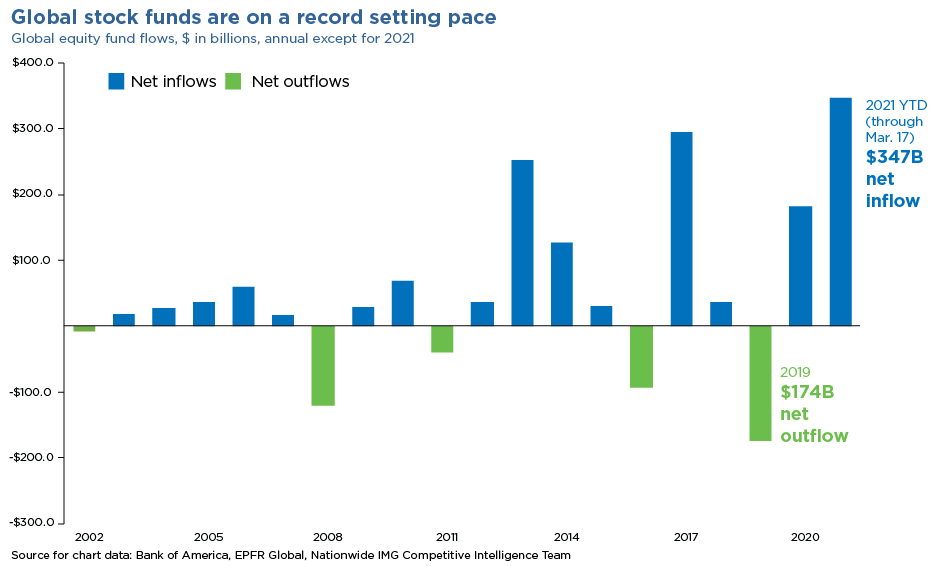 The S&P 500® Index has rallied 75% in the bull market from the March 2020 low, thanks to fiscal and monetary stimulus, the promise of vaccines and a gradually reopening economy. The strength of the rally, along with the latest round of stimulus checks to many individuals, has renewed the retail investors' interest in equities.
Investors allocated to bonds for much of the post-financial crisis period despite strong equities and low interest rates. According to EPFR Fund Flow data, global equities attracted a record $68 billion in the most recent week. For the year-to-date, global equity funds brought in $347 billion in less than three months, eclipsing the previous full-year record of $295 billion in 2017. If the current rate continues for the full calendar year, global equity funds will add $1.6 trillion in assets in 2021, which would be five times the previous record. The strong flows reflect positive market sentiment and the fading attractiveness of bond investing in a rising rate environment. It also provides a tailwind for equity market returns, as it shifts the supply-demand balance for stock shares.
In addition to the potential net buying pressure of $1.6 trillion in fund flows, companies are restarting share repurchase programs following many suspensions last year. Goldman Sachs estimates that 2021 could see an increase of $300 billion in buybacks. While IPO activity is expected to be robust, merger and acquisition activity will likely outweigh the supply pressure. If the demand for equities this year outweighs supply by roughly $2 trillion, it would equate to more than 6% of the $32 billion market cap of the S&P 500, acting as a tailwind for returns.
Review relevant client material from Nationwide
Disclaimer
This information is general in nature and is not intended to be tax, legal, accounting or other professional advice.

The information provided is based on current laws, which are subject to change at any time, and has not been endorsed by any government agency.

Neither Nationwide nor its representatives give legal or tax advice. Please have your clients consult with their attorney or tax advisor for answers to their specific tax questions.

This material is not a recommendation to buy, sell, hold or roll over any asset, adopt an investment strategy, retain a specific investment manager or use a particular account type. It does not take into account the specific investment objectives, tax and financial condition or particular needs of any specific person. Investors should discuss their specific situation with their financial professional.

Except where otherwise indicated, the views and opinions expressed are those of Nationwide as of the date noted, are subject to change at any time and may not come to pass.

S&P 500® Index: An unmanaged, market capitalization-weighted index of 500 stocks of leading large-cap U.S. companies in leading industries; gives a broad look at the U.S. equities market and those companies' stock price performance.

Nationwide Funds are distributed by Nationwide Fund Distributors LLC (NFD), member FINRA, Columbus, Ohio.

Nationwide Investment Services Corporation (NISC), member FINRA, Columbus, Ohio.

Nationwide, the Nationwide N and Eagle and Nationwide is on your side are service marks of Nationwide Mutual Insurance Company.

© 2021 Nationwide

NFN-1150AO (3/2021)
NFN-1150AO