Uncertain investors seek comfort in tech heavyweights
July 28, 2021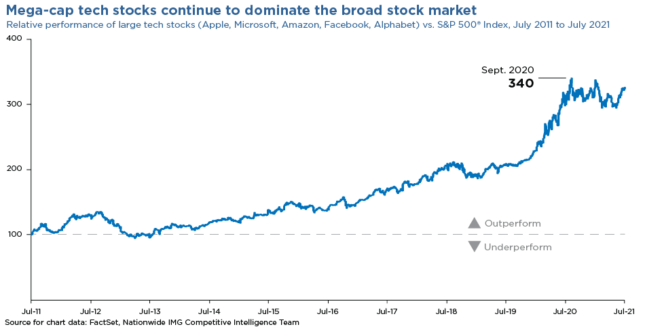 Markets have remained remarkably resilient this year, with each period of weakness followed by investors buying the dip and pumping up the rally. Inflation worries, global growth volatility and Fed policy uncertainty dominates the current news cycle. More recently, the risk from the coronavirus Delta variant and the prospect for additional lockdowns have spooked the stock market. Despite that, the S&P 500® Index sits near a record high and is on pace for its sixth-straight monthly gain in July.
However, the latest run-up has masked a deterioration in market breadth. While the market-cap-weighted S&P 500 sits at a record, the equal-weighted S&P 500 peaked on May 10th and since then has underperformed the cap-weighted index by 5%. A similar trend exists in small caps; the Russell 2000 Index peaked in March and has since declined by 7% and underperformed the S&P 500 by 17%. The return of investors to the mega-cap tech stocks has powered this shift. The big five technology-related companies—Apple, Microsoft, Amazon, Alphabet (Google), and Facebook—have outperformed the S&P 500 by 9% since early June. These companies are also the largest stocks in the S&P 500, so they are also driving the performance of the broad equity market.
Since the financial crisis, investors have returned to the "comfort blanket" of large tech stocks in periods of uncertainty. This is understandable, given that these firms have consistently beat expectations, have multiple levers for growth and enjoy strong balance sheets and cash flow generation. Any periods of underperformance, like the one between September 2020 and June 2021 when cyclical stocks came into favor, are followed by a quick rebound. Over the past decade, the S&P 500 has returned 226%, which is impressive until you consider the 962% cumulative return of these mega-cap tech stocks. While much of these gains are justified by earnings, there is worry that narrow leadership hides underlying stress in the market and is not sustainable. More seasoned market observers would like to see a broadening of leadership beyond this small band of big winners.
Review relevant client material from Nationwide
Disclaimers
This information is general in nature and is not intended to be tax, legal, accounting or other professional advice.

The information provided is based on current laws, which are subject to change at any time, and has not been endorsed by any government agency.

Neither Nationwide nor its representatives give legal or tax advice. Please have your clients consult with their attorney or tax advisor for answers to their specific tax questions.

This material is not a recommendation to buy, sell, hold or roll over any asset, adopt an investment strategy, retain a specific investment manager or use a particular account type. It does not take into account the specific investment objectives, tax and financial condition or particular needs of any specific person. Investors should discuss their specific situation with their financial professional.

Except where otherwise indicated, the views and opinions expressed are those of Nationwide as of the date noted, are subject to change at any time and may not come to pass.

S&P 500® Index: An unmanaged, market capitalization-weighted index of 500 stocks of leading large-cap U.S. companies in leading industries; gives a broad look at the U.S. equities market and those companies' stock price performance.

Russell 2000® Index: An unmanaged index that measures the performance of the small-capitalization segment of the U.S. equity universe.

Russell Investment Group is the source and owner of the trademarks, service marks and copyrights related to the Russell Indexes. The Fund is not sponsored, endorsed, or promoted by Russell, and Russell bears no liability with respect to any such funds or securities or any index on which such funds or securities are based. Russell ® is a trademark of Russell Investment Group.

Nationwide Funds are distributed by Nationwide Fund Distributors LLC (NFD), member FINRA, Columbus, Ohio.

Nationwide Investment Services Corporation (NISC), member FINRA, Columbus, Ohio.

Nationwide, the Nationwide N and Eagle and Nationwide is on your side are service marks of Nationwide Mutual Insurance Company.

© 2021 Nationwide
NFN-1197AO