The Fed loosens the reins on inflation
September 02, 2020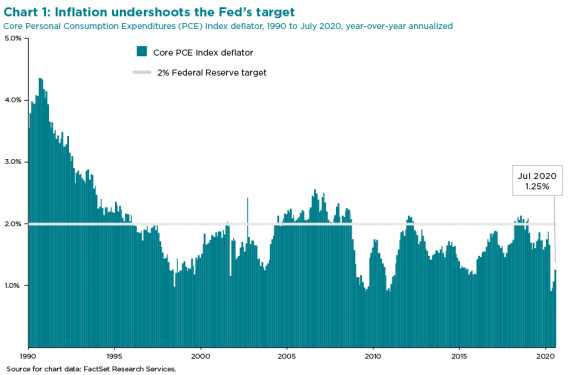 In a speech last week during the Federal Reserve's virtual Jackson Hole Conference, Fed chair Jerome Powell confirmed a shift in the central bank's long-term goals: to aim for an average inflation rate near the Fed's stated 2% target, allowing price increases to overshoot after a long spell of persistent weakness; and to take a more one-sided approach to the labor market, letting unemployment trend lower than the Fed's typical comfort level.
This change represents the most dramatic shift in the Fed's framework since they first adopted the 2% target (as measured by core PCE deflator) in 2012. It also has major implications for the economy and the financial markets in the years ahead.
For investors, this shift signals the Fed is intent on keeping interest rates near zero for an extended period, creating conditions for the U.S. economy to run "hot". It also indicates that the Fed believes persistent below-trend deflation is as big of a concern as elevated inflation. It's important to note that the core PCE index has averaged just 1.4% since 2012 and crossed into the 2% target range 12 times in those 103 months. (See Chart 1.)
While the current level of inflation remains low, expectations for future inflation are on the rise. Basic economic principles suggest that money creation through expansionary monetary policy can lead to faster inflation. The monetary base, which is total amount of currency either in general public circulation or in commercial bank deposits held at the Federal Reserve, has exploded by 44% over the past year. During the pandemic and ensuing economic shutdowns, the Fed provided necessary liquidity to the financial markets by aggressively expanding its balance sheet, growing 86% on an annualized basis. As a result, we've seen the sharpest adjustment on record to the 10-year breakeven inflation rate (the difference between the 10-year Treasury and TIPS yields), up from 0.5% in March to 1.7% currently. (See Chart 2.)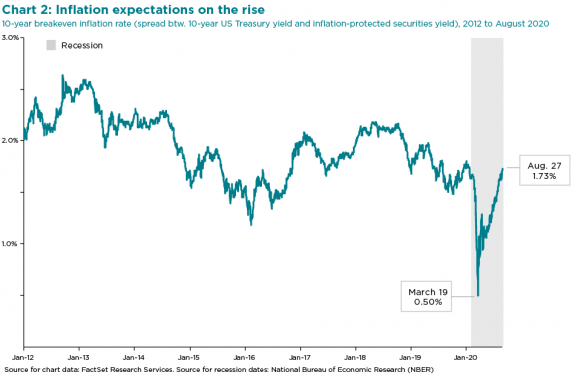 While long-term inflation risks have risen, so have the intermediate-term risks to equities. Investors should expect the road ahead to be bumpier than the last five months; recall there were three corrections in the S&P 500® Index prior to the first Fed tightening in the last cycle. But the potential is there for a generally robust upswing for stocks in the years ahead, given clear monetary support from the Fed and growing participation from retail investors. This process is not likely to end well—the eventual rise in inflation and interest rates will be a challenge for policymakers and may come at a time when markets will have likely reached very aggressive valuations—but it also isn't likely to end quickly either.
Review relevant client material from Nationwide
Disclaimers
This material is not a recommendation to buy, sell, hold or roll over any asset, adopt an investment strategy, retain a specific investment manager or use a particular account type. It does not take into account the specific investment objectives, tax and financial condition or particular needs of any specific person. Investors should discuss their specific situation with their financial professional.

Except where otherwise indicated, the views and opinions expressed are those of Nationwide as of the date noted, are subject to change at any time and may not come to pass.

Past performance does not guarantee future results. Current performance may be lower or higher than the past performance shown.

S&P 500® Index: An unmanaged, market capitalization-weighted index of 500 stocks of leading large-cap U.S. companies in leading industries; gives a broad look at the U.S. equities market and those companies' stock price performance.Nationwide Funds are distributed by Nationwide Fund Distributors LLC (NFD), member FINRA, Columbus, Ohio.

Nationwide Investment Services Corporation (NISC), member FINRA, Columbus, Ohio.

Nationwide, the Nationwide N and Eagle and Nationwide is on your side are service marks of Nationwide Mutual Insurance Company.

© 2020 Nationwide
NFN-1075AO