What Will Presidential Politics Mean for the Market in 2020?
JUL. 29, 2020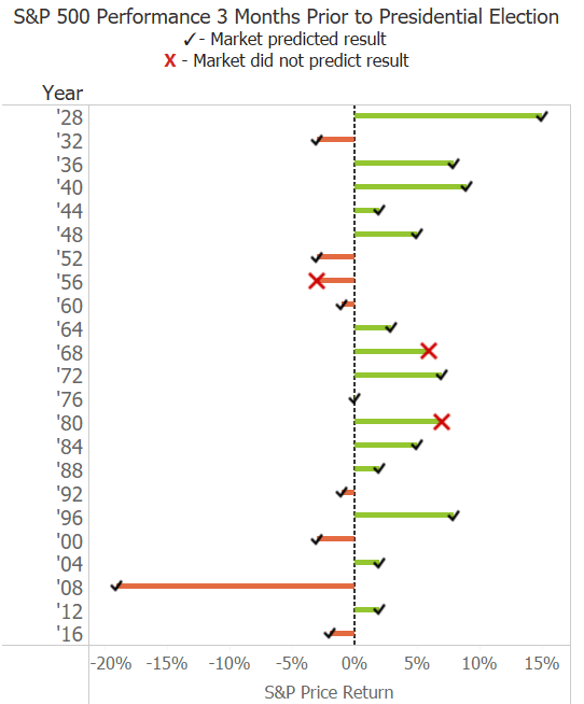 Many people are emotionally exhausted after all the major news headlines from 2020 so far—the COVID-19 pandemic, the economic shutdown, the national protests for racial equality. Now there's a hotly contested presidential election on the horizon.
Emotional investor reaction to news headlines drove the wild market fluctuations we saw in the first half of the year, with some of the fastest and sharpest swings ever seen in U.S. market history. Investors should expect volatility to persist in the second half of the year, with the election taking place in the midst of the ongoing pandemic and re-opening of the economy.
We're not likely to witness a break from the uncertainty around the coronavirus pandemic until progress is made on treatments and vaccines. As far as economy is concerned, recovery will depend mostly on continuing monetary policy support and future fiscal stimulus measures.
The early stimulus programs passed by the federal government did cushion some of the blow to the broad economy. After the initial economic shocks in March and April, job creation, retail sales and consumer spending reports posted healthy rebounds in May.
But future stimulus measures are likely to be tied up by partisan wrangling. That's a sign of the increasing influence of politics in advance of the election season. Investors should expect market themes and leadership to shift with the polls forecasting different election outcomes.
A return of the status quo could see Trump continuing to push for lower taxes and more deregulation. Sectors such as financial services, defense and oil and gas producers would likely perform well. A Democratic sweep may bring momentum to infrastructure and alternative energy firms. Health care and pharmaceutical companies would likely come under greater scrutiny.
In past presidential election years, the stock market has been a reliable indicator for predicting party control of the White House. Gains for the three months before Election Day favor the incumbent party, while losses in the same period favor the challenging party. This correlation has held true in 87% of the presidential elections since 1928.
In an uncertain and volatile market environment like this one, many investors feel an urge to "do something." Usually this means panicked selling (and perhaps panicked buying) of risk assets like stocks. Acting on these urges ends badly in the majority of cases.
Investors should continue to stay informed and vigilant, but stick with their long-term plan and avoid making investment decisions when emotions are high.
Review relevant client material from Nationwide
Disclaimers
This material is not a recommendation to buy, sell, hold or roll over any asset, adopt an investment strategy, retain a specific investment manager or use a particular account type. It does not take into account the specific investment objectives, tax and financial condition or particular needs of any specific person. Investors should discuss their specific situation with their financial professional.

Except where otherwise indicated, the views and opinions expressed are those of Nationwide as of the date noted, are subject to change at any time and may not come to pass.

Past performance does not guarantee future results. Current performance may be lower or higher than the past performance shown.

S&P 500® Index: An unmanaged, market capitalization-weighted index of 500 stocks of leading large-cap U.S. companies in leading industries; gives a broad look at the U.S. equities market and those companies' stock price performance.

Nationwide Funds are distributed by Nationwide Fund Distributors LLC (NFD), member FINRA, Columbus, Ohio.

Nationwide Investment Services Corporation (NISC), member FINRA, Columbus, Ohio.

Nationwide, the Nationwide N and Eagle and Nationwide is on your side are service marks of Nationwide Mutual Insurance Company.

© 2020 Nationwide
NFM-19791AO