Why investors shouldn't turn away from international markets
May 12, 2022
Why investors shouldn't turn away from international markets?
With geopolitical risk on the upswing, largely as a consequence of the Russian war in Ukraine, investors may be understandably tentative about allocating assets to international stocks right now. Performance in global equity markets so far in 2022 seem to bear these concerns out. Since the start of 2022, the MSCI EAFE® Index of developed market stocks declined 12.4% through April 29, while the MSCI Emerging Markets® Index has fallen 12.4% year-to-date through April 29. Despite challenges internationally performance is similar, the S&P 500® Index is down 13.1% through the first four months of the year.
However, it's important to note that geopolitical conflicts tend to play out to some resolution, even with heavy personal and financial costs to the parties involved. The current period of heightened risks will eventually tail off, opening an opportunity for international stocks to recover the lost ground in performance relative to U.S. stocks. At present levels, international stocks appear favorably priced relative to U.S. stocks by several measures. Moreover, international markets are generally not as far along in their economic cycles compared with the U.S., which means international markets have more room to grow and present higher potential for future equity returns.
These opportunities, coupled with the diversification benefits that international stocks bring to balanced portfolios, may help make the case to investors for looking beyond domestic borders and maintaining allocations to overseas markets. Managing the risks of international investing remains important as ever, but if done within an investor's comfort level international stocks may have the potential to deliver enhanced returns over the long term.
Attractive valuations
Two overarching trends have dictated global equity market performance in the post-financial crisis period. First, U.S. stocks have strongly outperformed international developed and emerging market stocks over the 12 years since 2009. Second, growth stocks have strongly outpaced their value counterparts through the same time period.
These trends have created a wide valuation difference between U.S. and international stocks. As one example, the price-to-book ratio for the S&P 500 tripled in the years between 2009 and 2021. (See chart below.) For the developed and emerging markets indexes, this measure of valuation has been mostly flat over this time.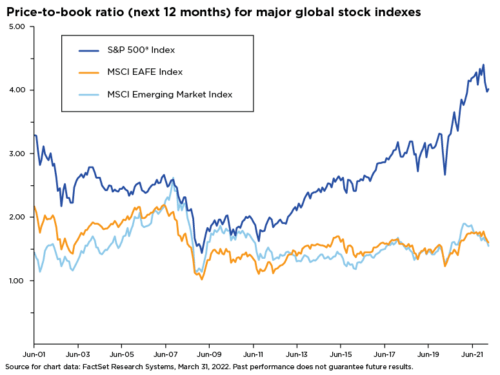 We can partly explain this gap by looking at the differences in composition in these indexes, especially between the traditional growth and value sectors. For example, the MSCI EAFE Index is more heavily weighted toward pro-cyclical and value sectors such as financials, industrials and consumer discretionary firms. The S&P 500, on the other hand, is more exposed to growth-oriented sectors like technology and health care. As growth stocks rose to dominate performance over the last 12 years, the U.S. stock market in general outpaced their international counterparts.
Valuation may be a poor predictor of near-term returns, but it can have a strong inverse correlation with longer-term results; stocks purchased at modest valuations have historically produced better returns. This occurred following the technology bubble, where over-valued U.S. markets lagged international markets during an extended period of global stock outperformance.
More room to grow
At the end of last year, many analysts had tempered their outlooks for global economic growth, if only because of the rapid pace of expansion in 2021 as countries emerged from the initial stages of the COVID-19 pandemic. Now that 2022 is well underway, it appears the global economy must contend with a slew of complicating factors that threaten to slow the pace of economic expansion. The Russian invasion of Ukraine is just one of these factors.
Inflation was already on the upswing well before Russia fired the first shots in Ukraine and before the first round of economic sanctions were put on the Putin regime from Western governments. Prices for a wide range of commodities remain elevated, which could push consumer prices even higher in countries around the world, not just in the U.S. In addition, a new COVID surge in China has led to fresh lockdowns and threats of further supply chain disruption.
In response to the worsening inflation picture, the Federal Reserve turned hawkish in removing monetary support this year, setting the stage for an aggressive pace of future rate hikes and a quicker end to asset purchase programs. However, even as the Fed has committed to monetary tightening, central banks in other advanced international economies remain accommodative (with the Bank of England being one exception.) For instance, the Bank of Japan recently reiterated its continued support for "easy money" policies in the country by continuing its domestic bond buying program.
It's not unusual for the U.S. to lead the rest of the world out of recession, as historical patterns show the U.S. is often among the strongest economies in the early stages of a global recovery. But as the U.S. economic recovery matures, the rest of the world often catches up, performing better in the mid-to-late phases of a global expansion. This is particularly true for emerging markets that are reliant on developed market consumers and businesses to drive their economic growth.
Lowering long-term volatility
Despite the lengthy spell of U.S. stock outperformance and international stock underperformance, exposure to international stocks can add the benefits of diversification such as lower volatility, especially when compared to a portfolio comprised solely of U.S.-only stocks. As illustrated in the chart below, a blended portfolio of 60% U.S. stocks (as represented by the S&P 500) and 40% international stocks (as represented by the MSCI World Index) had a standard deviation of 14.4% over the 51-year period from 1970 to 2021. In comparison, the standard deviation of the S&P 500 over that time was 16.2%. A lower standard deviation equals lower portfolio volatility.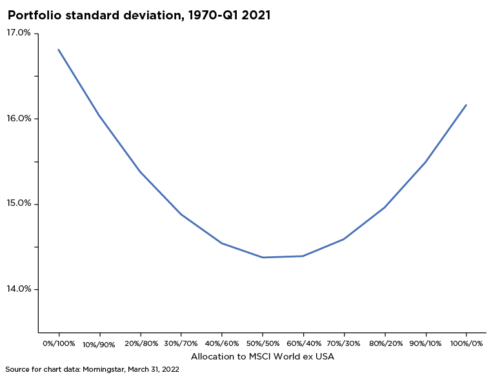 Given the significant valuation and performance gaps between U.S. domestic and international stocks, it would not be surprising to see an extended period of outperformance for international equities that investors have not seen since the late 1990s and early 2000s. At current valuation levels, international stocks appear to offer better potential relative to U.S. stocks for future return opportunities. Once the geopolitical uncertainties between Russia and Ukraine are resolved, global markets may be in a good position to close the gaps in growth with the U.S.
Disclaimer
This material is not a recommendation to buy or sell a financial product or to adopt an investment strategy. Investors should discuss their specific situation with their financial professional.

Except where otherwise indicated, the views and opinions expressed are those of Nationwide as of the date noted, are subject to change at any time and may not come to pass.

S&P 500® Index: An unmanaged, market capitalization-weighted index of 500 stocks of leading large-cap U.S. companies in leading industries; gives a broad look at the U.S. equities market and those companies' stock price performance.

MSCI EAFE® Index: An unmanaged, free float-adjusted, market capitalization-weighted index that is designed to measure the performance of large-cap and mid-cap stocks in developed markets as determined by MSCI; excludes the United States and Canada.

MSCI Emerging Markets® Index: An unmanaged, free float-adjusted, market capitalization-weighted index that is designed to measure the performance of large-cap and mid-cap stocks in emerging-country markets as determined by MSCI.

MSCI World® Index: An unmanaged, free float-adjusted, market capitalization-weighted index that is designed to measure the performance of large-cap and mid-cap stocks in global developed markets as determined by MSCI.

Nationwide Funds are distributed by Nationwide Fund Distributors LLC, member FINRA, Columbus, Ohio.

Nationwide Investment Services Corporation, member FINRA, Columbus Ohio.

Nationwide, the Nationwide N and Eagle and Nationwide is on your side are service marks of Nationwide Mutual Insurance Company. © 2022 Nationwide

MFM-4646AO (05/22)
NFM-9898AO.7