Consumers better prepared to weather the COVID recession
APR. 22, 2020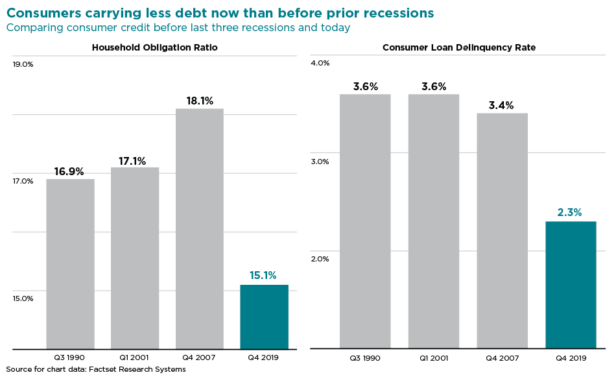 Consumers are currently under unprecedented stress due to the pandemic-related closure of the economy and unemployment numbers rapidly approaching Great Depression levels. Nearly one-third of renters did not pay their rent in April, causing reverberations through the economy.
While many pundits are quick to compare the current situation to the 2008-09 Financial Crisis, two meaningful differences indicate the economy may be in better shape to cushion these blows. First, consumers are far less indebted than they were before the last three recessions, reflected in the Household Obligation Ratio chart on the left (which measures total required household debt payments to total disposable income, including rent, lease, homeowners' insurance, and property tax). The current level is roughly 15%; before the financial crisis, this ratio was at 18%, driven by declining borrowing levels and lower interest rates.
Another notable difference between now and the last recession is the health of the banking industry and the dramatic improvement in capital levels. The delinquency rate on consumer loans was lower in December than it was before past recessions. (See chart above right.) This rate is likely to rise given the pressure from recent job losses, but keep in mind increases from new delinquencies will come from levels that are lower than they were in prior recessions. If the shutdown begins to ease in May and the economy begins to re-open, the pain on the system is likely to be moderate and the longer-term ramifications are likely to be less severe than they were during the Financial Crisis.
Review relevant client material from Nationwide
Disclaimers
This material is not a recommendation to buy, sell, hold or roll over any asset, adopt an investment strategy, retain a specific investment manager or use a particular account type. It does not take into account the specific investment objectives, tax and financial condition or particular needs of any specific person. Investors should discuss their specific situation with their financial professional.

Except where otherwise indicated, the views and opinions expressed are those of Nationwide as of the date noted, are subject to change at any time and may not come to pass.

Past performance does not guarantee future results. Current performance may be lower or higher than the past performance shown.

Nationwide Funds are distributed by Nationwide Fund Distributors LLC (NFD), member FINRA, Columbus, Ohio.

Nationwide Investment Services Corporation (NISC), member FINRA, Columbus, Ohio.

Nationwide, the Nationwide N and Eagle and Nationwide is on your side are service marks of Nationwide Mutual Insurance Company.

© 2020 Nationwide
MFM-3672AO