Bank lending standards continue to ease
May 06, 2021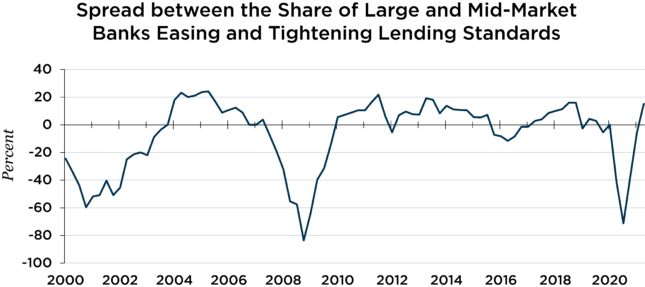 Source: Federal Reserve Board of Governors
Bank lending standards continue to ease
The Fed's latest loan officer survey shows that bank lending standards eased on balance for the first time in nearly two years over the last three months. Specifically, 17.8 percent of large and mid-market banks respondents indicated that they eased standards in the February-April period while only 2.7 percent tightened. Actual lending has been constrained to this point – note that commercial bank loans and leases, while more stable in recent months, still haven't broken out of the downtrend that began last spring – but the rapidly improving labor market, the bubbling signs of a consumer spending spree, and the very constructive outlooks from the banks themselves all suggest that activity will pick up substantially in the quarters and years ahead. The Fed's quantitative easing programs in the last cycle were hampered by caution on both sides of the loanable funds market, but virtually all signs are pointing to a very different outcome this time around.
Yellen walks back rate comments
Treasury Secretary Janet Yellen clarified that she wasn't making a prediction or recommendation when she said this week that "some very modest increases in interest rates" may be necessary to prevent the economy from overheating. That such an innocuous statement was walked back on a day in which the S&P 500 was off at one point by more than 1.5 percent is at least a hint that policymakers remain highly sensitive to asset prices and that the inevitable pullbacks as this cycle matures will be met with more dovish rhetoric. And as Yellen's own experience in the middle of the last decade shows, market reactions can very much complicate and elongate the pivot toward less accommodative policies. Recall that the Fed at the end of 2014 forecasted 100 basis points in rate hikes in the following year, but, driven in large part by an equity market correction, went on to lift the fed funds target by only 25 basis points and wouldn't hit the 100 basis point mark for the cycle until mid-2017. It would come as little surprise should the eventual move toward tightening in the years ahead elicit similar ripples in the markets that in turn delay and/or temper the policy shift itself.
Daily Trivia
Kindle analysis shows that the average reader made it through only 26 of the 700 pages of what 2014 best seller?
Previous Question
A 2015 Washington University analysis estimated that what fictional object would have cost $193 quintillion to construct and $419 quintillion to rebuild?
Answer:
The Death Star
Disclaimers
The information provided is based on current laws, which are subject to change at any time, and has not been endorsed by any government agency.

Neither Nationwide nor its representatives give legal or tax advice. Please have your clients consult with their attorney or tax advisor for answers to their specific tax questions.
NFM-18677AO.1