Commercial real estate faces structural risks
May 05, 2021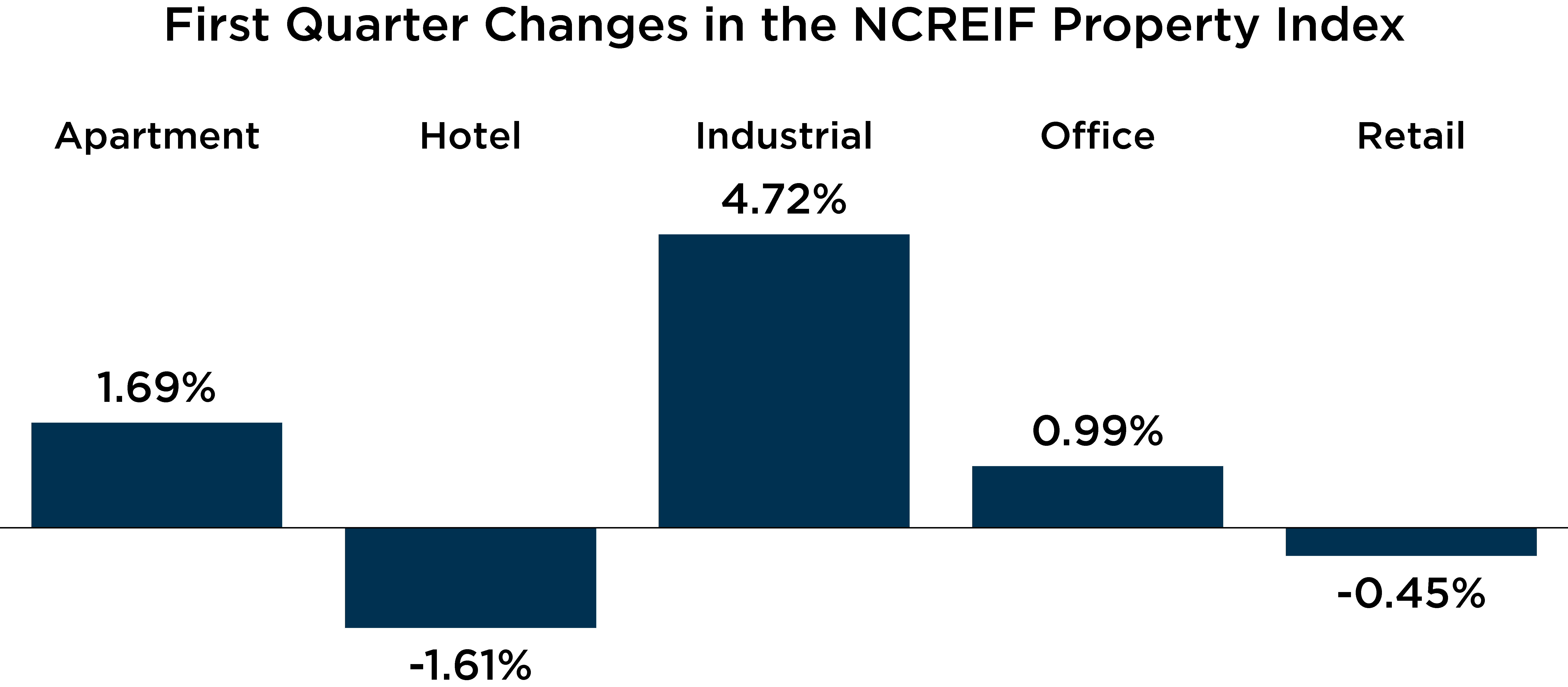 Source: NCREIF
The NCREIF property index rose by 1.7 percent in the first quarter, its third consecutive increase and largest in two years. Details were mixed – and very likely harbingers of the trends moving forward – as the industrial component jumped by 4.7 percent while retail and hotels both continued to decline. This is typically the stage of the cycle in which the outlook for commercial real estate is brightest, as economic growth is reviving and the residential market, which tends to lead CRE, is already perking up. In this case, however, there are major structural shifts underway that could weigh on commercial valuations for several years to come.
The most obvious risk is the potential for a shift to remote work to impact office vacancies. As noted in this space late last year, a recent NBER paper suggests that more than 20 percent of all work days will be supplied from home post-COVID versus just 5 percent pre-pandemic. Even JPMorgan CEO Jamie Dimon, who has become a bit of pied piper for returning to the office, admitted recently that he expects the bank's real estate needs to drop significantly as more employees work from home. Other firms have gone even further, of course, and most are at least embracing hybrid models. There will be knock-on effects here, as well, as this trend will at the margin amplify the longstanding headwind on the retail space stemming from the inroads made by e-commerce.
Hotels will undeniably benefit from the nascent bounceback in tourism, but also face an emerging structural risk in the form of the rise of Airbnb and other rental alternatives. ABNB bookings rose by more than 30 percent in both 2018 and 2019 and the company is forecasting even stronger numbers this year and next. Moreover, the likely permanent curtailment of business travel will fall heavily on hotels; note that in a pre-pandemic survey, 60 percent of leisure travelers expressed a preference for home rentals while 68 percent of business travelers were said to prefer hotels.
More cyclically, apartments could well come under pressure as the homeownership rate continues to rise thanks to low mortgage rates and a renewed housing zeitgeist. It is no coincidence that apartment returns downshifted beginning in 2016 just as the homeownership rate started to climb off of a five-decade low.
That leaves industrial, which, as the first quarter showed, will be a prime beneficiary of the booming recovery. Industrial valuations soared as the real GDP growth rate picked up steam in each of the last three expansions and should be in even better position in this cycle given the rapidly developing feedback loops and the potential for sustained policy support.
Overall, then, this could well be a lopsided asset class in the years to come, one that in broad strokes mirrors the sharp contrasts seen in the first quarter. Commercial property prices are a good bet to continue to climb in aggregate as this cycle plays out, but it is unlikely that they will quite match the exuberance that is already beginning to take shape in other markets.
Daily Trivia
A 2015 Washington University analysis estimated that what fictional object would have cost $193 quintillion to construct and $419 quintillion to rebuild?
Previous Question
What U.S. city was named due to the vast quantities of iron ore, limestone, and coal deposits in the area, similar to those surrounding its British counterpart?
Answer:
Birmingham
Disclaimer
This information is general in nature and is not intended to be tax, legal, accounting or other professional advice. The information provided is based on current laws, which are subject to change at any time, and has not been endorsed by any government agency.

Neither Nationwide nor its representatives give legal or tax advice. Please have your clients consult with their attorney or tax advisor for answers to their specific tax questions.
NFM-18677AO.1