Grain prices continue to soar
April 27, 2021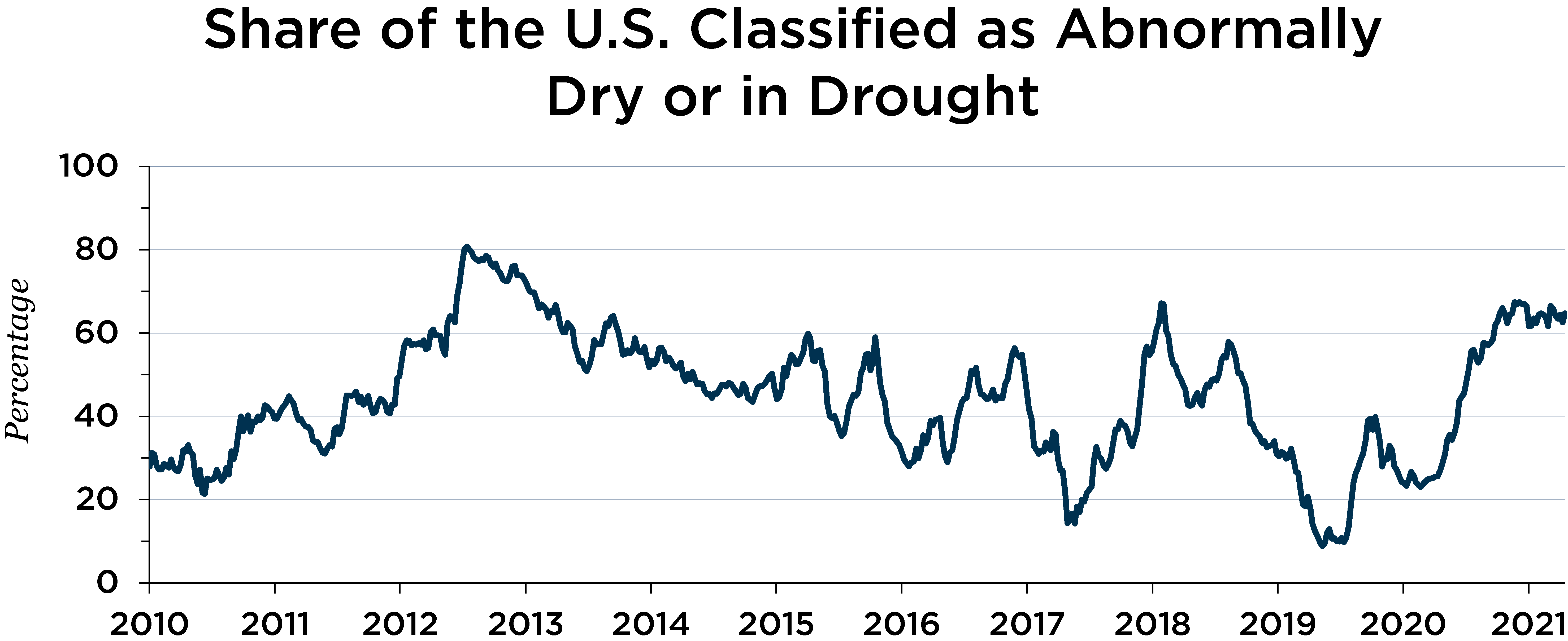 Source: National Drought Mitigation Center
Grain prices remained on the climb yesterday, continuing the surge that began at the outset of the month. Thus far in April, corn and wheat prices are up by roughly 20 percent while soy has advanced by more than 8 percent. These numbers are far from outliers, as the 15 of the 17 Continuous Commodity Index components have moved higher this month, with more than a third up by double-digits.
Of course, the grain story is at least somewhat more idiosyncratic than that for the rest of the commodity complex. Nearly two-thirds of the U.S. is currently either abnormally dry or in some state of drought, up from 26.9 percent a year ago and an average of 44.0 percent across the last decade. Weather isn't the only issue, however – note that the price response was much more subdued in the face of similarly dry conditions in 2013 and 2018 – and there are some parallels here with the broader trend. It was just over a year ago that corn, for example, hit a 44-month low after the USDA estimated that plantings would jump by 8.1 percent year-over-year to a record 97 million acres and that prices would slump to their lowest levels since 2006. That bearish outlook drove farmers to reduce their planned production to the point that actual output rose by just 0.6 percent from 2019. This is yet another example of the commodity supercycle, even if in accelerated form, as a price signal fed into output, in turn helping to reverse the price trend itself. This effect was then amplified as the economy recovered and demand, especially from China, soared (here is another corollary to the trend across several commodities, with producers caught flatfooted by the speed and magnitude of the economic turnaround).
And as with other commodities, there will be a supply response in the grains as the weather permits. As of last month, farmers expected to plant 5.0 percent more wheat and soy this year and to at least modestly pick up the pace in corn output (the more than 20 percent surge in corn prices since the end of March likely already has those plans on the rise). The jump in grain prices is yet another in a long list of near-term inflation risk factors, but it is, like virtually all the others, being driven much more by exogenous factors than by endogenous ones. These risks aren't shaping up to be especially fleeting, but they are similarly unlikely to be sustained for the long run, either.
Daily Trivia
What is the world's only major central bank that holds no gold reserves?
Previous Question
What famed movie quote was drawn from Ivan Boesky's commencement address at UC Berkeley in 1986?
Answer:
"Greed…is good."
Disclaimer
This information is general in nature and is not intended to be tax, legal, accounting or other professional advice. The information provided is based on current laws, which are subject to change at any time, and has not been endorsed by any government agency.

Neither Nationwide nor its representatives give legal or tax advice. Please have your clients consult with their attorney or tax advisor for answers to their specific tax questions.
NFM-18677AO.1