Jobless claims fall again
May 14, 2021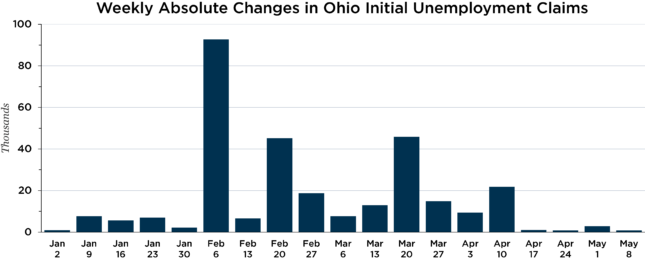 Source: Department of Labor
New claims for unemployment insurance fell for the fourth time in five weeks in early May, moving lower by 34,000 to 473,000, in another sign that the improvement in the labor market is gathering pace. In fact, the decline since early April is steeper than in any five-week period on record outside of the post-lockdown period last spring and summer. And note that these numbers are likely no longer being skewed to any appreciable degree by fraud-fighting efforts; Ohio, which has been the epicenter of fake unemployment claims in recent months, recorded a modest increase last week and has in general seen much smaller changes of late than in the winter or early spring. Overall, the broader trend here is another piece of evidence to suggest that last week's disappointing payroll report was an outlier and that the labor market is still strengthening at a fairly rapid clip.
CPI report not swaying Fed speakers
The biggest sequential jump in core consumer prices in four decades has done little to alter the tone of Fed rhetoric. Since the April CPI data was released this week, the Fed's Richard Clarida, Raphael Bostic, Tom Barkin, and Christopher Waller have been on the tape and all have stressed to varying degrees that they still expect inflation to be transitory and that the recent COVID-driven jump does not warrant a monetary policy response. If it wasn't obvious before this week's events, it should be now: the bar is set extremely high for near-term price pressures to push the Fed onto a more hawkish path.
Daily Trivia
What 19th century breakthrough, developed by three economists working independently to explain consumer behavior, is considered the dividing line between classical and modern economics?
Previous Question
What institution of higher learning, which was launched in the basement of a Chicago-area restaurant in 1961, now has campuses on five continents but still offers only one degree?
Answer:
Hamburger University
Disclaimers
This information is general in nature and is not intended to be tax, legal, accounting or other professional advice. The information provided is based on current laws, which are subject to change at any time, and has not been endorsed by any government agency.

Neither Nationwide nor its representatives give legal or tax advice. Please have your clients consult with their attorney or tax advisor for answers to their specific tax questions.
NFM-18677AO.1