Rent prices reflect large-scale migration
April 09, 2021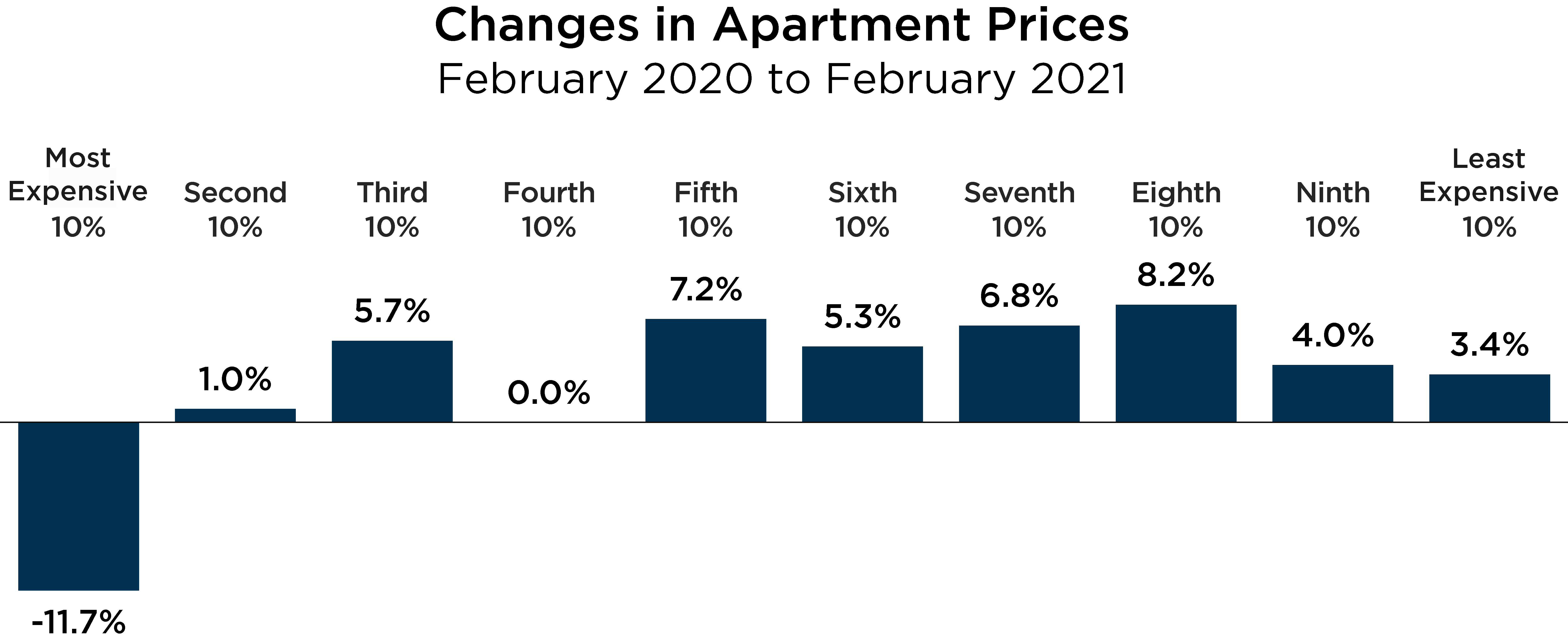 Source: Zumper
Zumper's latest national report on rent prices shows sharply diverging trends across the U.S. in another sign that the pandemic has driven massive internal migration. While median two-bedroom rents are down at double-digit rates on a year-over-year basis in each of the seven priciest markets, many less expensive locales, including Durham, Boise, Cleveland, and Detroit, have seen double-digit increases over the same time frame. In fact, median rents moved by 10 percent or more in absolute terms in more than a quarter of the 100 markets covered. And as would be expected, these moves were overwhelmingly negative at the top of the price table and overwhelmingly positive at the bottom.
It remains an open question on how much this trend will reverse as society normalizes. JPMorgan CEO Jamie Dimon pushed back against the remote work model earlier this week and noted that most of the bank's employees would eventually be back in an office. These comments echo those from Goldman Sachs CEO David Solomon recently and hint at a return to relative normalcy for at least some large firms. At the same time, however, many companies have already announced plans for permanent flexible work arrangements after the pandemic fades. Twitter and Facebook, for example, have announced large-scale work-from-home plans, with the latter even creating a director of remote work position to manage its push in that direction. In fact, a NABE survey earlier this year found that just 11 percent of respondents expected all employees at their firms to eventually return to the office (even JPM expects approximately 10 percent of its staff to work from home permanently). This is shaping up to be one of those COVID-driven trends that outlives the pandemic itself, in turn impacting the real estate landscape for several years to come.
Daily Trivia
What is the world's only central bank not named for a country or region?
Previous Question
According to a BLS study, how many jobs does the average person hold between the ages of 18 and 52?
Answer:
12.3
Disclaimers
This information is general in nature and is not intended to be tax, legal, accounting or other professional advice. The information provided is based on current laws, which are subject to change at any time, and has not been endorsed by any government agency.

Neither Nationwide nor its representatives give legal or tax advice. Please have your clients consult with their attorney or tax advisor for answers to their specific tax questions.
NFM-18677AO.1