More signs of a robust labor market
May 21, 2021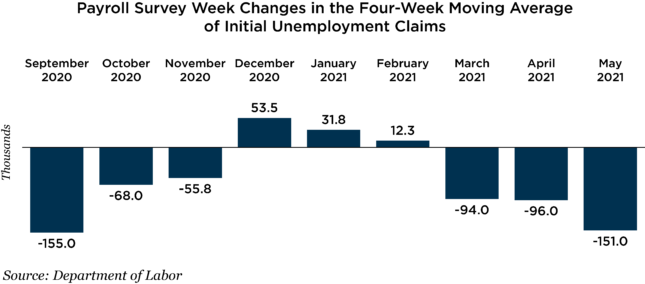 Initial unemployment claims fell by 34,000 last week to a new 14-month low 444,000. This marks the fifth decline in the last six weeks and takes the four-week moving average down to 504,750, a drop of 151,000 from the survey-week tally in April.
Along these same lines, the Philadelphia Fed's manufacturing employment index for May came in at 19.3, down from 30.8 in the prior month but still among the loftiest readings in the more than five-decade history of the series. The New York Fed's numbers were similarly elevated earlier this week while the national ISM employment index has spent the entirety of 2021 thus far in the mid-to-high 50s. These numbers strongly suggest that while generous unemployment benefits and COVID fears may be weighing on job growth at the margin, hiring activity is still much stronger than was reflected in the April payroll report. A sizeable acceleration is likely in store when the May data are released in just over two weeks.
Daily Trivia
What thoroughfare was named for the fortification built by New World Dutch settlers to protect against a feared English attack?
Previous Question
What type of advertising did the city of Houston ban in 2008, saying that it "contributes to urban visual clutter and blight and adversely affects the aesthetic environment"?
Answer:
Inflatable tube men
Disclaimers
This information is general in nature and is not intended to be tax, legal, accounting or other professional advice. The information provided is based on current laws, which are subject to change at any time, and has not been endorsed by any government agency.

Neither Nationwide nor its representatives give legal or tax advice. Please have your clients consult with their attorney or tax advisor for answers to their specific tax questions.
NFM-18677AO.1