Don't time the market, even in volatile periods.
MAR. 17, 2020
Global stock markets are in the midst of a near-unprecedented period of volatility in reaction to the worldwide coronavirus pandemic. The S&P 500® Index (benchmark for the U.S. stock market) either rose or fell over 2.5% for 12 consecutive market sessions through Friday, March 13. To put that volatility in perspective, the prior 12 months before the COVID-19 outbreak saw only two such days for the S&P 500.
Over the past 25 years, there have been roughly ten similar periods of heightened volatility and market shocks in the U.S. stock market. In each of those instances, investors have experienced a sense of helplessness, which often tempts them to sell all their equity holdings. While this is a natural and understandable emotion, it ignores the fact that falling markets often contain some of the best days along with some of the worst days.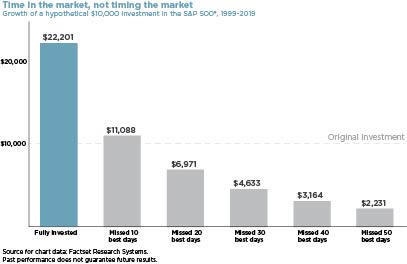 Timing the market is difficult because it requires an investor to be right not only on the way out but also on the way back in. The chart above illustrates how a market timing strategy for the S&P 500 would have performed for a hypothetical $10,000 investment from 1999 to 2019. If the investor held the $10,000 investment held through the entire, period, she would have $22,201 at the end of last year (excluding dividend reinvestment). If she had chosen to time the market and missed just ten of the best trading days (out of 5,031 days total), her ending balance would have been half of that, at $11,088. If she missed the best 50 days, her ending balance would be $2,231, or roughly 10% of what she would have had if she followed a buy-and-hold strategy.
Staying invested during sharp market declines can induce stress, but investors with long-term investing horizons are often rewarded by demonstrating patience and resolve.
Review relevant client material from Nationwide
Disclaimers
This material is not a recommendation to buy, sell, hold or roll over any asset, adopt an investment strategy, retain a specific investment manager or use a particular account type. It does not take into account the specific investment objectives, tax and financial condition or particular needs of any specific person. Investors should discuss their specific situation with their financial professional.

Except where otherwise indicated, the views and opinions expressed are those of Nationwide as of the date noted, are subject to change at any time and may not come to pass.

Past performance does not guarantee future results. Current performance may be lower or higher than the past performance shown.

S&P 500® Index: An unmanaged, market capitalization-weighted index of 500 stocks of leading large-cap U.S. companies in leading industries; gives a broad look at the U.S. equities market and those companies' stock price performance.

Nationwide Funds are distributed by Nationwide Fund Distributors LLC (NFD), member FINRA, Columbus, Ohio.

Nationwide Investment Services Corporation (NISC), member FINRA, Columbus, Ohio.

Nationwide, the Nationwide N and Eagle and Nationwide is on your side are service marks of Nationwide Mutual Insurance Company.

© 2020 Nationwide
MFM-3601AO