A resilient consumer, but housing weakens further
June 01, 2022
The economic data last week were mixed but the underlying idea of a resilient consumer remains. Personal consumption expenditures (PCE), the broad measure of consumer spending, was strong despite higher costs and ongoing supply-chain difficulties while the price indexes showed some moderation in inflationary pressures. First-quarter GDP was revised a tad lower, while housing activity (new and pending existing sales) slipped further.
What we learned last week: (pg. 1)
Core consumer inflation eases a bit more
New home sales continue to fall
What we're watching this week: (pg. 2)
ISMs expected to fall, but should remain in expansion territory
Job openings projected to be lower, but still historically high
Strong job growth likely continued for May
Podcast: The stock market's connection to the broader economy (14 min)
Nationwide's Deputy Chief Economist Bryan Jordan and Senior Economist Ben Ayers discuss the stock market and its connection to the broader economy.
How common are bear markets and declines of this magnitude?
Does a bear market indicate a recession?
How do stock prices tend to behave in recessions?
Listen here.
View our informative commentary on the economy and financial markets – and find out what we're watching for the week ahead: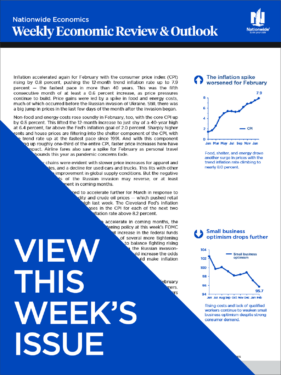 NFM-9898AO.7