Another supersized rate hike from the Fed: Weekly Economic Review & Outlook
November 07, 2022
The Fed announced another fed funds rate hike of 75 basis points, and Chair Powell suggested that the terminal rate could be higher than previously anticipated. Solid job gains in October, which were higher than expected and point to further demand in the labor market, are unlikely to alter that view. Additionally, the ISM business surveys fell but continue to show expansion, although only narrowly for manufacturing. Hear more about the Fed's rate hike in our podcast.
Key Takeaways:
What we learned last week: (pg. 1)
Payroll growth slows but remains solid
Despite signs of reduced demand for labor within some industries, the trend for job growth has only slowed modestly over the last six months..
Supplier delays shorten for manufacturing
The supplier delivery index for manufacturing fell below 50 in October, illustrating a combination of healthier supply chains and diminishing demand for goods.
What we're watching this week: (pg. 2)
November 7: Consumer credit expected to rise
Credit card use by consumers is up sharply over the past year as a crutch to help households withstand inflationary pressures. We expect a sizable increase in consumer credit in September, aided by rising non-revolving balances with healthy durable goods spending. Still, debt burdens remain manageable as household balance sheets are in solid shape with help from rising incomes.
November 8: Optimism of business owners looks to dip on higher rates
Small business optimism, although up in recent months, remains low with worries rising that higher borrowing rates will hurt future earnings. Finding labor remains difficult for firms, with the employment outlook declining as recession concerns remain elevated. The skilled labor shortage persists, limiting opportunities to expand into attractive markets — with a lower optimism reading expected for October.
November 10: Prices expected to rise again, adding to food and fuel costs
October's CPI gain should be boosted by the continued rapid rise in food and gasoline prices, with an increase of 0.7 percent projected. Core prices are expected to be elevated, too, pushed up by rising costs for housing and medical care services. The hand off between core goods and core services inflation should extend in October, putting further pressure on the Fed to remain aggressive with rate actions to slow the pace of underlying inflation.
View our informative commentary on the economy and financial markets – and find out what we're watching for the week ahead: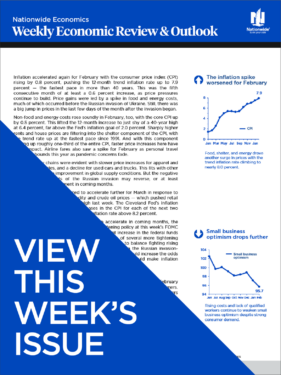 NFM-9898AO.7