Businesses are starting to tap the brakes on growth
April 18, 2023
Highlights from the Monthly Review for April 2023:
Signs of decelerating economic growth across the U.S. economy are indicative of a late-cycle period. Aggressive Fed rate hikes has significantly slowed consumer and business activity. Key leading indicators including the yield curve, housing building permits and manufacturing new orders point to elevated recession risks over the next year.
Key Takeaways: 
Economic Review: Weaker trends heading into the second quarter
While 2023 started with hotter-than-expected economic readings, activity slowed considerably by the end of the first quarter. Businesses are seeing demand for goods and services fade, which should drive further cooling of the labor market in coming months. A recession may not be imminent, but signals of weaker growth continue to spread across the economy. (pg. 2)
Financial Markets: Earnings on the rocks
The banking crisis continued to weigh on the market and Treasury yields even as policymakers reassured that the financial system was sound. Recession concerns also gripped the bond market as investors focused on building expectations of rate cuts over the next year. OPEC+ added to the nervousness with a surprise cut in oil production, reigniting sticky inflation concerns. (pg. 3)
The Outlook: Leading indicators signal recession
The risks of a hard landing continue to build as the yield curve remains broadly inverted, household expectations remain subdued, and lending activity is slowing in the wake of the Silicon Valley Bank failure. In fact, the spread between long-term rates and short-term rates, the gap between consumer expectations and present situation confidence (shown below), and the breadth of financial institutions tightening lending standards on business loans are now at levels that was consistent with prior recessions. Moreover, the economy's bulwark, the labor market, is also cooling in a sign that the positive feedback loops that have sustained the expansion to this point are fading. Job growth is still healthy and remains unlikely to contract soon, but the recent pattern points to further slowdown ahead and a growing risk of a broader downturn.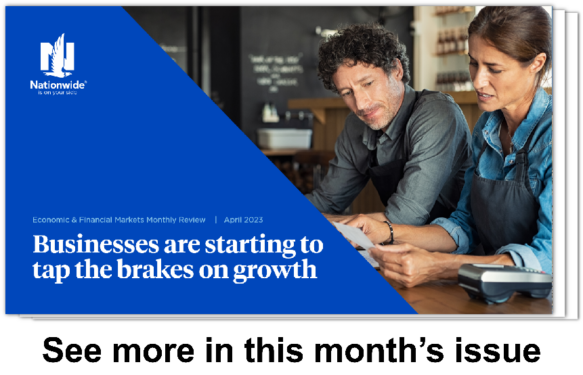 Sources/Disclosure
The information in this report is provided by Nationwide Economics and is general in nature and not intended as investment or economic advice, or a recommendation to buy or sell any security or adopt any investment strategy. Additionally, it does not take into account any specific investment objectives, tax and financial condition or particular needs of any specific person.

The economic and market forecasts reflect our opinion as of the date of this report and are subject to change without notice. These forecasts show a broad range of possible outcomes. Because they are subject to high levels of uncertainty, they will not reflect actual performance. We obtained certain information from sources deemed reliable, but we do not guarantee its accuracy, completeness or fairness.

Nationwide, the Nationwide N and Eagle and Nationwide is on your side are service marks of Nationwide Mutual Insurance Company. © 2023 Nationwide.
NFM-11356AO.3