Consumer resiliency shines through: Weekly Economic Review & Outlook
November 21, 2022
Households continued to spend into the fourth quarter as October retail sales beat expectations. Additionally, upward revisions to the prior two months suggest solid momentum for consumer activity despite rising costs and recession worries. Also, housing market data continued to cool as existing home sales and housing starts fell again.
What we learned last week: (pg. 1)
Existing home sales continue to fall
After falling for a record ninth straight month, the pace of existing home sales has reached its lowest level since May 2020.
Multifamily starts remain strong
The six-month trend is up for multifamily starts as high mortgage rates push more households into the market for rentals.
What we're watching this week: (pg. 2)
November 23: Durable goods orders are expected to advance modestly
Durable goods orders likely advanced a moderate 0.4 percent in October, the same as in September. Aircraft and motor vehicles orders should lift the headline reading. However, away from the transportation sector, we look for continued weakening. The core (non-defense capital goods ex aircraft) shipments reading adjusted for core goods inflation should remain soft, indicating just moderate increases in corporate spending on nonresidential equipment.
November 23: New home sales should continue to slow
Following on the heels of the 5.9 percent decline in existing home sales for October, we forecast a five percent fall in new home sales to an annualized pace of 572,000. The combination of mortgage rates hovering around seven percent, high prices, and lean inventories should continue to exert downward pressure on home-buying activity. Looking ahead, with the Federal Reserve on course to keep tightening monetary policy, the outlook for the housing sector remains dour.
November 23: Consumer sentiment forecasted to improve
The final November reading for the University of Michigan consumer sentiment index is expected to improve slightly to 55.5 from the preliminary 54.7 reading. However, this would still leave the index just modestly above its all-time low of 50.0 posted in June. The key five-year ahead inflation expectations measure might ease slightly from the preliminary three percent reading, which would be welcomed by the Federal Reserve but would still be above the pre-Covid average of 2.4 percent in 2019.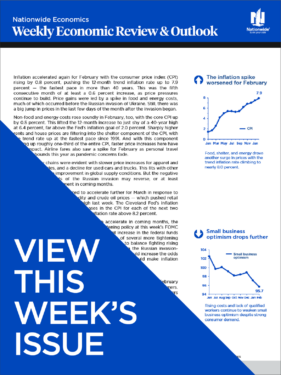 NFM-9898AO.7