Consumers are getting scorched by hot inflation
June 13, 2022
The 12-month changes in the consumer price index (CPI) climbed further in May to a 40+ year high. The lagged impacts of rapid money growth plus global supply shocks from the war in Ukraine and the rolling shutdowns of production in China continue to drive up food, energy, and commodity prices. Rapid inflation has also led to more hawkish pronouncements from central banks with the European Central Bank (ECB) setting the stage for reducing accommodation while the Fed is set to continue hiking rates this week.
What we learned last week: (pg. 1)
Trend inflation keeps climbing
Consumer sentiment falls to a record low on inflation concerns
What we're watching this week: (pg. 2)
Strong growth in retail sales expected with a boost from inflation
Decline in housing starts expected, but pace should remain strong
Industrial production growth likely continued in May
The employment report for May showed how tight the labor market remains. Nationwide's Chief Economist David Berson and Senior Economist Ben Ayers take a closer look at current employment conditions.
How are higher labor costs impacting inflation and the overall economy?
Has a wage-price spiral already begun?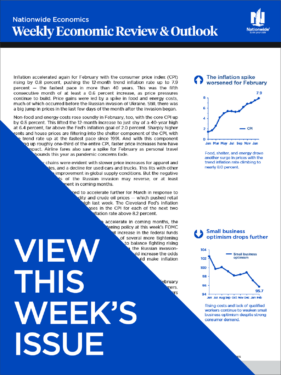 NFM-9898AO.7